New Moon March 2023 in Aries brings the fresh start you've been waiting for all year
The Aries New Moon March 2023 is the most powerful and transformative of the year and brings a lot of change - whether you're ready or not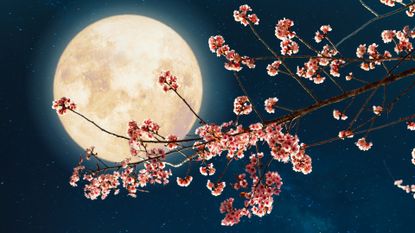 (Image credit: jakkapan21/Getty Images)
The New Moon March 2023 can't come quickly enough as let's face it - 2023 has been full of false starts. But this fiery New Moon in Aries is about to propel us headfirst into a brave new world and bright new future. So if you have had a sleepy or less-than-stellar start to your new year, prepare yourself for action-packed excitements and complete vibe shifts.
Taking place on March 21, 2023, at 1:23 PM, the New Moon March 2023 comes barreling forward at exactly 0 degrees in the sign of the Ram - as Pisces season 2023 shudders to an end. Say hello to Aries season 2023, Spring Equinox 2023, and new beginnings for all.
If the stars wanted to signal to us that this is major initiating energy, they could not have been less subtle. This New Moon is making a bold and fiery entrance that will be noticed because remember, this lunation is the start of an entirely new chapter in our personal lives as well as across the collective.
We're talking about society-shifting, culture-defining, headline-grabbing news kind of changes and transformations. Yep, this date in the Moon calendar 2023 is not to be ignored!
The New Moon in Aries is the start of the astrological New Year, but that's not all. It's also coming the same month that power-wielding Pluto moves into the innovative sign of Aquarius. It will also see Mars end an exceptionally long stay to enter Cancer, another cardinal and initiating sign.
All this energy is like a huge cosmic greenlight to start something you've always wanted to get off the ground but didn't have the willpower, energy, or courage to get started. It's begging all of us to cast our fears and doubts aside, to know we have the stars supporting us as we face new ventures and adventures.
The New Moon March 2023 is a time to plant seeds of intention. This is because the actions we take and even the thoughts we have and believe during New Moons take on extra weight and significance. If you've ever wondered how to manifest or when - the New Moon is a perfect time.
How will you meet this new chapter? Here's how the New Moon March 2023 will affect you depending on your star sign. For the most accurate reading, look at your sun or rising sign according to your astrology birth chart.
New Moon March 2023 Horoscope
Aries
With the New Moon March 2023 supercharging your first house of the personal self, remember the limitless, infinite possibilities of the Universe – and your future. Use this New Moon to transition your thinking from what you want to be to who you want to be, Aries. There is a bright new future available to right now if you're brave and bold enough to dream it, manifest it, believe it, and then be it. You can call it faking it until you make it – or you can use the energy of this New Moon to see that it's never too soon – or too late – to be the person you've always wanted to be. And are meant to be.
Taurus
This New Moon is offering up major healing vibes – and the fresh start for your mental, emotional, and spiritual health that you've been hoping for. It's no secret that among the zodiac signs, you've had your share of cosmic hardships over the last few years. It all that changes now, Taurus. With the New Moon March 2023 in your twelfth house of the subconscious mind, you are attracting what you need to take care of your health and your heart. You can shift towards being kinder to yourself by reconnecting to the parts of yourself you've ignored or criticized. There are no bad parts – so bring all of you along for the new ride.
Gemini
With the New Moon March 2023 in your eleventh house of friends and groups, expect your social calendar to fill up - fast. You are embarking on a new journey with an entirely new set of contacts and that may require you to recalibrate who has access to your abundant energy. Social hierarchies are designed to reinforce status and power and that will be magnified more now than ever for you. You may find that you're ready to step up and step into the spotlight and assume a more leader-like position in your circle. Just as possible is the sudden appearance of a new and transformative figure that will quite literally change your trajectory. Remember your values, Gemini.
Cancer
The sky is literally the limit, Cancer. What have you always dreamed of – becoming a parent? Getting promoted at your job? Opening your own business? This pivotal, powerful, and transformational New Moon in your tenth house of career has major level-up vibes. Whatever you manifest right now can escalate quickly but remember that because you've been dreaming about this for a while (maybe even your whole life), you're more than ready for it. Believe that. Power may not be something you're entirely used to wielding, but it's time to step into yours. You're completely behind the wheel as you elevate your career to exciting, and well-deserved, new heights.
Leo
Over the last few years, life has felt constricting, and your world has likely gotten smaller, Leo. While hermit mode was a necessary and needed respite, now it's time for a reset. With the New Moon March 2023 in your ninth house of spiritual growth, you're now primed for adventure. Take those hard-fought lessons and put them to good use. Share your heart, and your story, with people around you. And then listen to theirs. Connect with people from different walks of life, travel to different places, and study new languages or cultures. Initiate something you've always wanted to try - because this New Moon is a dream come true for you.
Virgo
You're in luck when it comes to cosmic blessings, Virgo. With the New Moon March 2023 in your eighth house of karmic debts, you're more aware than ever of financial and emotional imbalances between you and other people in your life. It's time to press the reset button and firmly decide to keep the past where it belongs: in the past. This energy is not about a cosmic tit-for-tat and pulling up a balance sheet of what you are owed. Instead, it's about deciding that some investments of your time and energy didn't pan out the way you thought, but you have plenty of clear examples of where they did. And those point the way of your future with a clean slate.
Libra
You know that feeling of falling in love with someone new for the first time? That's the signature for you with this fun, flirty, and fiery New Moon in your seventh house of committed relationships. Whatever your current relationship status, it's likely you could need a fresh start, one that reminds you why love is a favorite topic among Libras. Assess your current relationship status – does it need a dose of excitement to get you out of a romantic rut? Could you be doing more giving? Could you be better at advocating and receiving? Now's the time to initiate the necessary changes to get the love you desire – and deserve.
Scorpio
If your day-to-day chores and tasks have felt boring and predictable, the New Moon March 2023 can initiate some new and exciting changes to your routine. Taking place in your sixth house of habits, you have a tremendous opportunity to start something new that will break you out of a rut. No one wants to feel like they're on a perennial hamster wheel – so what is holding you back from feeling more inspired? If you've been considering scheduling in time for walks or workouts, or even meditation or journaling - go for it. Remember that anything that allows you to release pent-up energy, instead of storing it in your body, will prove to be very beneficial to you right now, Scorpio.
Sagittarius
Creative ruts are no fun for anyone – but lucky for you, Sagittarius, you're about to break free from yours. With this fiery New Moon in your fifth house of fun, it's like you're being visited by the Muses themselves who come bearing gifts. Those gifts? The divine inspiration you've needed to get your creative pursuits off the ground. The details are up to you – it could be an artistic project, you could decide to "put yourself out there" on a dating app, or if you're so inclined, expand your family as the New Moon March 2023 has baby-making activity written all over it for you. Whatever you pour your energy into, know that the stars are backing you up on this one.
Capricorn
This New Moon is hitting close to home for you, Capricorn. As in, your fourth house of home and family. It's the right time to assess what home feels like to you – and if there aren't any parts of your current living environment that could be due for a little spring cleaning. While that phrase could certainly lend itself to some inner resetting – namely, getting some rest and relaxation – it could just as likely invite you to make a big move or start a home renovation project. Think about what seems to be missing from your home life – and take the steps now to initiate the conversations and actions that could later make your home feel more like a sanctuary.
Aquarius
With this New Moon in your third house of communication, Aquarius, your curiosity – and creativity – are piqued right now. It means that any topic where you decide to focus your energy will feel extra inspiring to you. While you may find yourself gravitating towards new topics of fascination, you may just as equally find a renewed passion for some of your favorite subjects. Now though, they'll have a whole new set of fresh eyes and fresh perspective. Remember that two heads are better than one, so if you feel inclined to reach out and text a friend to bounce ideas off of, trust that vibe. It could be the start of a joint, and fruitful, new venture for both of you.
Pisces
Finances are on your mind and lucky for you, you may be experiencing an influx of new income and other money-making opportunities. With the New Moon March 2023 in your second house of resources, this is the perfect time to set some financial goals for yourself, Pisces. Remember that this is the initiating energy of Aries, so small and quick wins are the name of the game right now if the idea of making big, long-term decisions feels overwhelming or intimidating. You just need some positive reinforcement that your ideas have value, making it the perfect time to align yourself with coworkers, colleagues, or other partners who think as you do – and want to invest in you.
Astrologer and tarot reader
Maria Sofia is a Greek-American writer, astrologer, Tarot reader, and intuitive. She is a lifelong lover and student of the stars, who has been practicing divination and magic for 20+ years.
Maria is Leo Sun, Cancer Moon, and Virgo Rising. Her favorite natal placement in her chart is her Virgo Mercury conjunct the ascendant that makes her a fast writer and talker and she smiles anytime she pulls the Queen of Wands or the Nine of Pentacles.