Aries season 2023 - your horoscope and everything you need to know about bold zodiac season
Aries season 2023 is a time to step into bold action, face challenges with initiative and become a catalyst for new beginnings in your life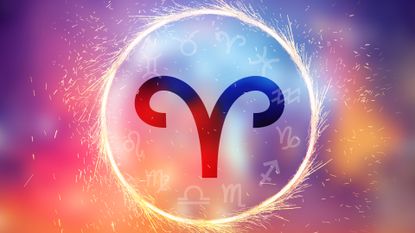 (Image credit: sarayut Thaneerat/Getty Images)
Aries season 2023 has arrived! It's time to step into bold action, face challenges with initiative and become a catalyst for new beginnings in your life.
As the dreamy waters of Pisces season 2023 have receded and our red-hot warrior Aries stands on the arid river bed ready to take your hand and charge ahead along your life path.
The spiritual soul spa that Pisces offered us last season has nourished our metaphysical needs, but now it's time to charge ahead with purpose and bravery. At the start of this zodiacal month, which is the zodiac new year, we'll experience the New Moon March 2023 in Aries on March 21, which is also Spring Equinox 2023.
That's a lot of cosmic energy. So, are you ready for Aries season 2023?
About Pisces zodiac sign
Aries, which is the Latin word for ram, is the astrological archetype of the pioneer. The symbol of the ram originates in ancient Greek mythology with Chrysomallus, the magical flying ram that rescued the children of King Athamas and provided the Golden Fleece.
A cardinal fire sign ruled by the warlike planet Mars, Aries rages with heroic willpower, courage, physical stamina, passion, drive, and adventure. Often up for a challenge, Aries is compelled to lead the way, inspire, activate, and initiate. Aries is your personal trainer, your life coach, and your spiritual catalyst there to whip you into shape and better your life.
Ruler of the first house of self, fiery Aries are all about personal development through self-improvement. This is alchemy for mind, body and soul. In traditional alchemy, the alchemist heats up base metals through fire. The dross burns away revealing the evolution of refinement from copper to silver and then to the ultimate goal of gold.
Aries energy is alchemy for the self - moving through the evolutionary stages of mind, body, and soul.
The Aries spiritual alchemist has a mission of putting you under the fire to burn away the things in your life that no longer serve you. See Aries as the hot personal alchemist trainer there to apply the heat, to help you achieve the refinement of a razor-sharp mind, abs that can cut glass and a soul that can fly. It may seem a lot to ask for but are you willing to give it a try? It all starts with your willpower. Take the ram by the horns and give it a go!
When does Aries season 2023 start?
The fiery ram commences its race through the mountainous terrain of Aries season on March 21 and charges upwards to its peak goal on April 19.
Check your astrology birth chart for your sun sign, rising sign, and moon sign to see how the season influences you and which days are heightened for your zodiac.
Aries season horoscope
Aries
It's your season dear Aries! All eyes are on you as you step into your Solar Return. On March 25, your ruling planet Mars enters the nurturing waters of Cancer, highlighting all things family and home. This is the perfect day to reach out to family, visit, catch up on a Zoom call or have a heart-to-heart. This astrological alignment can bring some family healing for some of you. For others, it could hold the potential to initiate something new around the themes of family or home. Whether you are trying to start a family or you are contemplating renovations at home, let March 25th be your date!
Mantra, "I initiate connection with family and home."
Taurus
Hey there Taurus! Aries season 2023 invites you to take action around all things pleasure. When your ruling planet Venus enters Gemini and your second house of possession on April 11, you may feel a shift into some sensual and passion-fueled energy. Think orgasms, good food, and soothing baths. This alignment could also bring a bit of cash your way, so enjoy the abundance. If you are on a job search, send out your updated resume to potential employers. If you are single, this astrological weather could be perfect for dating, so get yourself out there and have some fun!
Mantra, "I take action with pleasure."
Gemini
Hello Gemini! It's all about finding harmony and bringing balance into your life during Aries season 2023. Take some action around the areas of your life that feel out of control. As soon as the season starts you could feel a drive and determination to set things straight around anything messy in your life. When the Full Moon in Libra occurs on April 5, a big date in the Moon Calendar 2023, you will be ready to release those issues that feel imbalanced. Set time aside on that auspicious Full Moon to do a releasing ritual for yourself. When romantic Venus enters your sign on April 11, you may feel a shift of energy around all things relationship. Possibilities for deeper connection or synchronistic meetings could unfold.
Mantra, "I am taking action to create balance in my life."
Cancer
Hello to all you Cancerians! The supercharged fire energy of Aries season 2023 could have you craving physical activities. When the fiery planet Mars enters your sign on March 25, you may feel more assertive, 'thirsty' or up for sensual exploration. Think kink! For some of you this astrological weather could manifest as a restless need for physical exercise. Schedule in some yoga classes or perhaps take on a physical challenge like a charity run. Aries energy loves a challenge, so allow yourself to be inspired to set and achieve some goals.
Mantra, "I am up for a challenge."
Leo
Dear Leo, you could be metamorphosing into an extraverted social butterfly this Aries season, with a focus on friendship. The planet Venus moving into sociable Gemini on April 11 is responsible for this bubbly shift. Plan some fun hangouts with friends, organize an early spring party, or schedule some meetups over coffee and conversation. Be open to new friendships too! Sign up for a community function, join in on some 'friendship' speed dating, or let synchronicity allow you to strike up conversations with potential new friends that you feel drawn to. Feel the positive energy this brings!
Mantra, "I am making friends!"
Virgo
Hello Virgo! Guess what Aries season 2023 is all about for you? (You are going to see me as an astrological nagging granny now) SELF CARE. Sound familiar? Rewind back to Aquarius season 2023 where this theme was highlighted as well as this past Pisces Season 2023 , where shadow work was the focus. This is some deep self-love territory. It's great to see the long view here as you move into wholeness. Work with the guidance of the stars. Astrologically speaking, the dwarf planet Ceres (the largest object in the asteroid belt between Mars and Jupiter) which is the powerful archetype of nourishment is retrograde in your sign on March 22. This simply means, continue to nourish yourself! Focus this time on your physical needs: proper sleep, nutritious foods, plenty of water, and exercise.
Mantra, "I am taking care of myself!"
Libra
Hi there Libra! Aries season 2023 has some interesting assertive shifts for you, centering around commitments. Harness the initiatory Aries energy towards firming up relationship statuses, either romantic, work-related, or friendship based. On April 13 the asteroid Juno, which rules all things commitment, will enter your seventh house of partnership. This could give some of you a surprising boost of confidence around navigating social, working, or romantic commitments. You will be more inclined to speak your truth without fear of confrontation during this time. Enjoy the harmonious balance that this astrological weather brings and embrace the joy.
Mantra, "I am speaking my truth."
Scorpio
Hello Scorpio. Looking back at Pisces season for you it was all about sticking to your goals. This theme somewhat carries over into Aries season 2023 , but this time with an emphasis on your happiness. Work with the New Moon March 2023 in Aries on March 21 (also the Spring Equinox) to usher in a powerful shift into positivity and joy. New Moons are for intention setting and new beginnings and the Spring Equinox is a power day where there is an equal amount of daylight and night. This is potent energy for stepping out of the dark areas of your life and into the light. Take some time to do a ritual for yourself and embrace the positivity it brings.
Mantra, "I am stepping into the light."

Sagittarius
Dear Sagittarius, step into a new cycle during Aries season 2023! It all starts with the New Moon in Aries on March 21 which is also the Spring Equinox. Activation around your love life may take on a new chapter. You may find that around April 11, when romantic Venus enters friendly Gemini in your seventh house of partnership, communication between you and others flows freely. This is good astrological weather for conversations about love, relationship needs or heart-to-heart conversations with friends. This can open up a new chapter of love and friendship that feels more mature, positive, and aligned.
Mantra, "I step into this new chapter of love and friendship."
Capricorn
Hello Capricorn! There is a continuation with the theme of pleasure this Aries season. This past Pisces season had an emphasis on sensuality that is carrying on and evolving into a more assertive and passionate zone. You can blame it all on hot and fiery Mars entering sensitive and receptive Cancer through your seventh house of partnership on March 25. This is fire meets water and you know what that creates? STEAM. This can be perfect, steamy astrological weather for kickstarting some much-needed passion into a stagnant long-term relationship, rekindling a crush, or getting out on a date or two.
Mantra, "I take action with passion."
Aquarius
Hello Aquarius! Transformation is the name of the game in Aries season 2023 for all of you water-bearers. You can thank the transformative planet Pluto entering your sign on March 23 for that! Pluto in Aquarius is concerned with rebirth through the revolutionary change from the realms of the unconscious to the conscious. This can have its different manifestations. For some of you, it could feel like a significant shift in your soul. For others, a shedding away of an old identity. This all makes space for progress on the path of your personal development. Charge ahead with the new version of yourself.
Mantra, "I am on the path of transformation."
Pisces
Happy Solar Return Pisces! Congratulations, the Sun has returned to the exact same spot in the sky as when you were born. With the New Moon in your sign on February 20, this is a perfect time to pamper yourself and initiate something new in your life. Get yourself into a relaxing and self-loving bath. Water is your element, so make sure you get enough of it this season. Stay hydrated! If you like a bit of an alcoholic drink, be mindful of your consumption even if you are celebrating your birthday. For some of you, when the strict planet of Saturn enters your sign on March 7, it could bring up areas in your life that need an overhaul. Think wellness!
Mantra, "I celebrate myself, I take care of myself."
Dream guide, death doula, and divinatory guide
Tree Carr is a published author who works in the esoteric realms of dreams, death, and divination. Her published books include 'Conscious Dreamer' and 'DREAMS: How to Connect With Your Dreams to Enrich Your Life'.
Tree is also a CPD Crossfields Institute Certified Death Doula. Her work as an End of Life Guide involves helping people spiritually, emotionally, existentially and practically at the end of their lives.
As an intuitive empath, she is self-taught in divinatory guidance: The Tarot, Rune Stones and Astrology and has facilitated readings, rituals, classes, and courses spanning a wide variety of esoteric subjects.