ITV's Loose Women on the books that changed them - and why you should get back into reading
Some of them might surprise you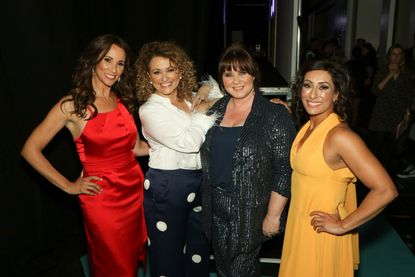 (Image credit: Getty Images)
Last week on ITV's Loose Women, the panel discussed the books that have had a huge impact on their lives.
You might expect one of the classics to be included in the list of the books loved by the Loose Women panel. Maybe a Jane Austen novel that gave them a love of reading (opens in new tab)? Not this time.
MORE:The longlist for the Women's Prize for Fiction 2020 will definitely inspire your reading list (opens in new tab)
Instead the women delved into a mixture of titles and genres, explaining the reasons why these particular books changed their outlook on life - or at least their reading habits.
These are the books loved by the Loose Women panel..
Carol McGiffin
The radio and television broadcaster was first up, and the others were quick to point out her unusual genre of choice.
Fit for Life, by Harvey and Marilyn Diamond
Carol said this was the book she'd started reading in the late 1980s, when she was about 20. "As I started putting on weight (opens in new tab) in my late teens/early twenties, I thought 'I don't like this, I don't know what's going wrong'. I really didn't know what was going wrong."
"It's still around and it hasn't changed much. It's basically just a common sense thing. [The book] tells you about what's good for you to eat…the book has stuck with me, literally, through my whole life."
Carol credits Fit for Life with changing her outlook on food and eating habits, even impacting her life years later. "It's not really a diet book, it's about changing the way you think about food and the way you eat...it's the basic principles of healthy eating…[it's] maybe why I don't really put on that much weight."
According to the books description, Fit for Life is a "revolutionary diet and exercise (opens in new tab) programme that allows you to eat unlimited portions of the foods you like and leads you to new levels of overall good health and wellbeing." It even goes so far as to promise to "put an end to all those years of boring calorie counting and damaging yo-yo dieting".
Sounds like one for our next Amazon order!
Kay Adams
Presenter Kay said she found it quite difficult to identify just one important book.
"I would say books changed my life. As a young teenager (opens in new tab) and through my teenage years, I just loved escaping to my room. They gave you such a broad vista into the world, introduced to so many different characters, so many different lifestyles and things. I think it's such a wonderful thing."
She says that she doesn't get round to reading much nowadays, but hoovered up books when she was younger, "I'm really glad I did at that age…but then we didn't have anything else to do."
Nadia Sawalha
Nadia picked a children's classic for the book that changed her.
The Famous Five, by Enid Blighton.
"Up until I had my children I always loved reading. I've started reading properly again now and it's such a great joy." Nadia said, "To say it [reading] changed my life would be a bit dramatic. But what really got me into reading were the Enid Blighton books."
She said that they were her favourite when she was younger, "I'd be salivating at a new Enid Blighton book coming out."
And talking about what she learned when her children (opens in new tab) started reading, she said, "I just think it's really important to let kids read what they want to read."
Too right, Nadia.
Stacey Solomon
Stacey said she'd had a different experience from the other women on the Loose Women panel and really envied their childhood love of books. "I wasn't lucky enough to have the right start with reading. I actually remember finding it a really ferocious and intimidating thing."
For her, what killed her potential love for books was being put into a low reading set as a child and feeling embarrassed about the books that she forced to read.
Where's Wally?
The hide-and-seek picture book, Where's Wally? is the one Stacy credits for changing her outlook on reading.
"When I walked into the school library and found Where's Wally? I thought 'thank god for that'." She said,"I really struggled with reading…now there's audio books, so there's no reason [not to enjoy books]."
We love an audio book (opens in new tab) too, Stacey.
The other books
Other books that appeared throughout the Loose Women segment were George Orwell's 1984, which Carol says she believes everyone in schools (opens in new tab) should have to read. The book depicts a dystopian world, controlled the ominous presence of "Big Brother" and is a supposed warning to us all about the dangers of surveillance technology.
Armistead Taupin's Tales of a City also makes an appearance. This lighthearted novel is about one woman's explorations (opens in new tab) of San Francisco and all that it had to offer during the peak of the 1980s.
A real mixture of books from panel, proving that it's not the award-winning fiction that changes lives - but often, the everyday books that we read.
A digital health journalist with over five years experience writing and editing for UK publications, Grace has covered the world of health and wellbeing extensively for Cosmopolitan, The i Paper and more.
She started her career writing about the complexities of sex and relationships, before combining personal hobbies with professional and writing about fitness. Everything from the best protein powder to sleep technology, the latest health trend to nutrition essentials, Grace has a huge spectrum of interests in the wellness sphere. Having reported on the coronavirus pandemic since the very first swab, she now also counts public health among them.