Gwyneth Paltrow proves wide leg pants are her trendy closet essential as she serves mirror selfie style inspo
Nobody in Hollywood looks as good as Gwyneth Paltrow in wide leg pants - here is how to get the look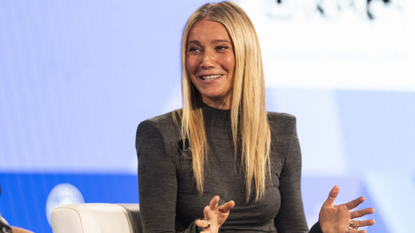 (Image credit: Bloomberg / Contributor)
Today's must-follow style inspiration comes courtesy of actress Gwyneth Paltrow, who just posted a series of photos on her Instagram account proving that wide legg pants are this season's exciting trend to watch out for.
Gwyneth, who just posed pantless for new Goop campaign, shared a bunch of outfit-of-the-day shots to her social media account and five out of seven images feature the actress in a pair of wide leg pants.
From a super-wide black pair to another one of the same color that she wears with a tucked in sweater, a khaki version with a brown belt and a classic white pair of jeans, Gwyneth looks marvelous in all of her ensembles.
Gwyneth's followers took to the comments section to praise the 50-year-old businesswoman's style.
"Never, not once, literally ever could I put on clothes and look this good all by myself. Sigh, Queen @gwynethpaltrow ♥️," wrote fellow actress Jennifer Garner.
"Hawt. Cute. Charming. Repeat. ♥️♥️," another follower remarked.
---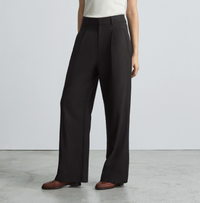 (opens in new tab)
The Way-High Drape Pant ($128 (opens in new tab)) | Everlane
Featuring two side pockets and a pleat design, these wide leg pants are made with a lightweight, breathable fabric that is sure to stand the test of time.
"But everything looks good on you!!! Seriously!," someone else noted.
"Love this array of clothing that all look fabulous on you and give the rest of us some ideas! 😍," yet another commented.
Of course, followers fawn over any type of advice touted by the star - and for good reason: not only is Gwyneth an Academy Award winning actress but an incredibly successful business owner who has revolutionized the lifestyle industry through her Goop brand.
Speaking of tips: just a few months ago, Gwyneth revealed she has the secret to getting along with your exes - and, to this day, we can't stop thinking about it.
"I really believe in conscious uncoupling, when you spend meaningful time with someone, it's nice to have it morph into friendship," she said in an Instagram Q&A session. "I don't want to have bad blood with anyone, ever (if I can help it.)"
Although she didn't directly name him, Gwyneth's advice seems to have derived from her relationship with ex-husband Chris Martin.
Ex-husband Chris Martin, with whom she shares children Apple and Moses, is "like a brother" to Gwyneth now, as a result of their conscious uncoupling.
But Gwyneth may have also been referring to ex Brad Pitt, whom she famously dated in the 90s and nearly turned her Oscar winning role down as a result of their breakup.
In a recent interview with Goop, the former couple reminisced about their relationship and openly talked about the early days of their engagement, with Paltrow revealing her father viewed Pitt as "a son."
Towards the end of the interview, Brad said, "It's lovely to have you as a friend now…And I do love you." Gwyneth responded with, "I love you so much."
Gwyneth clearly has all the answers, from the style of pants you should add to your outfit rotation come spring to the very best way to actually stay friends with your ex partners.
Anna Rahmanan is a New York-based writer and editor who covers culture, entertainment, food, fashion and travel news. Anna's words have appeared on Time Out New York, the Huffington Post, Fortune, Forbes, Us Weekly, Bon Appetit and Brooklyn Magazine, among other outlets.