Gwyneth Paltrow turned down Oscar winning role at first, and Brad Pitt is to blame
A bad Brad breakup nearly saw Gwyneth Paltrow turn down her Oscar winning performance in Shakespeare in Love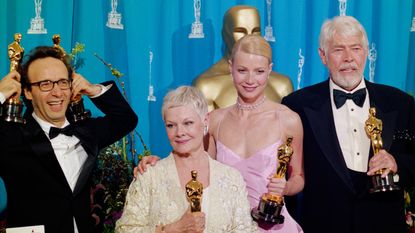 (Image credit: Steve Starr/CORBIS/Corbis via Getty Images)
Going through a breakup can cloud anyone's judgement, and Hollywood stars are no different.
In 1999, Gwyneth Paltrow took home the Best Actress Academy Award for her heart-breaking turn as Viola de Lesseps in Shakespeare in Love.
Everything about the night was memorable – from Gwyneth's tear-filled speech to her bubblegum pink taffeta gown designed by Ralph Lauren.
That very dress was later replicated by South Park creators Matt Stone and Trey Parker, in one of the most controversial Oscars looks.
But none of it might have come to fruition to begin with, and it's all Brad Pitt's fault. Well, sort of.
Gwyneth, the GOOP entrepreneur and lifestyle queen, recently opened up to Variety about how she initially turned down the chance to star in Shakespeare in Love.
She explained that, when the role was presented to her, she was "in the middle of a terrible breakup" from Brad.
Brad and Gwyneth dated from 1994 to 1997 and were, at one time, engaged.
Devastated by the split, Gwyneth recalls refusing to even read the script when it was offered to her. She recalls thinking, "I can't read anything right now. I'm having a really hard time."
Fortunately for the Sliding Doors star, Miramax, the company producing the movie, reapproached her months later.
This time, with time healing some wounds, she read the script. "I just couldn't put it down," she recalls.
Starring alongside Joseph Fiennes, who played William Shakespeare, Gwyneth triumphed over a tough category to take home the Best Actress Oscar.
She was up against Meryl Streep for One True Thing, Cate Blanchett for Elizabeth, Emily Watson for Hilary and Jackie and Fernanda Montenegro for Central Station.
Despite winning the much-lauded Oscar, Gwyneth's attitude towards making movies has cooled somewhat in recent years.
Apart from starring in comic book movies for the Marvel universe and a small part in Netflix's The Politician, Gwyneth has mostly focused on her GOOP brand in recent years.
When asked if she missed acting, she revealed, "I don't daydream about the movie business at all. I really don't miss it at all."
She did go on to add, "I think I'm so lucky that I got to do it, and I'm sure I still will at some point… but I really love what I do."
Jack Slater is not the Last Action Hero, but that's what comes up first when you Google him. Preferring a much more sedentary life, Jack gets his thrills by covering news, entertainment, celebrity, film and culture for woman&home, and other digital publications.
Having written for various print and online publications—ranging from national syndicates to niche magazines—Jack has written about nearly everything there is to write about, covering LGBTQ+ news, celebrity features, TV and film scoops, reviewing the latest theatre shows lighting up London's West End and the most pressing of SEO based stories.