Libra Season 2021 is about to shake up your sex life—what does it mean for your sign?
Everything you need to know about Libra Season 2021 and how it'll affect you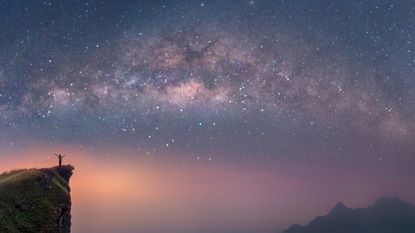 (Image credit: Getty Images)
Libra Season 2021 is finally here and there are good things on the horizon— it's particularly good news for your sex life...
Libra Season is finally upon us and for many of us who follow our Weekly horoscopes, we know that we can expect a reduction in our stress levels as we move away from Virgo Season.
To learn more about Libra Season, woman&home spoke to expert astrologist Inbaal Honigman (opens in new tab) about the changes we might experience as the season switches.
"While Virgo is earthy, Libra is airy, so these weeks will be more free-spirited and we'll start to get excited about projects for the rest of the year," says Inbaal.
She explains that as we shift away from this season we may even be feeling a little more carefree in the bedroom. "Virgos don't like anything to be too excessive. They're not really into having more than two glasses of wine with dinner, or more than the basic sexual positions."
"So we are stepping away from the rigidity of the routine, we are going into feeling a little bit more free. Maybe, just maybe, Libra will throw you in an extra sexual position!" she adds.
So if you're feeling a little risqué, Libra Season may be to blame!
When is Libra Season 2021?
Libra Season 2021 began on September 22, this coincided with the Fall Equinox which signaled the exact date when the day and night were the exact same length in time.
This celebration, all about balance, was the perfect way to kick of Libra Season, a star sign that is so well known for balance and equality, its zodiac symbol is the scales.
Libra Season will conclude on October 23 which means that the season will also coincide with Mercury in Retrograde.
What are Libra personality traits?
Librans are the "peace-makers" of the zodiac. "Libras strive for balance, and as such, they will see both signs of any argument," says Inbaal.
The astrology expert also adds that as well as having a keen sense of right and wrong, Libras are also 'unbelievably stylish," and are known for their ability to dress well.
Librans are also excellent when it comes to communication. "They're communicators, I would very much picture them as poets or even copywriters," Inbaal says.
What does Libra Season 2021 mean for my star sign?
Astrologer Bex (opens in new tab) from Cosmic Cures (opens in new tab), explained to woman&home how each star sign may be affected by Libra Season 2021...
Aires
Aires are in for a fantastic Libra season as romance is very much on the cards. Bex says, "relationships will also come to the fore, and you could find yourself either beginning a new romance or experiencing a period of pleasant harmony in an existing partnership."
Apparently, October 20 will also be a particularly positive time for people with an Aires star sign. "When the Full Moon in Aries crops up on the October 20 this will be occurring in your sign, so expect to tie up loose ends, finish a project that's taken up a chunk of your time, or experience something come to its natural conclusion," says Bex.
Taurus
Bex says that for Tauruses, health and fitness are going to be key during this time. "Your main focus in Libra Season will most likely be your health and wellness, and how you find balance with this alongside your daily routine and jobs."
She also mentions that October 7 will be a particularly good date for Tauruses to engage with their love life, "Venus moves into Sagittarius on the 7th and this creates a kind of mystical allure around you like a cloud of sensuous perfume."
Make sure you mark October 7 in your calendars!
Gemini
For Geminis, it's all about creativity during the Libra Season 2021. "This is a season to step into the spotlight and embark on a passion project, especially of the creative kind," says Bex. So try out that hobby you've always been interested in as there are plenty of hobbies for women that will spark creativity.
Bex also says that by the end of the season, Geminis may have some challenges to face, "Full Moon in Aries arrives on October 20, this may cause some realizations about certain friendships that have outlasted their time."
Cancer
During Libra Season 2021, Cancers are going to want to do nothing more than stay home and become a hermit.
Bex says that because of this, Cancers should think about home-based improvement projects, "it's a great time to flip through magazines, collect swatches, or just buy yourself a new throw pillow or scented candle to jazz up the space."
Improving your work environment can also be a positive change. "Spending more time with co-workers or people you've met through your work is also suggested, as is any office-based romance!" she says. So if you've had the hots for a coworker, maybe now is the time to act...
Leo
For Leos, this Libra Season is all about their busy careers. "Running errands, taking a million phone calls, and applying yourself to a seemingly never-ending to-do list is all part and parcel of this Season for Leos, so the best thing to do is embrace it!" Bex advises.
In order to embrace this, "remember, to keep those healthy boundaries by turning off your laptop and social media at a set time each evening."
According to the astrologer, Leos should pencil October 18 in their diaries as it looks to be an exciting time for romance. Bex revealed, "Jupiter is also going direct on the 18th, giving a further boost to your love life." How exciting!
Virgo
For Virgos, Libra Season 2021 is all about money, money, money, and Virgos will have the opportunity to increase their finances over the next four weeks.
However, this influx of money won't always be positive. Bex warns, "this will be a period where you're more likely to want to spend and indulge, so be careful about whacking it on the plastic."
October 20 is also a key time for Virgos to confront their fears. "When the Full Moon blazes in the night sky on October 20, you'll see it as a chance to face up to some of those fears which have been keeping you small, scared, or restricted," says Bex.
Libra
During their own season, Libras can enjoy this period of transformation. "A new hairstyle, outfit, or makeover is always suggested when the Sun is in your sign, so enjoy this period of reinvention."
Bex also says that for Libra's love life, there is "potential to move to the next level of connection." But she warns that if there are any cracks, they will "become strikingly obvious when the Full Moon lights up the sky on the 20th."
Scorpio
Bex says that Scorpios should take time to retreat from their busy lives and maybe even go on a holiday.
"Taking some time to yourself, away from the hustle and bustle of life, brings the ideal opportunity to reassess what you want in life," says Bex. "You can also find yourself spending money on travel as you give in to wanderlust temptation!"
The astrologer also advises that the end of Libra season may be a time to make a career change. "If things aren't feeling right in your job and they reach a crescendo at the end of the month, it's time to make some serious decisions and what's not working for you anymore."
Sagittarius
For Saggitariuses, Libra Season 2021 is going to be a very sociable time. "You'll be flitting between friends and enjoying the fruits of your labors after all that hard work of the last few months!" says Bex, but she warns, "just watch for any tendencies to burn the candle at both ends—you still need rest!"
Bex also says that Sagittariuses may want to use the Libra Season to open up for a bit of romance. " If life has felt a little low on the romance side recently—whether in or out of a relationship—then now's the time to welcome it back with open arms."
She advises that we could all enjoy being a bit "corny" sometimes!
Capricorn
Like Leos, Capricorns are career-focused this Libra Season. Bex says that at work, "you'll come across as capable, authoritative without being pushy, and liked amongst clients and colleagues. One thing to watch out for is a desire to want to keep everyone happy."
Bex also says that although love may not be on the cards for all Capricorns this season, a certain type of individual may enter their lives during Libra Season 2021.
"Don't ignore a mysterious stranger entering your life around this time, particularly if they have any talents for poetry, music, or dance!"
Aquarius
Like Scorpios, Aquariuses may feel themselves craving a little bit of adventure, Bex says leaning into this desire and going on a trip or holiday may be perfect for Aquariuses.
"Libra Season is the ideal time to take an impromptu trip—whether it's abroad or exploring more of what the country has to offer" says the astrologer.
Aquariuses may find themselves in a good position to share their wisdom, "don't back away from the chance to impart your knowledge to others," she says, "especially if it's a subject close to your heart that you feel passionate about."
Pisces
For Pisces, "Libra Season brings intense emotions and also the chance for transformation. You may find that secrets you hoped were buried rear their heads again," Bex reveals.
She advises that instead of jumping to conclusions, Pisceans should investigate the truth and try to seek a balanced perspective. But excitingly, the season is also a good time for Pisceans to make money.
"Opportunities to earn more money at work are also suggested, especially via tactical planning, utilizing your unique skills, and schmoozing the right people at the right time," she predicts.
Laura is a news writer for woman&home who primarily covers entertainment and celebrity news. Laura dabbles in lifestyle, royal, beauty, and fashion news, and loves to cover anything and everything to do with television and film. She is also passionate about feminism and equality and loves writing about gender issues and feminist literature.
Laura loves drinking and eating and can often be found trying to get reservations at London's trendiest restaurants. When she's not wining and dining, Laura can also be found travelling, baking, and hiking with her dog.