How to keep cool in summer: 16 cooling tips and hacks to survive the heatwave
Keep cool and carry on with our handy hacks and effective tips for how to keep cool in summer, from freezing socks to spritzing a homemade cooling face mist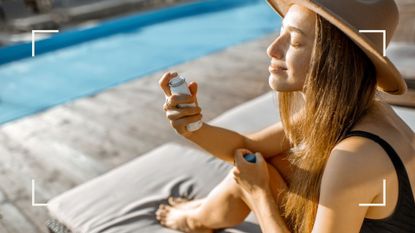 (Image credit: Getty Images / RossHelen)
woman&home newsletter
Sign up to our free daily email for the latest royal and entertainment news, interesting opinion, expert advice on styling and beauty trends, and no-nonsense guides to the health and wellness questions you want answered.
Thank you for signing up to . You will receive a verification email shortly.
There was a problem. Please refresh the page and try again.
Knowing how to keep cool in summer is the key to going about your everyday business without feeling hot and bothered. From carrying bottles of frozen water to trying specialist yoga breathing, we've found an effective, expert-approved ways to cool down, whatever you're doing.
While we welcome summer sunshine with open arms, there's no denying that as the temperature rises outside it can make our normal daily routines – working, shopping, socializing – feel that little bit more of a struggle. But between the expert top tips and a few of our own quirky hacks, we've compiled a list of 16 easy ways to keep cool when the temperatures heat up.
If you're also looking for dedicated ways to keep cool around the home you may also benefit from our guide on how to cool down a room without air conditioning. And, if the heat interferes with your sleep, take a look at our expert-led guide on how to sleep in the heat.
How to keep cool in summer: 16 heatwave tips
1. Avoid going out during the hottest part of the day
Any healthcare expert will tell you to avoid going outside when temperatures start to soar. The NHS advise keeping out of the sun between 11am to 3pm, while the CDC advise taking shade from 10am to 4pm - this is when sun rays are at their hottest. Avoiding being in direct sunlight during these high times is the easiest way to keep cool. If you have to go out, try to stay in the shade.
2. Stay hydrated
Drinking water is an obvious but highly important aspect of how to keep cool in the summer heat. Water is an essential nutrient for the body, and during the summer months staying hydrated is crucial to retaining the body's core temperature to ensure you avoid feeling too hot.
"Staying hydrated is vital if you're going to keep your energy levels up on a warm day and to help ensure you do not overheat and become dehydrated," says Boots Chief Pharmacist Marc Donovan OBE (opens in new tab). "Aim to drink a glass of water soon after waking and continue to drink plenty of water throughout the day. Carry a reusable waster bottle with you to make it easier."
"We should drink 1.5 to 2 liters of fluid a day, which is about eight to 10 glasses" advises Bupa Health Clinics' Clinical Director, Dr Luke Powles (opens in new tab). "However, if you're in the heat during the day you can become dehydrated quicker, so drink more often and aim for at least 2 liters."
Dr Powles warns, "Try to avoid drinks containing caffeine as they can often encourage dehydration." Try to avoid excess alcohol as this will also dehydrate you.
3. Cool pulse points
The secret behind regulating body temperature is keeping your body warm but cooling core pulse points such as your head, neck, and wrists. Targeting pulse points and keeping those key areas cooler helps to lower core body temperature, preventing overheating.
"Run your wrists under a cold tap! The water cools the main veins that run through your wrists, which will lower the temperature of your blood flow and cool you down" Dr Powles exclusively tells woman&home.
In addition to running cold water, you could also try resting a cold wet flannel on these pressure areas which will also rapidly reduce body heat by effectively cooling the blood circulating around your body – helping you to feel cooler, faster.
4. Mist yourself with a cooling spray
A cooling mist is an ideal solution to solve how to keep cool in summer when you're on the go. "If you're out and about take a cooling spray or mist with you to help keep your face and body cool and refresh skin in the warmer weather" advises Marc.
Beauty expert and founder of Sugar Coated, Rosie Khandwala (opens in new tab) shared her recipe for a cooling homemade rose water cooling mist. All you need is an empty spray bottle, 90ml of mineral water, and 10ml of rose water. "Simply pour the ingredients into the bottle (a funnel will help) and shake well," explains Rosie.
"Why do I recommend rose water? Rose water does not have any side effects on any skin type. It is also refreshing, has a sweet fragrance, and is great as a toner with its antioxidant properties."
To make it extra cooling, Rosie shares her top tip, "Store in the fridge overnight so it is nice and cold when you use it during the day." We can't help but feel the frozen cucumber facial reviver hack could be another good way to cool down, especially after a day in the sun.
(opens in new tab)
Empty Spray Bottle 5.4oz/160ml
Designed to produce a fine mist this spray bottle is ideal to fill with cool water for an instant cooling face mist. The 360-degree spray functionality allows you to spray with the bottle upside down without leakage.
5. Freeze bottles of water
Pop a few water bottles in the freezer to provide icy cold refreshments and a handy hack for cooling pulse points while you're out and about.
"One way to remain cool in the heat, especially when you are outside, is to freeze bottles of water in the freezer at home. Take these out with you and they will help to keep you cool" suggests Sonia Khan (opens in new tab), Senior Pharmacist at Medicine Direct. "Furthermore, as the ice melts, you will be supplied with a refreshingly cold drink to keep you going."
6. Minimize exercise or make it timely
Staying active can be a great way to prevent feeling lethargic in the heat but it's important to get your workouts in early before temperatures start to rise.
"Exercising in the hot weather puts extra stress on our bodies, meaning it is really important to know your limits and pay close attention to what your body is telling you" advises Dr Powles.
"To try and stay cool, your body diverts a lot of blood away from your muscles to your skin, putting more stress on your muscles, meaning you are using more energy as you work out. The heat will have an effect on your workout, so make sure you take regular breaks to cool down and rehydrate. Exercising at cooler times of the day is preferable."
Rosie Stockley (opens in new tab), Women's Fitness Specialist advises,"figure out when the best time of day to workout might be and get it scheduled then so you don't get caught out. Try and avoid the hottest time from 11am - 3pm. Early morning or later afternoon is best."
7. Dress for the weather
Plan your outfit ahead of the heat to make sure it's suitable to keep you cool, from the best summer outfits for the office for day-to-day, to the best summer dresses to ensure you are comfortable during the heat.
"Make sure you wear light, breathable clothing and wear a sunhat for added sun protection," advises Marc. "Wearing light colors and loose-fitting clothing is recommended to avoid the chance of overheating."
Dr Powles adds, "A top tip would be to wear linen or cotton materials. These give you that extra room to breathe so will help to keep you cool!" Elaborating on exactly how loose clothes keep you cool, Sonia explains, "Wearing loose-fitting clothes will help your body to breathe, reducing how much you need to sweat. This will help to keep you cool and lower the risk of dehydration from loss of bodily fluids."
And on why we should wear lighter colors Sonia adds, "Wearing dark colors absorb more light energy from the sun, meaning they will also absorb more heat.
8. Eat hydrating foods
"Our appetite naturally reduces in the heat because our body is trying to keep cool – it's paying less attention to how hungry we are!" explains Dr Powles. "However, it's important to try and eat regularly."
"When it comes to the best foods to eat during the warm weather, choose food with high water content such as spinach, lettuce, cucumber, celery, and radishes which will help the body hydrate. Melons are also a great cooling and hydrating choice to enjoy."
9. Drink hot drinks
Don't avoid going for your regular brew in favor of an iced version, because drinking hot drinks actually does help to keep you cool! It's whispered as an age-old method, we've all heard it before, but we're never really sure how true it is.
To settle the debate once and for all, David Wiener, Training Specialist at fitness and lifestyle coaching app Freeletics (opens in new tab) tells woman&home, "You may not think it, but enjoying a hot drink, such as tea or coffee, can result in less heat being stored in your body."
"Drinking something hot means that you will sweat more, and therefore, cool you down much quicker than if you were drinking something cold."
10. Keep windows closed in confined spaces
If you find yourself in a confined space such as a work meeting room or similar in the summer heat, it's important to block out any sunlight so make sure blinds and curtains are closed and avoid the temptation to open the windows.
To explain the reasoning behind keeping windows closed in confined spaces Dr Powles says, "You'd be inclined to think opening them will help but actually, it just brings hot air into the room." If there is nowhere for the hot air to go, to create a breeze it remains hot and lingers to make you feel hot.
"If the room doesn't have air conditioning then use a desk fan. While a fan doesn't make a room cooler it will move air over your skin which will help to lower your body temperature."
11. Try specialist breathing techniques
Keep cool by embracing an age-old yoga breathing technique. "Sitali breathing is a yoga breathing practice and a way to make cool air yourself" explains TEMPUR's sleep expert and chartered psychologist, Suzy Reading (opens in new tab).
"It's best to be seated. On inhalation only, curl up your tongue like a straw and sip in your breath through your tongue, the air will feel very cool. Then close your mouth and exhale slowly through your nose. Just five minutes can be very effective."
This soothing and cooling practice is especially useful as a meditative practice before bed to help you cool and relax.
12. Use a handheld fan on to go
There's nothing groundbreaking about this handy hack but it is a fast, effective way to keep cool in summer while you are without a natural cooling breeze. A handheld mini fan is a summer staple to have at handy as and when you need instant cool air.
All the latest models are slimline enough to pop in a small handbag, to avoid weighing you down with a bulky gadget. Handheld fans are ideal if you're commuting or perhaps sitting in a stuffy waiting room during the hottest hours of the day.
(opens in new tab)
This super-slim, foldable mini fan offers an impressive 14 hours with 2-speed, and 21 hours with 1-speed after only 3 hours of full charge. The extra-long battery life allows you to enjoy the feeling of instant cool air while traveling, commuting, working, and any other outdoor activities.
Eventually when the battery does need recharging it's possible through a regular USB socket, laptop, power bank, or car charger.
(opens in new tab)
This multipurpose fan comes with the added bonus of a gentle misting action. Acting like a mini portable humidifier the 2-in-1 mini fan design comprises a 20ml water tank, to add cooled water for an added cooling effect.
Rechargeable by USB the portable device runs for 5 hours on setting 1 and 3.5 hours on setting 2, after 2 hours of charge.
13. Take cold showers
Taking cold showers is a great way to feel refreshed after being out in the heat and lower your body temperature. "The main thing to remember is that the arms and legs help regulate body temperature, so cooling them will reduce the whole body's temperature" explains Marina Logacheva, Aguulp's (opens in new tab) registered Nutritionist.
If you're trying this right before bed Marina suggests a slightly less icy temperature, "Try to avoid cold showers as it can make you more alert; make it a cool shower instead."
14. Pop socks in the freezer
Speaking of feet, this quirky but fail-safe tip is a favorite of the team here at woman&home. Simply pop a pair of dry, clean socks (not damp) into the freezer for at least an hour, then put them on for an instant cooling effect. You want to get the socks as cold as possible, so in our experience, three hours is a good amount of time to sufficiently cool them – because once you put your hot feet into them, the clock is ticking for them to start to warm.
15. Keep beauty products in the fridge
Make more space in the fridge or your skincare fridge to store cooling beauty products such as your best aftersun or cooling gels.
Nick Small, AO's (opens in new tab) small appliance expert advises, "Be fridge freezer smart. There are plenty of foods that are suitable to store at ambient temperatures. Foods such as condiments, avocados, potatoes, and fresh herbs can be stored in the cupboard. This helps to keep space free in the fridge for water, beverages, fruit, and other items like face sprays and moisturizers to keep cool for application, and don't forget some space for the aftersun in the fridge!"
Simply pop these cooled beauty products in your bag when you head out to the beach and beyond, preferably in a mini cool bag to make sure they retain their cool temperature.
16. Fill a hot water bottle with crushed ice
Create a handy cooling device by getting creative with your hot water bottle. Rather than filling it with hot water, instead, fill it with crushed ice and cold water to create a generous ice pack that can then be carried around with you while you go about your business.
Due to the thermal properties of the design, it will stay cool for a good few hours, to ensure you keep your cool for longer.
Tamara is a highly experienced homes and interiors journalist, with a career spanning 19 years. Now the Lifestyle Editor of womanandhome.com, she has spent the last 16 years working with the style teams at Country Homes & Interiors and Ideal Home, and it's with these award-winning interiors teams that she gained a wealth of knowledge and honed her skills and passion for shopping, styling and writing about every aspect of lifestyle and interiors.
With a keen eye for the latest interior trends, there's not a lot she doesn't know about home decor – whether it's what colour we should be painting our living rooms next season, or if the latest 'must-have' buys are actually worth investing in.
A true homes and interiors expert, Tamara has served as an ambassador for leading interior brands on multiple occasions, including appearing on Matalan's The Show and presenting at top interiors trend events such as the Autumn Fair and Spring Fair.