5 easy ways to turn your bathroom into a home spa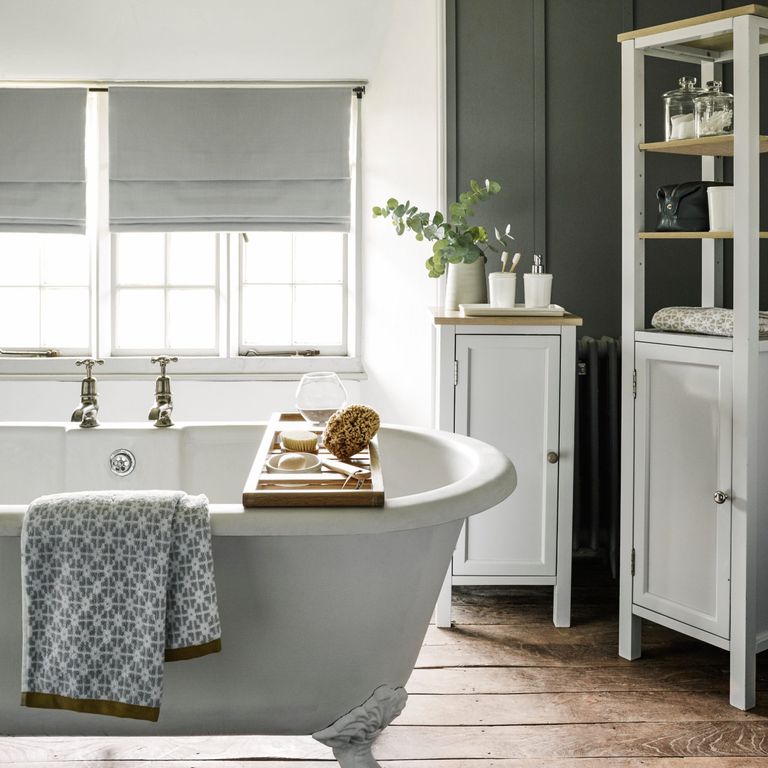 Celebrate National Relaxation Day (15 Aug) without breaking the bank at an expensive spa. Create an indulgent at-home spa experience with our help, then close the bathroom door and spend a little pamper-you time - you know you deserve it!
Kit out your tub
Make sure your tub is ready for that long soak you have planned. Choose foaming bubbles or relaxing salts and fragrant oils such as lavender. Use a wooden bath bridge to prop up your latest read - try the John Lewis'sCroft Collection bath bridge, £40 (pictured above) -and have a glass of iced water to hand, plus a bathpillow.
Also play music to help create the mood – search "spa playlists" or "spa music" on your device, connecting to a portable splash-proof speaker if you can. Choose songs without lyrics – certain tunes might increase your stress levels by triggering emotions.
Update your towels
Keep a set of best towels, just for you, making your spa-at-home day extra special. Treat yourself to a pair of hand towels, a huge bath sheet and a super-soft bath mat.
There's no need to keep to all white, either – the latest designs feature geo patterns in lovely muted shades, or choose chic grey, which will hide any make-up or beauty product marks.
Above: Hand towels,£6-£14 each; Kubu rattan baskets, £49.50 for a set of 2; bath mat, £19.50, all marksandspencer.com
Style your home spa
Before your at-home spa session, spend a few minutes making the family bathroom somewhere truly relaxing.
MORE: 10 clever ways to disguise your TV
Fill a basket with anything that would disrupt your relaxed mood – like the kids' bath toys, laundry and other people's towels – and pop them in another room. Remove any day-to-day toiletries and cleaning products. Then add a few vases with simple flowers, stacks of lovely clean towels, scented candles – anything that makes you feel calm.
Use your own natural products
Run out of your favourite soak or scrub? Nip to the kitchen before you start your spa and make these alternatives:
Natural bath milk
Start by whizzing one cup of powdered milk, half a cup of oatmeal, half a cup of bicarbonate of soda, a sprig of dried lavender and the contents of two camomile tea bags in a food mixer. Decant into a lidded glass jar. Swirl half a cup of this mix into your bath under warm running water.
Natural hand scrub
Melt one quarter of a cup of coconut oil in the microwave. Add two-and-a-half cups of brown sugar and squeeze in the juice of one lemon. Stir until well combined. If it looks too wet, add one teaspoon of sugar at a time, until it looks gritty enough to use as a hand scrub.
If hand made products aren't your thing, or you're under time constraints, we recommend investing in a natural salt scrub to buff away dead skin and detox your body. ESPA's Relaxing Salt Scrub, £38, combines natural sea salt with almond oil for a sumptuous scrub.
Make your shower more spa-like
Before you turn on your shower, use a body brush for some dry body brushing all over in short, circular strokes, moving upwards towards the direction of your heart.
Then, turn your shower into a mini spa treatment in itself, by switching from hot to cold, which is good for the skin and helps get the blood flowing - but always end with a few minutes at your normal temperature though.
Another great tip is to pop a few drops of essential oils into your shower for an at-home aromatherapy experience. We love Neom's Wellbeing Oils Collection - which is the perfect aromatherapy starter kit.
MORE:Bedroom wallpaper ideas that are guaranteed to make your sleep space gorgeous
Finally, after your shower, smother on lashings of hydrating body lotion onto your skin.
Now turn your phone to silent, pop on a robe and slippers, and start the process of unwinding with a cup of herbal tea.
And remember to carry on the spa experience after bath time is over, too...
After retiring from the bathroom, be sure to continue the calming ambience into the bedroom. The easiest was to do this is by lighting a calming scented candle. We love Neom's Tranquility Scented Candle, £30, which will fill your room with aromas of English Lavender, sweet basil and Jasmine.
To finish your spa experience, spritz your pillow with a relaxing mist, like This Work's Deep Sleep Plus Pillow Spray, £18.
The stats don't lie for this product, with 89% of users reporting to fall asleep faster than usual - and 92% felt more refreshed in the morning.