Eyelash tinting: Why mascara lovers should actually opt for a lash tint instead
Save some time with this eyelash tinting hack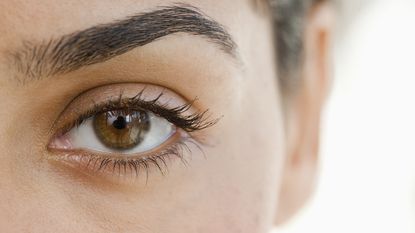 (Image credit: Getty)
woman&home newsletter
Sign up to our free daily email for the latest royal and entertainment news, interesting opinion, expert advice on styling and beauty trends, and no-nonsense guides to the health and wellness questions you want answered.
Thank you for signing up to . You will receive a verification email shortly.
There was a problem. Please refresh the page and try again.
If you're looking for a reason to give eyelash tinting a go, how about this: Did you know that the average woman spends roughly £3,000 on mascara alone in her lifetime? With one in three of us choosing to layer on the best mascara (opens in new tab) on a daily basis, it would appear that mascara is our staple piece of makeup kit.
Picture the scene: you only have only a few rushed moments to spare before leaving for the morning commute. It's a split-second decision: Lashes, lips or blush? For me, it's always a quick spritz of perfume and whacking on some mascara if I want to feel more pulled together in a hurry. It's the one makeup product that, if I discovered I'd left home without and had somewhere to be that evening, I'd feel genuinely bereft without.
A brief history of mascara
Long before eyelash tinting came onto the scene, mascaras reigned supreme in makeup bags before makeup bags even existed, their legacy dating back to 4000 BCE.
Women – and men, for that matter – in Ancient Egypt used everything, from kohl to burnt almonds, to darken their lashes (which sounds unlikely to be one of the best mascaras for sensitive eyes) (opens in new tab) Not only did this makeshift mascara serve an aesthetic purpose, it was also thought to ward off illness and boost the immune system, with some even believing the formula provided a hotline to the ancient gods, offering protection from evil spirits.
In fact, that same kohl, which consists of salts of heavy metals, such as antimony and lead, is still used as the base for mascaras in some parts of the world today. No wonder we've developed such a dependency.
Why it could be time to give up on mascara
I have a love-hate relationship with the nation's favourite makeup product. As well as being an expensive daily ritual to facilitate, applying mascara can feel like an arduous task at times – and finding the right mascara isn't always easy. Spidery lashes, panda eyes, that awful clumping you get when you apply too much product and there's no going back – these are all issues that we could do without.
Then there are the potential health hazards we face from wielding a wand. According to the Food and Drug Administration, scratched eyes from errant mascara wands are the most common makeup-related injury. They can also provide an entryway for bacteria, "especially if you are using an old mascara that has no more preservatives in it, so it grows bacteria like a petri dish", explains Dr Rubinfeld, an ophthalmologist who specialises in treating injuries to the cornea. Urgh.
Life in lockdown has taught us all some home truths: Quiz fatigue is a thing, most activities are far better in real life and, actually, you can have too much banana bread. But one of the most prominent lessons for me has been that a respite from makeup suits me far more than layering it on each day, in terms of saving time and benefiting my skin. While a spritz of perfume and a full skincare routine make the cut each morning, being – the majority of the time – makeup-free since March has been liberating. But I appreciate that, as we venture back to some semblance of normality, it's hard to part with our cosmetic rituals. Enter lash tinting, a makeup halfway house that requires less effort, time and money.
The case for lash tinting
Lash tinting will give the illusion of thicker, darker lashes with much less maintenance (no need to faff around learning how to remove waterproof mascara (opens in new tab)) and without a smudge in sight. "With tinting, the results last for around four to eight weeks, and there is also the elimination of panda eyes," said Sasha Waite, founder of Sasha Core Beauty and Skin Clinic. "Naturally, our lashes tend to be fairer on the tips, so tinting them can make them appear longer than you thought they were."
The tinting itself takes around 15-20 minutes and prices can start as little as £8 for a basic tint. If you're looking for an eyelash perm or a more dramatic treatment like LVL lashes, it's going to be more expensive. If you want to try tinting your lashes at home (you could also try eyebrow tinting at home (opens in new tab)); there are plenty of kits out there that make the process hassle-free. Just make sure you carry out a patch test first.
For those of us who are time-poor, lash tinting could be the perfect solution, earning us a few more precious moments in the morning. There's also the positive effect ditching the mascara can have on our lash health. While many mascara formulas nowadays are developed with lash conditioning in mind, the continuous cycle of application and removal can have some negative effects on the delicate eye area – especially if your mascara removal involves any pulling or tugging. And let's not even get started on the sin that is sleeping with your mascara on… Keeping lashes in all their naked glory could be a real power move when it comes to anti-ageing.
The evolution of the lash tint
The humble lash tint has come a long way. A quick look back at lashes throughout recent history sees a clear trend away from heavy mascara towards a more natural look, with a little help from lash treatments. 2005 saw the LVL lash lifting treatment, pioneered by Nouveau Lashes (opens in new tab) directors Bridgette Softley and Karen Betts, storm the market. LVL stands for "lash, volume and lift" and provides an alternative to the traditional keratin lash perm. Eyelash lamination is a newer treatment involving lash tinting, with much of the same steps as LVL, which has risen in popularity over the last few years. If you're a fan of this look and want to try the treatment at home, tint your own lashes and invest in a good eyelash curler (I rate Shiseido's one) for a quick 10-second boost on each eye in the morning. Simple, but it works wonders.
Coined by lash company Nouveau Lashes, the LVL lashes treatment involves lifting, volumising and tinting the lashes in one fell swoop, along with a deep-conditioning treatment. Fifteen years later and lash lifts are still gaining in momentum. "Short treatment times and results that last six to eight weeks without the need for maintenance means lash lifts are now proving more popular than extensions," says Deborah Mitchell, founder of London Lash & Brow tint. Of course, eyelash extensions are always an option, but in this interest of keeping things low-maintenance, that's a topic for another day.
6 steps for doing a lash tint at home
Ready to try it yourself? Sasha Waite shares her advice for tinting lashes at home.
1. Always make sure you give yourself a patch test at least 48 hours prior to tinting. This is a precaution to find out whether you are allergic to the product. Never tint lashes without doing this, as you do not want a reaction around the delicate eye area.
2. Tint one eye at a time. Apply some Vaseline and an under-eye pad (cut a cotton pad into the shape of a moon if the tinting pack doesn't come with patches). This will protect your skin underneath the eye from any staining from the tint.
3. Follow the instructions on the manufacturer's packaging to ensure the tint formulation is mixed correctly.
4. Apply the tint to the left eye first, ensuring this eye is kept closed throughout the whole process. Once lashes are thoroughly coated, apply a dry cotton pad over this eye and allow the tint to develop for the recommended and stated time on the manufacturer's instructions. Kick back and relax!
5. When it comes to removal, keep this left eye closed and, using a cotton bud, gently wipe away the tint downwards over the lashes to remove any tint. Once thoroughly removed with the cotton bud, use some damp cotton pads to gently wipe away any excess product. Keep going until cotton pads are clean and showing no signs of tint. Keep your eyes closed throughout this whole process and only open when you're confident all tint is removed.
6. Repeat the same process for the other eye.
Lauren is the former Deputy Digital Editor at woman&home and became a journalist mainly because she enjoys being nosy. With a background in features journalism, Lauren worked on the woman&home brand for four years before going freelance. Before woman&home Lauren worked across a variety of women's lifestyle titles, including GoodTo, Woman's Own, and Woman magazine.