The Roomba Black Friday deals are here, and you can save hundreds on best-selling robot vacuums
Here's where to find the best Roomba Black Friday deals and what discounts are worth shopping now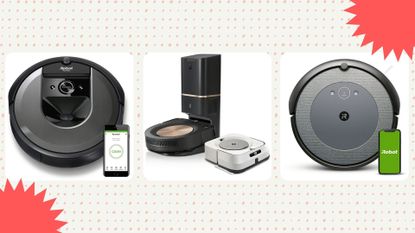 (Image credit: Future)
Shop the best Roomba Black Friday deals right now, from bundles to price drops on individual gadgets.
Listen up, shoppers. The Roomba Black Friday sale has landed, with three-digit price drops on individual devices and bundles, which include a robot vacuum cleaner, mop, and handheld vacuum. Not to mention, shoppers can score bargains across retailers—here, the deals start at as little as $175 (£200).
Current Roomba sales in the US
Best Roomba Black Friday deals in the US
We've scoured the internet to hand-select the best Black Friday Roomba deals across retailers. And to ensure you're always in the know, we regularly update this list with new Roomba deals as they come.
Current Roomba sales in the UK
Best early Roomba Black Friday deals in the UK
Today's best Roomba deals
Is Black Friday the best time to shop for Roomba deals?
Unarguably, the Roomba Black Friday deals offer a great opportunity to save some serious money on this otherwise expensive item. Plus, the sales at this time of year can be better than at any other time of year. So if you see a Roomba for a great price this month, it's worth snapping it up rather than waiting for another time of year. (The same goes for other homeware brands, like Le Creuset Black Friday deals and KitchenAid deals.)
However, there are great Roomba deals all year round. Shoppers can expect to find colossal bargains during major shopping holidays, like Memorial Day, Fourth of July, President's Day, Labor Day, Veteran's Day, Prime Day, and more. Plus, many retailers promote sitewide events and sales that cover Roomba's product lines.
Which robot vacuums will be discounted for Cyber Monday?
Aside from Romba, we expect most household names of vacuum cleans to discount their product lines. Dyson has Black Friday deals, as do Eufy RoboVac, EyeVac, iLife, Neato, Roborock, Samsung, and Shark. In this case, steep price drops will depend on the vacuum's original price and how expensive it is. Based on prior trends, we'll probably only see slight price deductions on most high-end cleaners.
Check out our favorite deals happening right now, below.
Is Roomba worth it?
In short, yes. Though pricey, Roomba vacuum cleaners keep surfaces tidy with minimal effort.
Since its inception, the brand has developed an impressive range of robotic vacuums and mops, asserting itself as a leader of the best kitchen gadgets. Compared to regular vacuums, Roomba models boast powerful dirt pick-up, smart mapping technology, and hands-free operation. For a deeper clean, they constantly examine your space and tackle hard-to-reach areas you'd otherwise miss.
Moreover, the newer iterations are self-emptying and can hold debris accumulated over weeks. With advanced sensors, they learn your space and offer personalized recommendations, to help you achieve tasks more efficiently. Plus, they feature a high-grade filtration system, which captures 99% of pollen and mold allergens.
Ultimately, if there's one thing you plan to buy this Black Friday, let it be a Roomba vacuum cleaner.
Dominique worked as a shopping writer at Woman & Home and while with the brand she covered products, sales and deals, and market news across categories. Before joining the team, she penned stories as an editorial fellow at Insider Reviews, the affiliate commerce team at Insider Inc./Business Insider. The bespectacled NJ transplant specializes in commerce journalism, women's lifestyle content, and hoarding makeup—much to her mother's dismay.