16 Easter wreath ideas and door decorations for spring 2022
These Easter wreath ideas are perfect for adding some seasonal charm to your front door this spring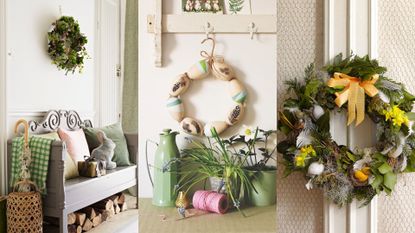 (Image credit: Future)
For Easter wreath ideas that will add that extra-special touch to your home this spring, look no further than our round up of expert-picked decorations and stylish decor schemes.
Far from being a seasonal staple resigned to the winter months, wreaths have become popular Easter decoration ideas to add a spring flourish to the home.
Unlike the more traditional spring home decor like Easter trees, wreaths have only emerged as an Easter trend in recent years, but have burst into interior schemes with a variety of designs and DIY options.
From beautiful blooms to quirky non-floral options and DIY to ready-to-order, there are plenty of Easter wreath ideas to choose from. Some can double up as Easter table decor and beautiful centrepieces, or you can even gift them to loved ones as beautiful Easter gifts for adults.
Easter wreath ideas for spring 2022
1. Use a novelty Easter wreath base
Easter wreath ideas come in all shapes and sizes, so for a novel take on the traditional Easter wreath that kids will love, opt for a bunny base. With its unmistakable shape, a wreath inspired by the Easter Bunny is perfect for layering up with flowers, eggs and other decorative elements.
Great for using on both indoors and outside, this striking idea will bring a playful touch to traditional Easter door decorations. It can also make a fun addition to kids' playrooms or bedrooms after the holiday.
2. Create a pom-pom Easter bunny wreath
This pom-pom Easter wreath is a great DIY project to involve the kids with, and will look fabulous once completed. Constructed from a simple ring wreath that has had pre-made pom-poms glued to it, the finishing touch is a bunny ear headband that nestles over the top half of the wreath base. Easy, right?
3. Use fake flowers for a long-lasting Easter wreath
Many Easter wreath ideas feature fake flowers: they outlast real blooms, and many faux florals are so convincing these days that you wouldn't even know the difference.
One perfect example is this colorful wreath which is perfect for hanging on any front door this spring. Incredibly, this stunning wreath features 200 faux tulips in an unmissable color palette of reds, purples, yellows and more. Who could believe they're not real?
For any wreath comprising fake flowers, there are a couple of things you can do to help them stay looking great for longer. Make sure they're kept out of direct sunlight to limit the risk of damage, and also ensure they're in a spot where they can be sheltered from the elements.
4. Use an umbrella for a quirky Easter wreath alternative
5. Craft a wreath using painted eggs
Painted eggs are a pretty traditional Easter decoration and they can be used to create DIY Easter wreaths. Once the eggs have been emptied and decorated, string them together using twine or use a more sturdy wreath base (like the wire coat hanger used in the image above).
It can be hung everywhere from the kitchen to the bedroom, just ensure it's up out of harm's way - as this Easter wreath idea is extremely fragile.
6. Make a wooden bead Easter wreath
For yet another fun take on traditional Easter wreaths, search no further than this wooden bead Easter wreath. Wooden beads have never looked more chic, while adding pops of lush greenery and pretty petals help maintain the spring theme.
Shared by blogger Amanda of Finding Mandee, this wooden bead Easter wreath is sturdy enough to survive on a front door but would also look great indoors. Have fun with how you position your flowers and foliage: we love how Amanda has styled the example above to look as if it's wearing a flower crown. To make your own, take a look at Amanda's full tutorial (opens in new tab).
7. Forage materials for your Easter wreath
If you're keen to avoid too many florals in your Easter decor, you could consider this foraged, rustic effect for your Easter wreath.
A great addition to your mantelpiece or dining area, this wreath idea involves repurposing your Christmas wreaths or using DIY wreath making kits for the foliage base.
Once you have your green leafy base, forage spring-themed materials to decorate it. This can include different types of feathers or spring flowers like daffodils.
8. Design a lit-up Easter wreath
While the evenings will technically start getting lighter as spring approaches, there's still no harm in considering wreath ideas that will add a little extra sparkle to your home. Whether paired with flowers or plastic eggs, twinkling lights are the perfect way to further enhance your beautiful Easter wreath once the sun begins to set.
Strings of LED lights can easily be twisted around DIY Easter wreaths and, if you want to keep things simple, light-up wreaths are available to buy too.
9. Craft an Easter rag wreath
A rag wreath is a great way to utilize any old fabrics you might have knocking around at home. It'll cut your need to splash out on new materials and the risk of chipping your Easter nails design on spiky foliage. An eco-friendly alternative, it allows you to upcycle everything from old cushion covers to fraying pyjamas. Granted, it's not a look that everyone loves but it's certainly worth considering!
Colorful, unique and perfectly imperfect, scrap fabric wreaths are long-lasting and perfect for bringing a cheerful dose of color to your home. There are plenty of great how-to tutorials out there for making your own rag wreath, although if you're not sure where to begin, consider buying a ready-to-use kit.
10. Design a living Easter wreath
A living wreath, packed with blooming bulbs and flowering buds, is a fantastic decorative option for your home this Easter.
"The living wreath is made using moss on a wire frame, and plants," says Kerrie Bridger of Highgate Florist (opens in new tab), who created the wreath above. "Simply place the moss onto the wreath frame and position your chosen plants on top, at more of an angle if you're planning to hang your wreath rather than lay it flat. Then wrap the moss around the bulbs or roots of the plant and wrap some wire around to secure it all in place".
Bridger says spring bulbs and primroses work particularly well for this wreath idea, which would be a great choice for passionate gardeners and kids alike. "It's an easy DIY and you should be able to find all the materials you need via your local florist or garden center," she adds.
As well as making a great Easter door decoration, Bridger also notes that a living wreath would make perfect Easter mantel decor above a fireplace or a great Easter gift.
11. Create an Easter egg wreath
There are lots of Easter wreath ideas that use the best Easter eggs to create a striking centrepiece. We think Mini Eggs or pastel coloured sugared almonds (opens in new tab) make the best craft supply when creating an egg-covered design. All you'll need is a wreath base, a large packet of eggs and some hot glue to create the look, with the added option of threading in ribbon. Alternatively, keep your eyes peeled for ready-to-buy Easter egg wreaths from your favorite store or florist.
12. Make an Easter egg box wreath
The next time you get to the end of a box of eggs, don't throw the carton in the trash. Instead, use each compartment of the egg carton to form the basis of an egg box Easter wreath. A brilliant activity to try with the kids, each division can be trimmed into a flower shape and painted before being glued together to make a vibrant and unique Easter wreath.
Take a look at blogger Porter's full tutorial (opens in new tab)and try it for yourself.
13. Make a hula-hoop Easter wreath
Got a hula-hoop knocking around in your garage or home gym? Use it as the base for an elegant Easter wreath. Whether it's wrapped in colorful ribbons or adorned with flowers, the hula-hoop's shape lends itself perfectly to becoming an Easter wreath for the holidays.
Cheap to buy (you can pick them up in most dollar stores) and easy to decorate, they're also very lightweight. Just make sure you secure your hoop wreath to your front door securely.
14. Make a chick nest Easter wreath
For a nature-inspired Easter wreath, partially decorate a simple base with foliage. Glue a vertical twig in place across the middle of the base, and attach fluffy chicks to it. The finished look is super cute, and will suit any sort of home. There are a number of different Amazon Easter gifts you could use instead, such as swapping the chicks for bunny ornaments.
15. Crochet an Easter wreath
A crocheted Easter wreath will work best indoors and will add a beautiful touch of homespun color to any wall inside your home: "A crocheted Easter wreath isn't really that suitable for outdoors unless it is sheltered," notes Willis.
Tapping into amigurumi—the Japanese-born art of creating small crocheted or knitted stuffed animals—children will adore this cute idea, which was created by crafts store, @thestitchtower (opens in new tab). Hobbycraft has shared the full amigurumi tutorial (opens in new tab), and at 62 steps, it's not for the faint-hearted!
16. Swap an Easter wreath for an Easter basket
Looking for something a little different to decorate your front door? Swap the traditional Easter wreath concept for a stylish hanging basket design. Ideal for filling with fake flowers that will last all spring long, this sophisticated take on a classic wreath can be regularly switched up: you can change the flowers, as well as the ribbon tied around the basket. You can also repurpose Easter basket gifts you've been gifted in previous years to make this decoration.
How do you make a cheap Easter wreath?
If you're keen to make an Easter wreath on a budget, it might be easier than you think.
"Get lengths of willow or a flexible creeper, such as stems of corpus (dogwood), akebia or passiflora (passion flower), and secure in place with bind wire or garden twine at regular intervals," says Blacklock. "Make a nook for hanging it and glue colorful dried flowers to your frame."
"Nature provides the most glorious gifts for free, so if you're looking for lower budget options, take a walk out into the garden or to the woodland and see what you can find on the forest floor," agrees Willis. "Sprigs of hawthorn in blossom, leafy twigs and pieces of bark all make for texture that you can wire into your wreath."
Creating non-floral decorations doesn't need to be costly, either.
"Use yarn and fabric scraps to make flowers and leaves," Willis suggests. "You can also make papier mache eggs using old newspapers and paint. Half-balls of yarn can be used for pompoms, and you can also easily repurpose an old Christmas wreath."
When should you put an Easter wreath up?
While Christmas comes with its traditional Twelfth Night expiration date for decorations, Easter doesn't really have any guidelines in terms of when you should (or shouldn't) decorate your home.
So is there such a thing as the "right" time to put an Easter wreath on your front door? Not really, says Blacklock, who notes that March 20th, as the first official day of spring, could be an appropriate time to get decorating.
Equally, in terms of taking your Easter wreath down, there's no rush. Pretty seasonal wreaths are commonplace on doors all-year long these days, so make the most of it while it lasts.
Katie Byrne is a contributor to woman&home and a writer whose interests span everything from homes and interiors, to pop-culture, travel, business and self-development. A former digital editor, her freelance journalism has featured across a wide range of print and online titles, including Raconteur, Digital Spy and more. When she's not writing, she loves reading (and has the groaning bookshelves to prove it...), dreaming up new décor ideas for her flat and devouring Netflix's latest true-crime series with her husband. You can find her on Twitter: @katie_b123 (opens in new tab).