Is hula hooping good exercise? The expert take on whether this fun workout can really tone you up
It has soared in popularity thanks to TikTok—but is hula hooping good exercise? And is a weighted hula hoop effective strength training?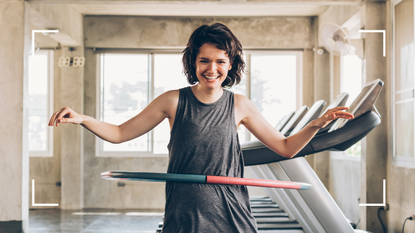 (Image credit: Getty Images)
woman&home newsletter
Sign up to our free daily email for the latest royal and entertainment news, interesting opinion, expert advice on styling and beauty trends, and no-nonsense guides to the health and wellness questions you want answered.
Thank you for signing up to . You will receive a verification email shortly.
There was a problem. Please refresh the page and try again.
It sure looks like a lot of fun, but is hula hooping good exercise? While it may not be something you've done since childhood, the activity has gone full circle and is now purported to be one of 2022's biggest fitness trends. This is partly down to TikTok, with videos of people incorporating a weighted hula hoop into workouts going viral—some amassing more than 200 million views.
There has been a soaring interest in exactly how hula hooping can boost our at-home workouts and whether it can be effective strength training if using a weighted hula hoop, which is loaded up with extra weight to work your body that bit harder. Research (opens in new tab) by PureGym, which looked at a hundred different fitness trends for 2022, found that the activity came out top, with a 234% surge in people searching on Google. But is the workout all it's claimed to be? We've called on fitness experts to reveal whether it is an effective form of exercise and a fun way to do cardio, and tone up your core at the same—or if it's better to stick with dumbbells.
Is hula hooping good exercise?
In short, yes—but only as part of a well-rounded fitness routine. "If you are hula hooping for more than a few minutes it will boost cardiovascular fitness—since it's harder than it looks—and it is great for your balance and challenging your core muscles," says Rebecca Myer, a personal trainer and founder of the health and lifestyle app Live Happy. "It also relies on your leg muscles working to help stabilize you."
Additionally, it is an accessible form of cardio. "As a low-impact activity, one of the exercise benefits of hula hooping is that it puts minimal strain on your joints—unlike running on a treadmill," notes Anette Grasmo, personal trainer at fitness platform Ponzu. On top of this, just like these best resistance bands, it's an inexpensive piece of equipment that's usually easily transportable.
Meanwhile, personal trainer Aimee Victoria Long points out that hula hooping can build strength by being a great ab workout. "It involves a lot of rotation, which requires the core muscles to work," she explains. "So as well as the calorie burn from moving, your core is going to receive a workout at the same time." The intensity will be ramped up even more if you're using a weighted hula hoop.
However, there are limits to its benefits, says fitness coach Hanna Kim who explains that there's a lack of resistance involved, particularly if you're not using a weighted hula hoop. "So you'd need to add in movements from other practices, like yoga, gymnastics, and calisthenics, too," she explains. "But it can be amazing for mobility and endurance."
Our experts agree that if you enjoy it, then go for it. "If you're moving your body and burning calories, then your body is going to thank you for it," points out Long. "For me, the main component of someone achieving their fitness goals is finding a form of exercise they enjoy."
Hula hooping—4 expert tips for an effective workout
1. Increase the intensity
To maximize your workout, I'd suggest moving as much as you possibly can at a high enough intensity so that your heart rate is elevated," suggests Long. "Similarly, have as little rest as possible to make sure your fitness levels are really tested." After other ways to get your heart rate up? We've rounded up some at-home workouts that will easily slot into your schedule and help you break a sweat.
2. Combine hula hooping with other exercise
"I would include hula hooping as an add-on to a more solid foundation of fitness that includes weight training," says Kim. "To get the most out of it I would look at progressing it in a way that keeps you improving. Whether that be including new moves that maybe challenge your balance, like inversions or plyometrics. The possibilities are endless." She adds that for the best workouts, it could be a good idea to use the hula hoop more for mobility and cardio, and then do resistance training elsewhere in your sessions.
3. Keep moving for 10 minutes or more
"I would suggest you perform hula hooping for at least 10 minutes so you can really feel the cardio benefits," recommends Myers. "Try to practice a continual loop around your body for as long as you can manage—which may take patience and time to master." She insists that such exercise should be incorporated into a healthy, balanced lifestyle that includes plenty of other movement, as well as lots of sleep and good nutrition.
4. Activate your core with good posture
"When doing a workout with a hula hoop it all comes down to technique, practice and patience," says Grasmo. "Ensure that your core is activated at all times and that you're not sticking your bum out—keep your posture upright." If you're wondering how to fix your posture, staying active can be really helpful. She adds that you could also use the activity to warm up for other exercises.
---
w&h thanks personal trainer Aimee Victoria Long (opens in new tab), fitness coach Hanna Kim, Rebecca Myers, personal trainer and founder of health and lifestyle app Live Happy (opens in new tab), and Anette Grasmo, personal trainer at fitness platform Ponzu (opens in new tab), for their time and expertise.
Lauren is a freelance writer and editor with more than six years of digital and magazine experience. In addition to Womanandhome.com she has penned news and features for titles including Women's Health, The Telegraph, Stylist, Dazed, Grazia, The Sun's Fabulous, Yahoo Style UK and Get The Gloss.
While Lauren specializes in covering wellness topics—ranging from nutrition and fitness, to health conditions and mental wellbeing—she has written across a diverse range of lifestyle topics, including beauty and travel. Career highlights so far include: luxury spa-hopping in Spain, interviewing Heidi Klum and joining an £18k-a-year London gym.