Fitness trends 2023: Experts predict the new ways we'll be looking after ourselves this year
The fitness trends 2023 are here, from circuit training to syncing our sleep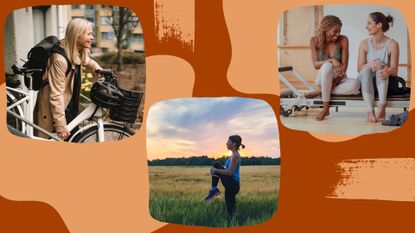 (Image credit: Getty Images/Future)
woman&home newsletter
Sign up to our free daily email for the latest royal and entertainment news, interesting opinion, expert advice on styling and beauty trends, and no-nonsense guides to the health and wellness questions you want answered.
Thank you for signing up to . You will receive a verification email shortly.
There was a problem. Please refresh the page and try again.
Want to get ahead of the top fitness trends for 2023? While some workouts will never go out of style, how we train and recover, track our progress, and improve our health tends to change quite a bit with discoveries and exciting technologies.
Last year, it was all about getting back to it and rediscovering the activities we loved pre-pandemic - along with switching things up. After almost two years of at-home workouts, we saw many people switch from high-intensity sessions to long walks, slower runs, and other forms of low-intensity exercise. We saw changes in how people incorporated their diet and general health into their exercise routines and more of a desire to try unique workouts.
The biggest wellness trends for 2022 are still going strong into the new year and we've covered the top sex trends 2023 - but this is what the experts think could be next in the world of fitness this year. From new workouts and the best fitness apps to syncing up our sleep with exercise and nutrition, the fitness trends of 2023 are all about getting personal and finding exactly what's right for you and your body.
Fitness trends to look out for in 2023
1. Rise of the e-bikes
The way we move has changed for good post-pandemic and our daily commute has certainly become part of that change, with two out of every three bike rides part of a commute in major hubs like London and Paris, according to data from Strava's trends report (opens in new tab). But unlike previous years, 2023 is set to see a boom in a new type of bike - the e-bike.
According to the annual market review by the Bicycle Association (opens in new tab), an impressive 160,000 electric bikes were sold in 2022, which works out to almost one e-bike sale every three minutes. It's a trend that's set to see the e-bike market, which is currently worth £280 million, according to figures by Mintel, shoot up to triple that in the next three years.
But these bikes aren't just sat in the garage. Data from the Strava report picked up on this emerging fitness trend too as they found that even hardcore cyclists are looking for a more supportive ride, with 26% of cyclists in older age groups opting for an e-bike in the year just gone.
As we start 2023, there's more choice than ever in the e-bike market, suggesting that electric is the way to go next year. Premium bike retailer Canyon (opens in new tab) released a range of four e-bikes just last year, perfectly designed with every rider in mind, while Specialized (opens in new tab)'s extensive range of 11 new releases promises that "it's you, only faster". Ribble (opens in new tab) is on it as well with a good selection of eight e-bikes for everyone from commuters to off-road enthusiasts.
2. Going beyond biohacking
Biohacking - the idea of improving your health through personal interventions linked to how your body uniquely works - has been around for years. People have been meditating and taking up intermittent fasting to combat personal issues around mental health and diet since ancient times.
We've gone into full biohacking mode over the last couple of years though and 2023 is set to push us into the next phase of personalized health tracking. According to Holland & Barrett (opens in new tab)'s latest wellness report, the future of wellness and technology is all about using this data to create our best selves.
And of course, big fitness tracker brands have already spotted the need for an upgrade. New releases from some of the most popular devices, like Fitbit and Garmin, now offer healthcare essentials such as EKG readings, blood sugar monitoring, and oxygenation levels. While Levels, Supersapiens, and Veri have all stepped up to offer continuous glucose monitoring to better serve our metabolic health (more on this later), so we'll be fully optimized and ready for whatever the new year brings.
3. Fitness trackers come off the wrist
As the new inventions show, things are changing in the fitness tracker and smartwatch market. Long gone are the days when a device to count your steps and monitor your heart rate was enough. Even on-wrist GPS is now old news, with all of the best Fitbits offering this feature as default.
In 2023, it seems like the placement of the fitness tracker will be the next element of the design to change. While fitness tracker rings have been around for almost a decade in their earliest forms, 2023 is set to experience a boom in new technology that'll remove your tracker from your wrist and onto your finger, into your clothes, or around your ear.
The first contributions to this trend include a range of smart apparel from WHOOP, where items of clothing smoothly include the new WHOOP 4.0 without the need for a band or strap, and the Oura Smart Ring (opens in new tab), designed to track stress, sleep, and activity as accurately as any on-wrist tracker.
But what's wrong with a watch-turned-fitness tracker? Along with a desire to make waves in a market that's close to being saturated, these companies claim that changing the positioning of the device will offer more accurate results and a good alternative for those who need a little space on their wrists. If you want to give this trend a go without investing just yet, at woman&home, we tried switching things up last year by wearing a Fitbit on the ankle - and we got some interesting results.
4. And we go onto the trails
Gyms, swimming pools, and sports centers may have been open again for well over a year now, but that doesn't mean the boom in outdoor fitness is going anywhere. In fact, the data from Strava shows that 52% of athletes on the app uploaded trail activities in 2022, which included biking, running, and hiking trips. Perhaps with so many of us working from home still, the urge to get out after work and at the weekend hasn't quite gone away.
While the reopening of ski resorts was likely responsible for the huge 321% uptick in users uploading alpine skiing and snowboarding activities to the Strava app, rock climbing also saw a good uplift (78%), as did swimming (41%) compared to the year before.
It's a trend that's set to continue well into 2023, predicts Dean Zweck, product development manager at Total Fitness (opens in new tab). "Getting outdoors allows people to feel refreshed and boosts their vitamin D levels, which improves their mood and keeps them motivated during the darker months. Training outside has many benefits, as not only is it a cost-effective way to work out, but it's also greener and comes with many additional health benefits," he says.
Whether you're eager to invest in a pair of the best trail running shoes and take to the hills or you'd prefer fitness boot camps, Zweck reckons we'll be seeing more of it all in the new year. "Taking part in outdoor boot camps and fitness, from yoga in the park to low-maintenance exercises, such as running and cycling, makes fitness much more inclusive. It also provides people with the opportunity to mix up their routines and get outside in the fresh air as well as visit the gym and take part in classes, which benefits them mentally and physically."
5. Reformer Pilates
In the last year alone, several city-based fitness studios have launched a new version of the classic Pilates class: Reformer Pilates. For anyone looking to do Pilates for strength training in the new year, this could be for you. In the UK, we've seen 1Rebel (opens in new tab)'s new Reformer approach blossom, Psycle London (opens in new tab)'s new Reformer-X class come to fruition, and several individual studios launch their ventures. While not Reformer in the traditional sense, we saw the new brainchild of the F45 group - called FS8 (opens in new tab) - born in the UK and the US last year as well.
Reformer Pilates is nothing new though, so why has it become so popular? Hollie Grant (opens in new tab), the founder of Pilates PT, has some ideas. "I do think that in the last couple of years women have started to understand the importance of musculoskeletal strengthening exercise," she says. "Pilates is an incredible, low-impact, method of boosting musculoskeletal fitness that is kind on the body and I think that is why it's gained popularity recently. Reformer Pilates also offers a bit of excitement, a bit of interest that I think keeps people hooked, and of course, it looks cool on social media so people are intrigued and tempted to give it a go."
6. Rest and recovery tools become accessible
2023 marks a step forward in changing attitudes around fitness in general as well, says Grant. "I'd like to think that Pilates in general has seen an increase in popularity due to the increase in women's empowerment when it comes to how they move their bodies," she adds. "For so many years we were fed the 'go hard or go home' and 'sweat like a pig to look like a fox' narrative that meant we focussed heavily on cardiovascular fitness."
The same goes for our attitudes to rest and recovery. In previous years, we've worked on the idea that to see results, you need to be working out almost every day. The rise in sales of massage guns and specific recovery equipment, with an increase in the number of recovery spaces opening up, suggests things are changing.
"These pieces of equipment allow users to get the most out of their routine, making sure they understand how to take care of their body when injury strikes, allowing them to progress through their fitness journey without roadblocks. I believe this commitment to recovery will continue to grow throughout 2023," says Zweck.
But until very recently, these tools have only been available to those who can afford them. The bestselling massage guns on the market start at $199 / £155 and can reach almost $700 / £600 in many cases. For most people, this is not a spontaneous expense and it's one they may not be able to afford.
This is where things are set to change this year, Zweck argues. "These regenerative processes are highly accessible through mid-market gyms, which will offer a wide range of recovery-focused workouts. At Total Fitness, we have a selection of heat treatment facilities including hydro pools designed to aid strained muscles, along with saunas and steam facilities to help relax the body post-workout."
7. Circuit training
More of a new way to train than a trend, we're set to see a rise in the number of people exploring the benefits of circuit training this year and it's easy to see why. "Circuit training is time efficient, you don't have to spend a long time training this way to get real benefits and as everything is short, sharp, and quick, it's motivating for most people. They know they're not going to get bored or defeated by an exercise they may struggle with," explains Shane Collins, founder of Circuit Society (opens in new tab). "Plus, you don't dwell too long on any one exercise which means you can keep doing it sustainably as you never overload one muscle group."
He adds, "It's the perfect balance of strength and cardio work. You don't really need to add any other activities to your training regime."
Well, we're ready to sign up - and it looks like others are too. ClassPass, the membership platform which allows users access to over 30,000 health clubs across 28 countries, released its review (opens in new tab) of most-booked classes this year and also picked up on the rising trend. It reveals that strength training - which circuit training includes - was the most-booked workout for 2022.
8. Staying local
It's not only the way we monitor our health that's set to get personalized in the new year. While some of us are out buying e-bikes, others are set to stay at home in 2023 in a shift toward personalized training. With the pandemic giving us the chance to have a more flexible and less stressful lifestyle, many of us are switching to working out in a way - and place - that suits us.
There's a widening space for this in the fitness market as well, with studios like Circuit Society already filling the gap. The boutique gym saw attendance to its range of circuit training classes soar during the periods most people in the UK were forced to stay at home in 2022 - including the rail strikes (up 121% in one week) and heat waves (up 34%), proving that many of us want to stay local (with plenty of air conditioning) where we can.
But this doesn't just apply to when we're at home. For those who like to stay in hotels when they go away, access to state-of-the-art fitness equipment may be set to get a lot easier too. Sea Containers London (opens in new tab), for instance, has just opened its one-of-a-kind Ship Shape Suite. Complete with a Peloton bike, workout video mirror, NoHrD weights rack, and bench, the spacious suite offers guests a premium gym experience at the foot of their bed - literally - with plenty of personal space.
8. Syncing our sleep
Since we're checking our Co2 levels, combining through our fitness tracker's data for blood oxygen levels, and trying out new workouts, it shouldn't be a surprised that our interest in how to sleep better is going to surge in the new year as well.
As Holland & Barrett's trends report suggests, the hunt for a better night's sleep continues and they predict that circadian eating, which is when you switch from heavy meals in the evening to lighter eating in the afternoon, is set to grow in popularity. They also predict that our sleep hygiene is set to see a shift, with a mass drive to switch off tech before sleep.
When it comes to the best natural sleep aids, the brand has already seen glycine start to fly off the shelves and the benefits of magnesium peak new interest.
10. Refocus on metabolic health
As we've seen in the rise of biohacking, the best health apps have come a very long way over the last few years and we're set to see them take to new heights as we look to use exercise to help tackle various health issues. The one set to be on everyone's mind this coming year? Metabolic health.
Research from the Centers for Disease Control and Prevention (opens in new tab) in the US has shown just how undervalued this part of our body seems to be. "Seven of 10 leading causes of death worldwide were correlated with, caused by, or accelerated by preventable metabolic dysfunction," explains Dr Lauren Kelley-Chew, head of clinical product at Levels (opens in new tab), one of the new devices offering continuous glucose monitoring to help us better understand our metabolic health.
"Metabolic dysfunction can be tied to almost every major chronic disease including diabetes, heart disease, stroke, dementia, chronic pain, depression, anxiety, infertility, chronic kidney disease, and liver disease," she says.
Metabolic dysfunction is in our power to change though, she explains, and apps like Levels are being designed to help with just that. "Drawing attention to the challenges can also highlight the simple steps we can all take to build optimal metabolic health: Eat nutrient-dense whole foods, exercise every day, get enough quality sleep and reduce stress. So much of what we've accepted as 'normal' in our everyday lives, like energy crashes, poor sleep, hormonal imbalance, weight gain, and inflammation, does not have to be our normal experience of being alive. If we all make even small lifestyle changes, we can set ourselves and our society up for a more positive future," she says.
A digital health journalist with over five years experience writing and editing for UK publications, Grace has covered the world of health and wellbeing extensively for Cosmopolitan, The i Paper and more.
She started her career writing about the complexities of sex and relationships, before combining personal hobbies with professional and writing about fitness. Everything from the best protein powder to sleep technology, the latest health trend to nutrition essentials, Grace has a huge spectrum of interests in the wellness sphere. Having reported on the coronavirus pandemic since the very first swab, she now also counts public health among them.