Sex toy sales are booming during lockdown and here's what we're all stockpiling
It's not just toilet roll that everyone's after...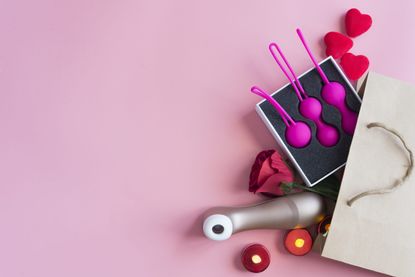 Does living in lockdown mean you have more time on your hands? You're not the only one. Online retailers in the UK have reported a surge in sex toy sales since we've gone into isolation.
And it seems Brits are not just after toys to keep them satisfied while social distancing - we're also scrolling for sex advice on how to make the most of the best vibrators and sex toys around.
"The reason for the increase in sex toy sales is that never before in history have we been asked to stay home and look after ourselves," says Dominnique Karetsos, co-founder of healthy pleasure collective and School of Sexual Wellness Intimology Institute.
"Sex care is part of self care. History and economics tell us that even in recession or depression birth rates go up as consensual sex is free. Plus, it's never been as easy to access toys that you can order online and deliver to you door."
Why self care in a time of crisis is so essential
Kate Moyles share her tips for maintaining self-love, intimacy and wellness during a period of self-isolation…
Rely on technology for connection
Use Facetime or Whatsapp calls. Reaching out by phone and hearing a loved one's voice can intensify your connection. Couples should take advantage of this as there is no reason, providing that you are both clear on what you are both comfortable with and have set boundaries for, that you can't continue your sex life just over a different medium – why not turn up the heat an experiment with sexting or phone sex!
Explore on your own
The common misunderstanding is that changing your sex life all has to happen in the bedroom or with a partner. But exploring new podcasts, books, online courses and workbooks can really help you to expand your thinking and open up your perspective and learning when it comes to sex. Have a listen to LELO's podcast for some fun chats about all things related to sex and pleasure.
Try to enjoy a different routine
Instead of going out, indulge yourself in a long bath and give your body much needed care and attention during a time of unease. The difficulty with self-isolation is exactly that, it's isolating! It disrupts our normal lives and routines, so consider how you could use this time differently in a way that you wouldn't be able to with your usual routine.
Top sex toys to shop now
Here's what everyone is buying right now...
LELO have seen an increase of sales by 40% since self isolation. The company are offering free delivery and discounts on their most popular products right now. "How you practice self-love can be even more important in times of uncertainty and high anxiety as we are experiencing at the moment," says sex and relationship expert Kate Moyle, working with LELO. "Feeling out of control can be incredibly unsettling for many of us. Treating yourself with love, care and affection is a key part of mental and physical health and wellbeing." What everyone is buying One of LELO's biggest sellers is the Soraya 2, £199. It's no wonder to see why it's such a best buy. Not for the faint-hearted, thanks to the vibrating "ears" and shaft you could easily have a blended orgasm. Beware though, this is one strong vibrator!
Demands in March for sex toys at online adult store Je Joue are up 63% compared to this time last year. They have experienced 67% more visitors to their website, and 265% more to their blog sessions. What everyone is buying It might look like your working-from-home computer mouse, but the hottest product for self-isolation fun times is the Mimi Clitoral Vibrator. At £65, this ergonomically designed vibrator has five speeds and six patterns so the possibilities are almost endless.
At Womanizer, sales have increased by 13% in the UK from January to February, while sales in Italy - the European country affected by coronavirus for the longest - are 60% above forecast. "The numbers are surprising," says Johanna Rief, Head of Sexual Empowerment. "With the prospect of long-periods at home either alone or with your partner, people are exploring new ways to make the best of the time available." What everyone is buying The most-wanted Womanizer product in the UK is the Premium. At £169, it doesn't come cheap, but with 12 speeds, four hours of battery life and the fact that it's super silent makes this clitoral stimulator an idea companion if you're in isolation with a full household.
Hot Octopuss sales are up 42% on last year and up a massive 149% in the last week. Plus, they've had 59% more visitors to the website in the past week compared to the week before. Get in quick, and you could get access to one of 1,000 free sex toys they're giving away. What everyone is buying A bullet with extra benefits is the hottest product at Hot Octopuss right now. The Amo, £49, is an easy-to-grip vibrator with a contoured tip to fit close to your body. No wonder this is so popular.
Tracey Cox Supersex Bullet Vibrator
While sales figures are still being tallied up, the Lovehoney team have made sure they've got good levels of stock, and can keep up with extra demand right now.
What everyone is buying One of the most popular best sellers at the moment is the Tracey Cox Supersex Bullet Vibrator. And it's pretty obvious why this bullet is flying off the shelves. At just £14.99, this 3.5-inch bargain buy packs some power. The best bit? It's waterproof – so you can lock yourself in the bathroom for some much-needed alone time.
Faye M Smith is an award-winning journalist with over 15 years experience in the magazine industry. Her continued work in the area of natural health won her the coveted title of the Health Food Manufacturers' Association (HFMA) Journalist of the Year Award 2021. Currently Health Editor across several brands including woman&home, Woman and Woman's Own, Faye specialises in writing about mental health, the menopause, and sex and relationships.