6 reasons every 40+ woman needs a rabbit vibrator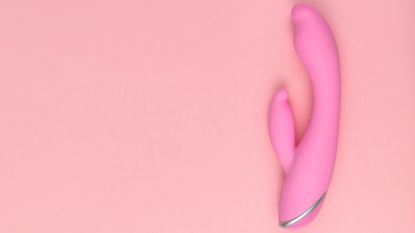 (Image credit: Getty Images / booblik_uk)
Not many of us have the body and stamina we once had in our 20s, but that doesn't mean sexual pleasure has to be over when you hit 40 (and beyond).
Definitely not! And, if you want to know what all the fuss is about when it comes to a rabbit vibrator, and whether you should invest in one,you're not alone. That's why we've selected our pick of the best vibrators (opens in new tab) so, rest assured, if it features on our list, then these sex toys will always be worth the price.
Not tried one of the best rabbit vibrators before? You'll soon find out why a recent survey by Lovehoney found them to be the second most sought-after sex toy for women to own after a conventional vibrator.
Still keen to try one out? Here's why a rabbit vibrator should be the must-buy (opens in new tab) sex toy for grown-up women…
1. You'll orgasm quickly with a rabbit vibrator
Not much spare time on your hands and looking to climax quickly? Then a rabbit vibrator is definitely the best sex toy for you. Lovehoney's survey found that 32% of women over 40 years old masturbated to help combat their stress levels (opens in new tab), while 28% said masturbation helped them to sleep – which means many women are simply wanting to climax to help their health and wellbeing. So, if you're looking for quick relief and an almost guaranteed orgasm, it's about time you invested in a rabbit.
"Rabbit vibrators are great for beginners, since they come in a wide variety of sizes and features," saysLindsay Phillips, sex expert at Lovehoney."One thing many people say about rabbit vibrators is that they tend to orgasm very quickly (opens in new tab) the first time they use one – and that, of course, isn't such a bad thing!"
2. A rabbit vibrator is so versatile
Available in a range of sizes and colours, rabbits vibrators have been carefully crafted to stimulate both the G-spot and clitoris at the same time. Many rabbits even have independent vibration control for the internal and external stimulators, which means the possibilities are endless when it comes to your enjoyment.
"Rotating rabbits usually have beads or pearls that rotate around the shaft while it's inserted," says Lindsay, "and thrusting rabbits mimic the motions of vaginal intercourse with a partner by thrusting in and out while it's inserted."
Don't just want to limit your fun to the bedroom? A rabbit vibrator is great to use in the bath or shower (opens in new tab); just make sure you pick a waterproof one. "As far as use in the bath or shower is concerned, it's important to be careful – lube and bath tiles make a slippery combination!" says Lindsay. "Other than taking precautions to make sure you're safe, using a rabbit in the bath or shower works the same way it would on dry land. Just take your time, feel your way and enjoy yourself."
3. You'll climax for longer with a rabbit vibrator
Research by adult toy and lingerie brand Lovehoney and the Liberos Institute in California found that women who use a rabbit G-spot vibrator orgasm for 17% longer (opens in new tab) than if they were not using a toy.
"The study showed that women using the Happy Rabbit were more likely to be more playful, using the toy in different places on the body (opens in new tab) than they would by simply using their hands," says Lindsay. Plus, it's easy to use, waterproof and not too noisy, which is why we really rate this buy.
4. You may experience a blended orgasm
Thanks to the vibrating ears and shaft, using a rabbit vibrator could mean you have a blended orgasm – maybe even for the first time.
"A blended orgasm is when someone has two different types of orgasm at the same time, usually a clitoral orgasm and an internal or G-spot orgasm," says Lindsay. "Rabbits are perfect for achieving this super-enjoyable type of orgasm. This is because they're designed to stimulate both the clitoris and the vagina at the same time."
Still not satisfied? You can even pick up one with triple stimulators – and, yes, that's triple the arousal at once! "Triple stimulation rabbits add the benefit of anal beads to the already-enjoyable rabbit design," adds Lindsay.
5. They're easy to use
Never used a rabbit vibrator before? "Rabbits are super versatile and, like most sex toys, you can use them however feels best to you," says Lindsay.
Want to give one a go? "Try starting out externally and running the vibrator along your inner thighs, then moving into more direct clitoral stimulation when you're ready," says Lindsay. "Once you're aroused, add internal stimulation by sliding the vibrator's shaft inside yourself. Many people find that using lubricant with their toy improves their experience immensely, so be sure to use some. Water-based lube is compatible with almost all toys."
6. You can use a rabbit vibrator alone or with a partner
Just like any sex toy, you don't have to use your rabbit vibrator alone, if you don't want to. "Many people find it exciting to give their partner pleasure with a toy," says Lindsay. "Just always use plenty of lubricant and make sure you can clearly communicate with your partner while playing with the rabbit vibrator."
Don't want to use your rabbit vibrator with anyone else? That's OK, too – especially as many of them are ultra quiet. "A rabbit can be quiet, but you might not be," says Lindsay. "Look for 'whisper-quiet' on the packaging. It's a common term for some of the most quiet vibrators on the market. As a general rule, rechargeable vibrators are quieter than battery-operated vibrators."
Faye M Smith is an award-winning journalist with over 15 years experience in the magazine industry. Her continued work in the area of natural health won her the coveted title of the Health Food Manufacturers' Association (HFMA) Journalist of the Year Award 2021. Currently Health Editor across several brands including woman&home, Woman and Woman's Own, Faye specialises in writing about mental health, the menopause, and sex and relationships.