How to make wearing a face mask sexy in the bedroom
Surely it's not possible?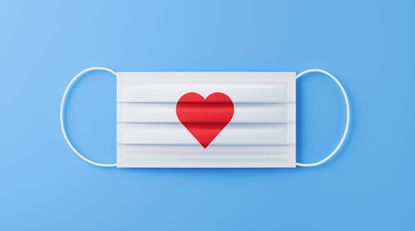 (Image credit: Getty Images/iStockphoto)
Don't live with your partner, single or just in a casual relationship? Then combining social distancing with sex can be tricky. And sweaty.
But there are – amazingly – things you can do to help make wearing a face mask sexy. Which means, you can still stay protected from Covid-19, but have fun at the same time. Not sure if they will work for you? Then get your hands on one of the best vibrators – potentially one which can be controlled via Bluetooth – and enjoy some solo fun instead. Win, win.
But you don't have to just take our word for it. These top tips are thanks to sex expert Kate Moyle, who has joined forces with sexual wellness brand Lelo UK.So, here's everything you need to know about staying sexy while wearing a face mask. Plastic gloves or hand gel: optional!
1 How to make a face mask sexy: use distraction
Let's be honest. There's no hiding the fact that you're wearing a face mask. But, as they have become the new norm, it's definitely easier to blend in while wearing one. And that's the same in the bedroom. You just need a few clever distraction techniques to help.
"If you're finding that incorporating a mask into your routine is distracting, then try and change your environment to take away from that," says Kate. "Dim the lights, use candles or put on music to introduce more sensual cues. This will also help you to relax and be more in the moment. Adding an eye mask or blindfold too, can completely help you get into the moment."
2 Have fun with the mask
Luckily, things have moved on from when masks first became mandatory, and now there are endless designs to choose from. Want to live out one of your sexual fantasies? Now is the time. "You can use the mask playfully as a part of a theme, outfit or character play and this can incorporate it into the sexual experience rather than it being the standout feature," says Kate. "Incorporating it into an outfit/role play can make it feel like a funner and more playful way of introducing it into the bedroom space."
3 Tease and build anticipation
Sometimes it's the thought of something that is more erotic than the actual event. Use that to your advantage and focus on other areas of the body. If you're not face to face, then the masks won't seem as important. "Anticipation is the most natural aphrodisiac that we have," says Kate. "Building that up will increase desire and arousal. Spend time focusing on the areas of the body that you wouldn't usually during sex. This can help to make you explore erogenous zones and take your attention elsewhere."
4 Try different positions
Hate not kissing during sex? Then take it completely off the table by switching positions. "To achieve kissing-free sex you may find it easier to have sex in positions like the reverse cowgirl, or doggy style," says Kate. "This is where your faces aren't close together, and you aren't directly looking at each other so it takes away the attention drawn to the mask." Being away from the bedroom, outside or even on the sofa can also help.
5 How to make a face mask sexy? Go tantric
Never tried tantric sex? Now is the perfect opportunity. "Try connecting together in other ways," says Kate. "This could be synchronised breathing, or touch and play that is with your eyes closed and uses the sensation of touch. The basics of tantric sex are about connection, which can be done through breathing and eye contact."
6 Utilise sensory props
From feathers to massage, sensory props are great for distracting from the face mask you're wearing. "Novelty is an important factor of sex lives, and use this as an opportunity to get creative and work around the mask," says Kate. "Texture, pressure, speed and temperature are all ways that you can mix it up and explore together. Sex toys, such as rabbit vibrators, can be used all over the body. They are great for teasing the thighs, and running up and down the spine, rather than just focusing on the genitals."
7 Add some viewing or listening pleasure
Still worried about wearing your mask and not looking sexy? "You can also use prompts like audio erotica," says Kate. "Or, try watching porn together. It can help to boost your imagination, desire and arousal by adding a different type of sexual stimulation."
Faye M Smith is an award-winning journalist with over 15 years experience in the magazine industry. Her continued work in the area of natural health won her the coveted title of the Health Food Manufacturers' Association (HFMA) Journalist of the Year Award 2021. Currently Health Editor across several brands including woman&home, Woman and Woman's Own, Faye specialises in writing about mental health, the menopause, and sex and relationships.