The best engagement gifts to celebrate couples in 2022
From the traditional, to the unusual and unexpected, these are the best engagement gifts for every type of couple in 2022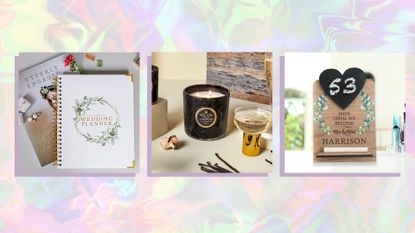 (Image credit: Future)
To help you choose the best engagement gifts, from the traditional to the unusual and unexpected, we've enlisted the help of wedding etiquette and engagement gift buying experts to curate our list of ideas below.
Engagement gifts can be tricky to choose because unlike finding the best wedding gifts, there's no gift list or wedding registry for you to select from and it's also difficult to know what the etiquette is for buying an engagement gift.
How much do you spend? Do you buy an engagement gift and then a wedding present for the couple later down the line? We've answered these questions and more in our FAQs section at the bottom.
Choose thoughtful engagement gifts that any newly engaged couple will love, with a little bit of help and advice from the experts and our pick of the best engagement gifts below.
The best engagement gifts to buy in 2022
Where to find the best engagement gifts in the US
Simply want to know where you can find the best engagement gifts in the US? Check out these vendors...
Our pick of the best engagement gifts in the US
---
---
---
---
---
---
---
---
---
---
---
---
---
---
---
---
Where to find the best engagement gifts in the UK
Our pick of the best engagement gifts in the UK
---
---
---
---
---
---
---
---
---
---
---
---
---
---
---
---
Engagement gift FAQs
What do you give as engagement gifts and how do they differ from a wedding present?
When it comes to finding the perfect engagement gift, it's the thought that counts.
"Engagement gifts are generally more personal and less costly than a wedding present," explains Charlotte Ricard-Quesada, Wedding Planner and Founder of La Fête (opens in new tab).
"Wedding gifts are generally based on a list created by the couple with their home or honeymoon in mind.
"Therefore you are much more likely to find that wedding presents are bigger, practical and more expensive gifts that will last a long time. Engagement presents are often bought with less notice. They represent a small gesture in anticipation of the wedding itself."
"I always think that a lovely picture frame, a flower subscription, spa weekend, bespoke illustration, or something along those lines is a lovely detail," suggests Charlotte.
"Always use the rule that this should be something that the couple would not necessarily think of buying for themselves."
Is an engagement gift necessary?
An engagement gift isn't necessarily expected, but it's a thoughtful gesture if you wish to extend your best wishes to the couple.
If the couple (or their friends and family) will be hosting an engagement party, a gift is typically given then. However, JoAnn Moore (opens in new tab), a Master Wedding Planner with over 30 years of experience in coordinating full-service luxury weddings, events, and honeymoons. recommends asking the host of the party if a gift is appropriate at all.
While an individual engagement gift might not be required, Moore says it's a good idea to "ask the host of the party if a group gift is going to be purchased." For example, this could be a donation towards the couple's future honeymoon or a down payment for a home.
Alternatively, Moore says, "Ask the host of the party if gifts to the couple will be part of a 'medley or collection' of a particular type of gifts. Examples [include] wine to add to their collection, [or] barware such as ice buckets or glassware for future entertaining."
What is an appropriate amount to spend on an engagement gift?
Moore says the ideal price range for an engagement gift is "anywhere from $20 to $100." Of course, if you're a family member or close friend, it's natural to skew higher. But no matter what, Moore says, "The larger gift should be given at the wedding."
Can you give cash or gift cards as an engagement present?
If you're concerned that a gift card or cash might seem too impersonal or lazy, rest assured that won't be the case. In fact, Moore says it'll even be welcomed by most couples.
"I like when guests provide the couple with gift cards for 'date night' to keep the romance going during wedding planning, which we all know is a stressful time for couples," says Moore, "Gift cards to movies, shows or their favorite restaurant are very thoughtful as well."
Cash is also a good idea as it'll allow the couple to put it towards whatever they need. This is especially true if they have donations set up for their honeymoon, a down payment on a large item of furniture, or another large purchase they'd like help in funding.
Freelance writer and editor
Alison Barretta is a freelance writer and editor from Philadelphia, USA who specializes in home and lifestyle, skincare, and tech. For the last 15 years, she has been sharing buying advice and product reviews with curious, cost-conscious shoppers from around the world. Alison's work has been featured in Forbes, Business Insider, Tom's Guide, TechRadar, and Creative Bloq.
When she's not reviewing mattresses or waxing poetic about her favorite face cleansers, Alison can be found teaching/training in martial arts, streaming underrated TV series, trying new recipes, and singing karaoke until her throat is hoarse.