The 18 Best Engagement Gifts for Couples in 2020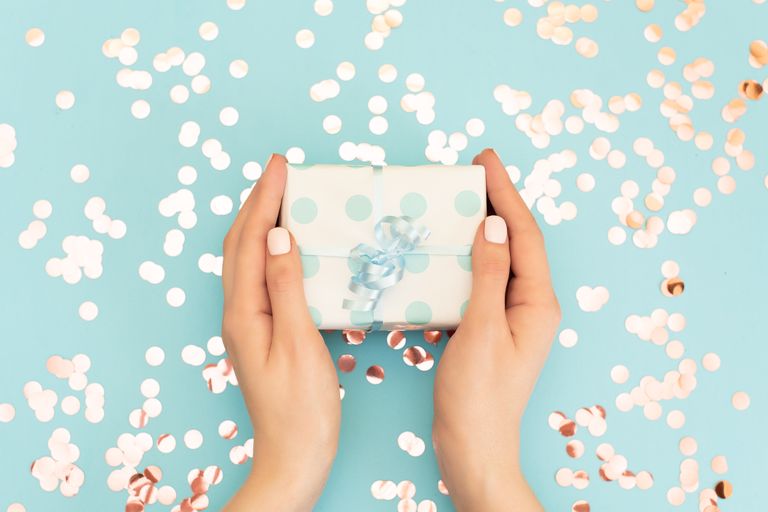 (Image credit: Getty Images)
Choose thoughtful engagement gifts that any newly engaged couple will love with a little bit of help and advice from the experts and our pick of the best engagement gifts for couples below.
Engagement gifts can be tricky to choose. Unlike wedding gifts, there's no gift list or wedding registry for you to select from. It's also difficult to know what the etiquette is for buying an engagement gift.
How much do you spend? Do you buy an engagement gift and then a wedding present for the couple later down the line?
These days, with most weddings postponed because of lockdown in the UK and many special occasions celebrated online in lieu of seeing our loved ones, sending an engagement gift, even if it's just a bunch of flowers delivered to the happy couple, is a nice way to show them that you're thinking of them. No matter how far away you are.
To help you choose the perfect engagement gift, from the traditional to the unusual and unexpected, we've enlisted the help of wedding etiquette and engagement gift buying experts.
What do you give as engagement gifts and how do they differ from a wedding present?
When it comes to finding the perfect engagement gift, it's the thought that counts.
"Engagement gifts are generally more personal and less costly than a wedding present," explains Charlotte Ricard-Quesada, Wedding Planner and Founder of La Fête.
"Wedding presents are generally based on a list created by the couple with their home or honeymoon in mind.
"Therefore you are much more likely to find that wedding presents are bigger, practical and more expensive gifts that will last a long time. Engagement presents are often bought with less notice. They represent a small gesture in anticipation of the wedding itself."
What is the best gift for an engagement?
"I always think that a lovely picture frame, a flower subscription, spa weekend, bespoke illustration, or something along those lines is a lovely detail," suggests Charlotte.
"Always use the rule that this should be something that the couple would not necessarily think of buying for themselves."
How do I pick an engagement gift that both the couple will love?
"This obviously depends on how well you know the couple, or each of them individually. If you aren't sure, pick something broader or that they can then personalise. If you are sure of what they will love - go for it!"
Or, pick one of these thoughtful and memorable presents from our carefully curated selection of engagement gift ideas...
All You Need Is Love Vintage Frame, £99
An unusual engagement gift but one that is both thoughtful and memorable, these striking framed prints by company Vintage Playing Cards come in a variety of different phrases and quotes. The prints can also be personalised, for example 'Mr & Mrs Jones', to mark the next step the newly engaged couple will be taking. We personally love this framed print, featuring a classic lyric by The Beatles, which not only would make a lovely addition to any home but could also be used as a quirky decoration at the wedding venue on the day of the nuptials, too.
Paris – Portrait of a City, £30, Taschen
If you know a couple who have just got engaged in a magical destination somewhere in the UK or abroad, why not buy them a book of photography from their engagement location? Something a little different from the map prints and engagement coordinate posters that have become popular in recent years, a stunning book of photography focusing on the location of the proposal will be a sweet and chic reminder of that special destination whenever they see it sitting proudly on their bookshelf or coffee table. This book celebrating the beauty, romance, and poetry of Paris through photographs also includes an extensive appendix of some 100 books, movies, and records inspired by the city of lights – perfect for a couple with a Parisian engagement love story.
Wine tasting engagement gift idea, £25 pp
If lockdown or living far away prevents you from toasting the happy couple in person, why not treat them to the ultimate 'cheers' with an English vineyard tour and wine tasting? Set in the beautiful countryside of south-east England, Oastbrook Estate produces English still white and Sparkling Rosé wines and is open for pre-booked tours and wine tasting. All tastings are served with complimentary handmade local cheese, biscuits and chutney and you never know, your newly engaged friends may just find their new favourite wine to serve during their wedding breakfast.
Celebrate an engagement with a gift for couples that they will really appreciate. Choose a photo of the couple they will love and have it printed in high quality and beautifully framed as a keepsake for their home. Delivered in a mounted, handmade wooden frame, tis sentimental and thoughtful engagement gift will be ready to hang on the newly engaged couple's wall – when they have decided on the perfect spot for it!
Personalised Foiled Couples Playing Cards, £22
A small but sentimental gift for the couple that always packs a deck of cards for their holidays and won't do a weekend away without them. Both the cards and travel tin are customised with the couple's initials, creating a sweet yet practical keepsake that can be used for years to come.
Rumi, Selected Poems, £42.95, The Folio Society
"May this marriage be full of laughter, our every day a day in paradise. May this marriage be a sign of compassion, a seal of happiness here and hereafter." Rumi's poetry is loved the world over for his inspiring words reflecting on life, love and matters of the soul. His verses are revered as masterpieces of Persian literature and often quoted, printed or posted on social media by those who find his words still resonate today. What better gift for a newly engaged couple than a beautifully bound book full of poems by the visionary thinker, providing words of wisdom and maybe even some inspiration for wedding ceremony readings later down the line.
Wedding planner notebook, £39
Ticking off two of the four bridal must-haves, this new and blue notebook is the perfect piece of stationary to start any bride-to-be or husband-in-waiting's road to wedding planning. Leave it plain or personalise with a name or initials up to 15 characters in the bottom right corner for the ultimate personal touch. A stylish way to store memories, jot down ideas and collect notes together ahead of the nuptials.
Custom address stamp, £22
Both a personal and a practical engagement gift, this bespoke address stamp will come in handy when the couple need to include return address envelopes in their wedding invites. A stylish and useful addition to anyone's stationery collection, you can choose between four different fonts and also add up to 3 ink pads to go with it so your lucky recipients can get stamping thank you cards and notes straight away.
A Mr & Mrs Smith spa break, from £50
For guys, getting the proposal out of the way might mean that the stressful part is over, but any married couple knows that planning a wedding brings with it a whole host nerve wracking moments – so they're not out of the woods yet! Buy the newly engaged couple a Mr & Mrs Smith gift card, which will allow them to choose from a carefully curated list of boutique hotels, villas and spas, to book an experience that is perfect for them. Whether it's a romantic night away to celebrate their engagement or a spa weekend in the future - when wedding planning gets a little bit too much and they need a break!
Personalised bottle of champagne, £59
Nothing says celebration like a bottle of champagne and when it comes to fizz Veuve Clicquot is a classic and one of the best. For a personalised engagement gift that will show the couple you care even if you can't be with them to celebrate, why not send a bottle of bubbly in a personalised Veuve Clicquot tin. Customise your engagement gift with the couple's names, a nod to the 'Future Mr & Mrs' or a simple 'Congratulations'.
Waterford Elegance Crystal Champagne Coupe Glasses, £60
The champagne coupe is 2020's take on the classic champagne flute, bringing back the chic glassware style that first became fashionable in France in the 1700s. Champagne glasses are a must for any newly engaged couple – how else will they sip their congratulatory fizz and toast to their new future together? – and these coupe style glasses are as fun and fancy gift idea.
Flower subscription, from £60
Sending a bunch of flowers to people when they've just got engaged is lovely, but everyone does it. The newly engaged couple's home will look like a lovely florist for a few weeks and then the bunches and bouquets will be gone. Have the joy last a little longer and give a gift that just keeps on giving (literally) by signing the newly engaged couple up to a flower subscription service. Pre-pay for three, six or 12 months work of flowers to be delivered to their door and they'll get to enjoy beautiful bouquets long after they've stopped displaying their engagement cards.
This cake serving set consists of two parts, a cake knife and a server, in a stylish matt gold finish. Both a practical and a thoughtful engagement gift for any betrothed couple, this chic set is a special present that can be saved ready for the big day but can then be used for years to come afterwards.
Personalised engagement year bauble, £16
For a Christmas engagement there's no present more perfect to mark the moment and celebrate the special date than a festive tree decoration personalised for the couple. Choose from seven different ribbon colours and add both the couple's names and the year they got engaged to this delicate glass bauble.
Cocktails delivered straight to their door, from £25
For the couple who love cocktail bars and would like nothing more than to toast their engagement with a margarita rather than bubbles, send them their favourite tipple to toast them from afar. Founded by the experiential drink specialists at the 43 Club, The Cocktail Delivery Company delivers delicious premium cocktails all around the UK, straight to your door. Simply choose from a menu of classic serves or new cocktail concoctions and send your chosen drink to the newly engaged couple. They will receive the fresh cocktail mix, beautifully bottled, through the post alongside a suitable garnish for perfect presentation when served at home. Cheers!
Grow your own confetti seeds, £5
Sometimes the most sentimental of gifts come in the smallest packages. When planted, this multi-coloured seed mix will eventually grow pink, purple, blue and white delphiniums. These flowers can then be cut and enjoyed in a vase before being dried to make natural flower petal confetti for the happy couple's wedding day. Small and light enough to slip in an engagement card and send through the post, this is the perfect, little, thoughtful engagement present.
A practical engagement gift that will come into its own when the wedding day rolls around, this gorgeous guest book designed by Donna Leigh is bound in Tana Lawn™ cotton and filled with high-quality, blank paper pages. The perfect place to scribble down heartfelt messages on a special occasion.