Sex and the City's Sarah Jessica Parker has launched an unexpected new product - and it's available at Sainsbury's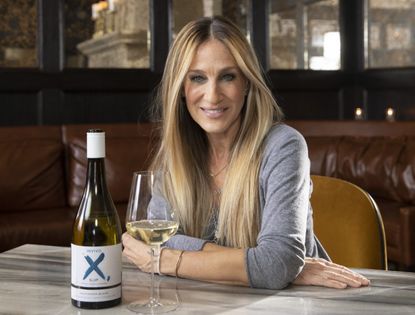 Sarah Jessica has partnered with the award winning New Zealand based winery Invito to develop the INVIVO X, SJP Sauvignon Blanc.
Sarah Jessica has a passion for wine and was heavily involved throughout the collaboration, from the initial conversations discussing wine styles to the design of the bottle.
She explained: "It's all been one exciting step after another. And a thrilling education in the business of winemaking, but more importantly, the love and passion behind Invivo."
Invivo is a New Zealand based winery founded by two school friends Tim Lightbourne and winemaker Rob Cameron. The pair's wine has collected 200 international wine show medals, is distributed in 16 countries and has sold over 3,500,000 bottles.
The team travelled to New York to finalise the taste of the wine with Sarah Jessica - with abundant notes of grapefruit, honeysuckle and citrus zest, the Marlborough Sauvignon Blanc is a delightfully aromatic with a balanced flavour blended from sub-regions of Marlborough.
The New Zealand Sauvignon Blanc is available exclusively from Sainsbury's costing only £12.
Not only heavily involved in the taste of the wine Sarah Jessica was also influential in the bottle design. In April Sarah Jessica posted a surreptitious video on her Instagram page hinting at a new project.
MORE: Victoria Beckham eats THIS fruit three to four times a day for glowing skin (opens in new tab)
Sarah Jessica designed the blue cross on the bottle to match the colour of her favourite pair of heals and to emulate her Instagram sign off "X, SJ". Her fans will be delighted to know that Sarah Jessica hand painted the cross design herself that is printed on the label.
Sarah Jessica is not new to the world of luxury goods, back in 2014 she launched "SJP by Sarah Jessica Parker", a footwear, apparel and accessory label. She has also more recently starred in and is executive producer of "Divorce," returning to HBO for a third hit season.
And it doesn't stop here, keep a look out for a SJP Rosé from the South of France launching In Spring 2020.
Rose Fooks is the Deputy Food Editor at woman&home. Rose completed a degree in Art at Goldsmiths University before beginning her career in the restaurant industry as a commis chef at The Delaunay in 2015. She then worked at Zedel and went on to become part of the team that opened Islington's popular Bellanger restaurant.
To hone her patissier skills, Rose joined the Diplome de Patisserie and Culinary Management course at Le Cordon Bleu. She ran a food market in Islington and cooked for a catering company that used only surplus food to supply events, before finding her way into publishing and food styling.