The 5 best items of clothing from The White Company according to our fashion editors
There's no better place to start your forever wardrobe...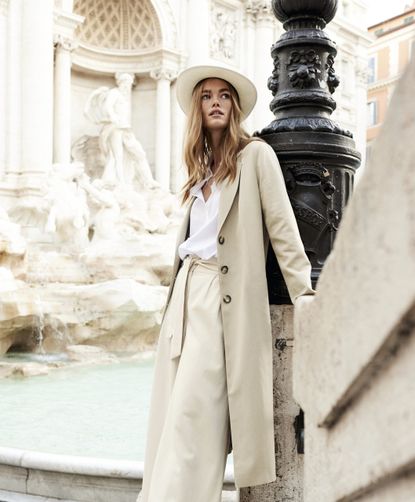 Do you know anyone who doesn't love The White Company? Receiving a luxuriously scented candle is the ultimate gift, or just sinking into their heavenly bedding, which transforms every bed into a five star hotel... The White Company put quality at the forefront and their clothing is no different. Which is why we've asked the fashion experts to pick out the most stylish items for Spring.
TWC's designs are distinctive – timeless and ageless, they are classic building block pieces that every wardrobe needs, yet they are never boring. A perfectly cut white shirt, the finest cashmere cardigan, a simple navy sweatshirt featuring a button down back, these are the types of pieces they do so well, that effortlessly transform a 'jeans and jumper outfit' into a stylish off duty look.
And that's what we all want, a wardrobe that just goes together, not trying too hard, with quality that lasts wash after wash. In our mind when we talk about the 'capsule wardrobe' we are often picturing The White Company. Their company founder sums this up nicely:
"Think style not fashion, quality not quantity and an attention to detail that extends through everything we do", Chrissie Rucker OBE Founder of The White Company
It's obvious that every piece on TWC site has been designed with 'style' in mind. The classic colour ways of black, white and navy are a constant staple, sometimes interjected with pale pinks and stripes.
Fabric quality never falters – 100% linen, 100% cotton and organic cotton have always been their go to. But it's the details that really give The White Company the edge: the subtle mixing of textures, wearable cuts that are modern while still being timeless, buttons and ties that give a piece interest without ever being fussy.
So here are our top five Spring picks for creating a stylish, timeless wardrobe that really will last…
READ MORE: The best, luxury designer handbags for every budget – as a treat to yourself or a gift for a loved one (opens in new tab)
The White Company - woman&home's fashion team picks
Duster Coat
According to staff in the Westfield store, this coat is a best-seller, and we can see why. The perfect lightweight layer to see you through Spring into Summer, this design comes in an expensive-looking natural hue and features a revere collar and back vent, making it a slimming wardrobe hero. In sustainable and breathable cotton Tencel, this duster coat champions minimalist silhouettes and simple styling.
SHOP NOW: Duster Coat, £179, The White Company
Cotton horizontal rib cardigan
Crafted from pure cotton, this cardigan is all about texture and there's not a whiff of fuddy duddy knitwear about it. The ultimate porcelain cardigan for Spring, this oversized style is great for layering and simply goes with everything.
SHOP NOW: Cotton horizontal rib cardigan, £98, The White Company
Shoreditch Organic Cottton Crop Straight Jeans
These organic cotton jeans are a great update to your tried-and-tested blue jeans, or chinos. Featuring stitch detailing and a cropped, straight-leg fit, the cut is modern, but for all ages. They come in a lovely ecru colourway too, wear yours with a lightweight knit, or floaty blouse, for the perfect transitional outfit.
SHOP NOW: Shoreditch Organic Cottton Crop Straight Jeans, £89, The White Company
Champagne Twist Neck Blouse with sleeves
High-neck designs are timeless and ageless, so this washed-satin top will last you a lifetime. Featuring twist-neck detailing and a keyhole centre, it also has long sleeves, delicate pleats and a longer back hem. The washed satin is a great day-to-evening fabric, too. This is the perfect top for tucking into a pleated skirt (one of those hard to wear items!) and for transforming denim into chic evening wear with a simple heel and statement jewels.
SHOP NOW: Champagne Twist Neck Blouse with sleeves, £110, The White Company
Linen stripe T-shirt dress
This kaftan-style dress is a holiday wardrobe go-to because it's so easy to wear, and it has POCKETS. We love linen for its relaxed feel and its sustainable credentials. Made from quality Baird linen, and a premium yarn-dye technique has been employed to create the pinstripe detailing. Wear with natural fabrics, espadrilles, a wicker bag and huge Riviera style sunhat.
SHOP NOW: Linen stripe T-shirt dress, £98, The White Company
We think its true to say we all have sustainability at the forefront of our mind. Buy less, buy better. That long-standing phrase, which after too many years of fast fashion finally rings true. There's no better place to start your forever wardrobe...
Hannah Hughes is Group Fashion Editor at Future Publishing. Her work appears in woman&home, Woman, Woman's Own, and Woman's Weekly magazines.

She is a fashion creative with over fifteen years of solid experience in editorial, commercial, and celebrity styling. She has an in-depth knowledge of the luxury, mid and high-street fashion sectors, which she developed over a decade spent as Fashion Director at some of the UK's most widely read women's magazines, including You Magazine and Look Magazine.