This Marks & Spencer Chloe Tribute Is Set To Be The Dress Of The Season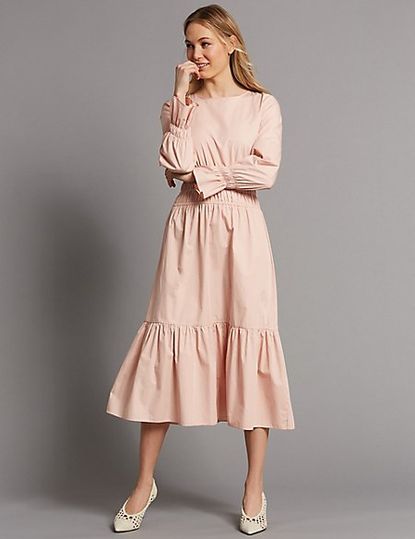 Marks & Spencer rarely fails to hit the fashion mark, but recently, the retailer has been hitting all the right notes in the sartorial stakes.
A host of TV presenters have recently been spotted wearing their creations, and their £45 constellation dress (opens in new tab) has caused a frenzy with customers recently after it was so popular, it repeatedly sold out.
And it seems their brand new SS18 collection is going down just as well with customers.
Their new pastel-inspired range has recently launched online and in stores. And it seems one item has captured the attention of customers already. A new, M&S pastel pink dress, is already sending fashion fans wild. The dress is available for £65, and is still available in many sizes. However, it is currently sold out in a size 10.
Buy Marks & Spencer ruched tunic dress, £65, here (opens in new tab)
Hundreds have already commented on Instagram post the brand shared off the ruched maxi-dress, with many stating how they can't wait to get their hands on it.
Others fans have compared it to a design by rather more expensive designers, Chloe. One wrote on the Instagram picture, "LOVEE it!!!!!! Looks like Chloe 👏👏👍"
While another agreed, "This is BEAUTIFUL!!! 😍"
(The M&S dress looks remarkably similar to this £425 Chloe dress)
(And this £1,225 Chloe dress)
Most customers also couldn't contain their excitement about the dress. One wrote, "Absolutely love!!!!!", while another said, "Omg I need this!!!"
Another social media user wrote, "Oh! My! God! Dress of my dreams 😍", while a fourth said, "I need this in my life !! 😍😍"
Others wrote about how they had already snapped up the dress on the Marks & Spencer website, with one saying "just ordered this @lisava1 it's gorgeous ❤️❤️".
So far, the post has gathered over 1,985 likes on Instagram.
But the dress isn't the only item that's proven popular in M&S's new collection. Fashion fans have also been going crazy over an £89 gingham coat from the brand.
The item has been praised all over social media, with one fan writing, "This trench coat is a great investment! Love the idea 🙌🏼👏🏼", and another saying, "Love this checkered look 👏🏼"
Marks & Spencer's new Spring/Summer collection is available online and in stores now (opens in new tab). The range is full of muted, pastel colours and chic flowing dresses and skirts.
Plus, there's plenty of exciting floral prints and silk blouses, if you're looking for a feminine touch for your wardrobe this year.
Will you be picking up any of the new items?