You can now buy a winter version of Zara's iconic white polka dot dress
We're ready for the cold now!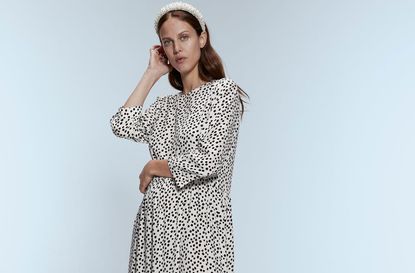 It may have been almost impossible to set foot outside or scroll through social media over the past year without spotting Zara's iconic black and white polka dot dress.
The immensely popular and totally affordable frock certainly made a name for itself and was probably the most talked about high street buy of recent times.
The pretty polka dot piece seemed to be a must-have staple in every Zara lover's summer wardrobe and gained a reputation so epic that an Instagram account dedicated to it has racked up over 25 thousand followers.
In light of the fashion phenomenon, Zara has blessed spot obsessed shoppers with the perfect winter alternative.
READ MORE:Six fashion buys that have Instagram fans excited this week (opens in new tab)
Yep, you can now buy the spotty Zara dress in black with white spots, or in 'upside down' as fans of the original are dubbing it.
The dress' new colour way transforms it from being the ultimate option for a breezy summer's day to being the ultimate option for channelling cosy winter style.
Featuring the exact same float-y oversized fit, elbow length sleeves and high crew neck as the classic, the piece is ideal for teaming with a pair of winter tights, chunky boots and a classic black leather belt for cinching in the waist.
READ MORE:Ruth Langsford stuns in snakeskin high street dress – and it just went into the sale! (opens in new tab)
It's available to buy from Zara stores and online for £39.99 (opens in new tab), while the white is also still in stock (opens in new tab) for the same price if you're yet to join the trend.
Naturally, the news of the new choice of colour left loyal lovers of the dress thrilled and eager to add it to their collections.
'Ordered. Not sorry,' one wrote on Instagram, while a second chipped in, 'I couldn't resist it so just got it! 🙈'
'THIS IS NOT A DRILL I REPEAT THIS IS NOT A DRILL,' one more excitedly added.