Target announces new designer collaborations—meet the designers
The retail chain is partnering with four celebrity designers this season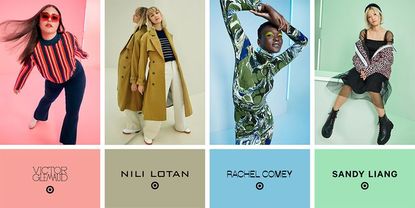 (Image credit: Target)
Retail giant Target is partnering with four big names on clothing collections that will bring high-end designs with affordable prices to stores near you.
Target has hosted capsule collections with designers for years, bringing us some of the best dresses, denim, and handbags in our wardrobes.
The new collection features designers Nili Lotan (opens in new tab), Rachel Comey (opens in new tab), Victor Glemaud (opens in new tab) and Sandy Liang (opens in new tab). Each designer will create an apparel collection available in sizes XXS to 4X and priced from $15-$80.
Victor Glemaud for Target
Victor Glemaud is known for his knitwear, which is popular with people like Meghan Markle and Selena Gomez. His Target designs will have lots of bright colors and patterns.
"A lot of people will regard me as an #emergingdesigner, but I have been pouring my heart into the world of fashion since I was 19 years old," he wrote on Instagram. "But, as an independently owned #BlackQueer brand, I have not always felt validated or seen as a designer. This changes that. I am SO proud to finally share that I am part of @Target Fall Design Collection this year. Being able to share my colorful creative outlook with so many people for the first time is a dream come true."
Nili Lotan for Target
Nili Lotan's line is "inspired by European simplicity," and will also have 70s vibes. Jennifer Aniston and Gwyneth Paltrow are fans of the designer.
"I've always believed that the clothes you wear tell a complex story of who you are as an individual," the designer wrote on Instagram. "Your clothes should give you the strength and confidence to run your life. I'm incredibly excited to have the opportunity to work with @target to bring a collection of fashion staples to a wider audience than ever before."
Rachel Comey for Target
Rachel Comey's line will feature denim handbags and sweater pants. She started making designer underwear, and her career really kicked off when she created two hand-painted t-shirts for David Bowie.
Sandy Liang for Target
Sandy Liang's line will be sporty yet chic. Gigi Hadid and Hailey Baldwin have worn the indie designer's fleeces, and she has said her line is inspired by her grandma.
The line hits stores in September.
Rebecca Holland is a travel and food writer based in Chicago. She has written for the Guardian, New York Times, Architectural Digest, Food & Wine, Wine Enthusiast and more. She is currently a graduate student at Northwestern's Medill School of Journalism. When not working, you can find her eating her way through Chicago's neighborhoods, or in non-pandemic times, traveling around the world.