Princess Mary of Denmark dresses to impress in sleek 70s style suit and bold crimson shirt
We're adding Princess Mary of Denmark's pantsuit to our wishlist immediately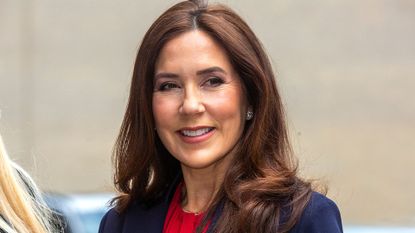 (Image credit: Getty Images)
Princess Mary of Denmark always looks stylish - and she recently stepped out in a super chic matching pantsuit that proved to be no exception.
Members of the royal family - from any country - always have to look their best, but we'd beg the point that Princess Mary of Denmark is one of the chicest royals out there. Of course, we can't forget the likes of Kate Middleton's stylish pink pastel pantsuit and her highly patterned midi dresses, or even Princess Eugenie's monochrome bouclé outfit that we just can't seem to get out of our heads - but as far as European royals go, Princess Mary of Denmark never relinquishes a chance to step out in style.
Mary's most recent look certainly lived up to this expectation. For the Womenomics Nordic conference in Copenhagen on May 2, the royal stepped out in a pantsuit that was the perfect combination of business attire and unique royal style.
Her suit was a super chic, navy-black color that exuded an air of power, which perfectly fit the vibe of the conference she was attending. Underneath, she wore a bright red blouse that added a nice pop of color ensuring she ticks off the dopamine dressing trend. She also paired the look with a pair of black stiletto pump heels, which finished off her outfit to perfection.
Let's be honest though - this royal truly can do no sartorial wrong, from her boho-chic maxi skirt to her recent relaxed emerald-colored trousers, we're utterly obsessed with Mary's sense of style.
Suits are undoubtedly a huge trend so far for 2023, and they're only going to become more popular. So far, we've swooned over Kate Middleton's aforementioned pink pastel suit, and have observed celebs like Viola Davis wearing a bright and powerful pantsuit. Plus, if you look at any major retailers, you'll certainly notice that there's an influx of pantsuits - but not just for business attire.
---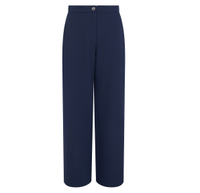 Wide Leg Trousers, £59 ($74) | Finery London @ M&S
Opt for these Finery London trousers for an effortless smart-casual style. They're designed to sit comfortably at a high-rise waist, with a flattering wide leg.
Although women's pantsuits are traditionally heavier fabrics to be worn to work or on more formal occasions, there is also a huge demand right now for linen pantsuits (and even short suits!) - so if you're looking to take this style into the summer months, you can just opt for a lighter fabric like linen.
---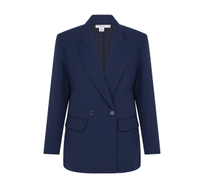 Double Breasted Blazer, £99 ($124) | Finery London @ M&S
Step up your style game with this smart double-breasted blazer by Finery London. It's cut in a regular fit, which creates a polished look for any occasion.
While in Copenhagen Mary discussed diversity, inclusion, and women's impact on the global economy. So not only is she a rather fashionable woman - but she's also an advocate. Is there anything she can't do?
Madeline Merinuk is woman&home's US lifestyle news writer. She covers celebrity, entertainment, fashion, and beauty news but is also obsessed with internet trends - you can find her reciting trending TikTok sounds out loud at any given time.
After winning multiple student journalism awards for her investigative work, she graduated from Hofstra University in 2021 with a B.A. in Journalism. After graduating, she worked at today.com, the digital site for the Today Show, where she wrote pop culture news and interviewed big-name personalities like Emily Ratajkowski, Haley Lu Richardson, Emma Corrin, and more.
Her personal interests, in no particular order, are: cheese, Joni Mitchell, reading, hot yoga, traveling, having multiple chapsticks in every handbag at all times, and dancing to ABBA songs as if she were in the Mamma Mia movies.