Viola Davis proves orange will be the shade of summer with incredibly bright and powerful pantsuit
Be right back, we're off to buy an orange pantsuit!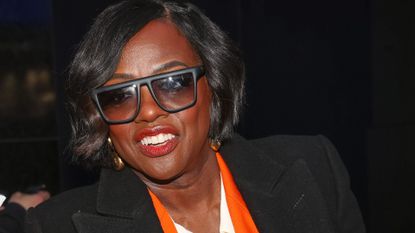 (Image credit: Getty Images)
Viola Davis recently stepped out in New York wearing a super chic bright neon orange pantsuit.
So many celebrities are constantly keeping us on their toes with their fashion choices - for example, JLo recently just stunned us with her thigh-high slit dress.
Some celebrities, though, tend to keep their style pretty minimal, mimicking a capsule wardrobe - and we would typically consider Viola Davis to be one of those celebrities. Her styles, whether on the street or on the red carpet, usually air on the side of elegance, proving to be very feminine and typically quite understated, emphasizing her natural beauty.
Recently, though, the star appeared on Good Morning America, and was seen wearing the most incredible, shocking bright orange pantsuit - and we are *so* here for it.
In a look that truly screams fashionista, Viola debuted this amazing orange pantsuit earlier this week while in New York. Underneath her suit, she wore a plain white button-down, which ties in perfectly with her sporty white sneakers.
While the suit is tailored perfectly to her, accentuating her figure without being too fitted - giving that perfectly relaxed and elegant look that matches Viola's personality. To tie the whole outfit together, she's wearing a black, maxi-length coat on top, because let's face it - New York is still freezing in March.
For jewelry, the actress decided on simple, gold earrings - as well as sporting her engagement ring to symbolize her marriage to her husband of 20 years, Julius Tennon.
Viola also was able to do the impossible - find a pair of sunglasses that perfectly suits her face and matches her outfit (this is a skill we've been trying to develop for years.) Her shades have a cool frame with a flat top and circular rims on the bottom, almost resembling that of a pair of skiing or sailing sunglasses - but she totally rocks them on the streets of NYC.
Viola was on GMA with Matt Damon and Ben Affleck to talk about their new movie, Air, which is set to release in theaters on April 5. The movie centers around the creation of Michael Jordan's basketball, and eventually, the creation of his infamous shoes, Nike Air Jordans - which are still a trending shoe for 2023, even almost 40 years after their release in 1985. In the movie, Viola plays Michael Jordan's mother, Dolores.
"It's an enormous responsibility to pay someone who's real, someone who's tangible," she said on GMA.
Madeline Merinuk is woman&home's US lifestyle news writer. She covers celebrity, entertainment, fashion, and beauty news but is also obsessed with internet trends - you can find her reciting trending TikTok sounds out loud at any given time.
After winning multiple student journalism awards for her investigative work, she graduated from Hofstra University in 2021 with a B.A. in Journalism. After graduating, she worked at today.com, the digital site for the Today Show, where she wrote pop culture news and interviewed big-name personalities like Emily Ratajkowski, Haley Lu Richardson, Emma Corrin, and more.
Her personal interests, in no particular order, are: cheese, Joni Mitchell, reading, hot yoga, traveling, having multiple chapsticks in every handbag at all times, and dancing to ABBA songs as if she were in the Mamma Mia movies.