Princess Mary of Denmark pairs relaxed emerald colored trousers with smart blue blazer - and the resulting look is style perfection
Princess Mary of Denmark is our newest style queen!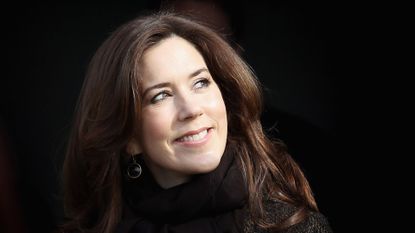 (Image credit: Getty Images)
Princess Mary recently debuted a stunning outfit ensemble featuring some bright colors - and we want to recreate it immediately.
Princess Mary, like many of the other royals, always looks undeniably chic... even when biking around town, apparently. We're constantly taking notes from the Princess's wardrobe - from her boho chic maxi skirt to her versatile shirt dress, Mary is perpetually one of the coolest and most fashionable royals around.
On April 28, while in Australia, the Princess got a tour of downtown Sydney from none other than Sydney's Lord Mayor Clover Moore. The tour, which was taken on bicycle, featured all of the sights and sounds of downtown Sydney.
To ride a bike, one would reasonably be expected to wear fairly comfortable clothing - and Princess Mary certainly pushed this boundary.
For the event and bike ride tour, Mary wore a chic pair of bright, emerald trousers. The trousers have a relaxed fit, making them perfect for any type of occasion; in Princess Mary's case, bike riding through one of the most beautiful cities in the world.
Wide-leg trousers are certainly one of the top fashion trends for 2023 so far - even stars like Katie Holmes love the trend. Especially as the summer months creep closer, comfort and fabric are key, and a pair of green trousers like Mary's are sure to prove to be a staple in any wardrobe. Luckily, we found an almost uncanny dupe for Mary's smart green pants.
---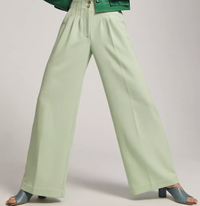 The Maeve Wide-leg Pants, $140 | Anthropologie
The name "Maeve" references a purple flower, a Greek goddess, and a famously beautiful Irish warrior queen. In light of these inspirations, it's no surprise that their collection is structured yet delicate, a representation of beauty and strength at once. Each Maeve design is refined, flattering, and - best of all - exclusively ours.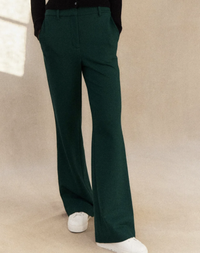 Ponte Flare Trousers in Emerald Night, $96 | Boden
These high-rise trousers are fitted at the top and give way to a mini-flare at the knee. They boast belt loops and pockets.
The Princess also sported a smart, navy blue blazer to go with her green pants - which is a color combo we never thought we'd go for, but are suddenly obsessed with. She popped a crisp white t-shirt underneath her blazer, and also put on a pair of white athletic sneakers to prepare for her bike ride through Sydney.
For accessories, she wore a simple, classic pendant necklace, as well as some subtle gold bracelets and a simple pair of hoop earrings.
Madeline Merinuk is woman&home's US lifestyle news writer. She covers celebrity, entertainment, fashion, and beauty news but is also obsessed with internet trends - you can find her reciting trending TikTok sounds out loud at any given time.
After winning multiple student journalism awards for her investigative work, she graduated from Hofstra University in 2021 with a B.A. in Journalism. After graduating, she worked at today.com, the digital site for the Today Show, where she wrote pop culture news and interviewed big-name personalities like Emily Ratajkowski, Haley Lu Richardson, Emma Corrin, and more.
Her personal interests, in no particular order, are: cheese, Joni Mitchell, reading, hot yoga, traveling, having multiple chapsticks in every handbag at all times, and dancing to ABBA songs as if she were in the Mamma Mia movies.