We're utterly in love with Kate Middleton's highly patterned midi dress
Kate proves that, no matter the occasion, you can't go wrong with a midi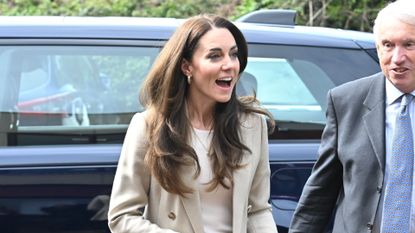 (Image credit: Getty Images)
We're still thinking about Kate Middleton's gorgeous midi dress that she paired with an elegant blue blazer.
It goes without saying that Kate Middleton is one of the most stylish women around and truly always looks the epitome of elegance when she steps out for public events. Recently, we've been loving her pink pastel pantsuit - a perfect option for people who want to add a pop of color to their spring wardrobes. We also love Kate's effortless ability to accessorize, like with her large bohemian sunhat, for the summer months, or even her classic Boden flats.
Speaking of dressing for summer months, we're having a moment here over this floral midi dress that Kate wore last summer - and we're especially infatuated with the way she styled the look to elevate it even more.
Kate's flowing, midi dress is called the "Madison dress" from LK Bennett (a brand that Kate is known to be seen quite frequently in) - which, unfortunately, is no longer available to purchase on their site. And let's be realistic, pretty much everything the Princess wears almost immediately sells out once she's spotted in it, so we're not wholly surprised.
We did, however, find some similar styles that *almost* match Kate's - and sit at more reasonable price points than an LK Bennett.
---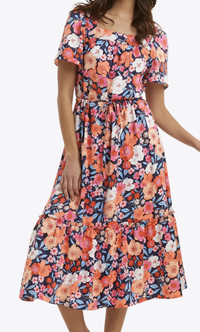 Maren Midi Dress in Wildflower Bouquet, $150 | Draper James
Give it a twirl. Cut from a draping, subtly textured dot jacquard printed with a bold floral, our Maren Midi Dress features a flattering square neckline, a self-tie belt and a full tiered skirt.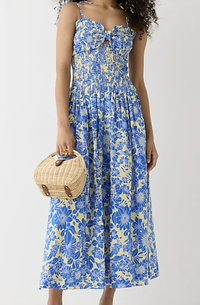 Collection tie-shoulder smocked dress in floral cotton poplin, $198 | J. Crew
This sweet dress features tie details at the shoulders, plenty of smocking and a pretty floral print. Plus, it's made with organic cotton that is grown without chemical fertilizers and pesticides from nongenetically modified seeds.
We also love the way she accessorized the dress, pairing it with a pale blue duster coat, as well as a matching pair of baby blue suede pumps from Emmy London ($490), another brand the Princess loves and wears often. To top everything off, she added a baby blue clutch that perfectly matched her blazer, shoes, and dress.
In what we thought was quite the sweet gesture, William matched Kate, wearing a navy blue and a light blue dress shirt underneath.
Kate sported this look in June 2022 at the University of Cambridge's Fitzwilliam Museum to attend the unveiling of their first joint portrait, painted by renowned, award-winning British painter, Jamie Coreth.
After the event, Jamie said in a statement, "It has been the most extraordinary privilege of my life to be chosen to paint this picture. I wanted to show Their Royal Highnesses in a manner where they appeared both relaxed and approachable, as well as elegant and dignified."
Madeline Merinuk is woman&home's US lifestyle news writer. She covers celebrity, entertainment, fashion, and beauty news but is also obsessed with internet trends - you can find her reciting trending TikTok sounds out loud at any given time.
After winning multiple student journalism awards for her investigative work, she graduated from Hofstra University in 2021 with a B.A. in Journalism. After graduating, she worked at today.com, the digital site for the Today Show, where she wrote pop culture news and interviewed big-name personalities like Emily Ratajkowski, Haley Lu Richardson, Emma Corrin, and more.
Her personal interests, in no particular order, are: cheese, Joni Mitchell, reading, hot yoga, traveling, having multiple chapsticks in every handbag at all times, and dancing to ABBA songs as if she were in the Mamma Mia movies.