Meghan Markle follows Kate's lead in a stunning pink short-suit from one of the coolest brands around
Meghan stepped out in a gorgeous, linen short-suit from Staud for date night with Harry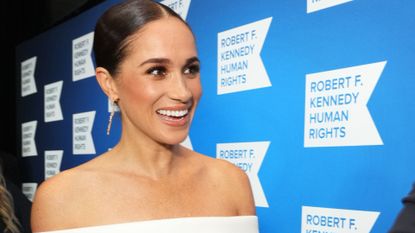 (Image credit: Getty Images)
Meghan Markle recently stepped out in a brightly colored, tailored short-suit - one of the biggest summer fashion trends for 2023.
Meghan Markle always stuns us with her sartorial choices. We love her robust collection of sunglasses, her taste in high-quality denim, etc. - and her most recent outfit is no exception to this rule.
Last night, April 24, she arrived at the LA Lakers game wearing a truly chic outfit comprised of a matching pink linen blazer and shorts, both tailored perfectly.
The short-suit, which is from designer Staud, boasts a delightful, summery pink hue, perfect for any summer occasion; in Meghan's case, a Lakers game.
She paired her short-suit with a crisp white t-shirt underneath her blazer, as well as a pair of nude pump heels from Aquazurra to dress the outfit up. For accessories, she chose to wear a large gold watch, as well as some simple stud earrings to balance out the look.
Short-suits are undoubtedly rising in popularity as the summer months approach. We've already seen them start to hit retailers, and now, celebs seem to be catching on to the trend as well. Regardless of age, short-suits are a fantastic way to get dressed up without compromising comfort (and temperature for those grueling summer days) - so we're 100% here for them.
Another great factor about short-suits is that you can dress them up or down - so although Meghan chose to pair her outfit with nude heels, you could easily opt for some stylish sandals or sneakers.
Although Meghan's Staud short-suit retails at quite a lofty price tag (blazer ($375), shorts ($245)), we found some similar styles that achieve that same summery look without breaking the bank.
---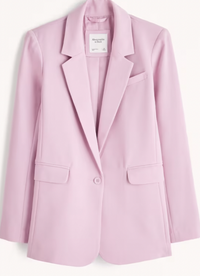 Classic Suiting Blazer, $120 | Abercrombie & Fitch
Versatile single-breasted blazer in our new structured suiting fabric and classic-fit silhouette, featuring side pockets and center-button closure.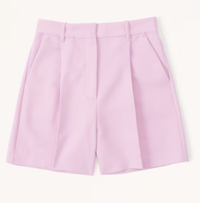 Ultra High Rise Tailored Short, $65 | Abercrombie & Fitch
Comfortable 5" tailored shorts in an ultra high rise and soft structured fabric, with belt loops, pockets and pleating details.
Another great thing about these short-suits is that they're customizable in a variety of ways. Of course, you can pick from a range of colors that might suit your style best, as well as being able to have a range of fabrics to pick from. Meghan's specifically is linen, which is great for hot summer days and nights - but if you're going more formal, you may want to go for a thicker fabric, like a cotton and polyester blend.
Meghan wasn't the first Royal associated with pink pantsuits, though - Kate Middleton has long been rocking the pantsuits, even having stepped out in a pastel pink suit in recent years. Meghan just modernized the style, opting for a pair of shorts instead of pants for the bottom, making the look more casual and wearable for every day. Turns out, maybe the Royals are responsible for setting some fashion trends.
Madeline Merinuk is woman&home's US lifestyle news writer. She covers celebrity, entertainment, fashion, and beauty news but is also obsessed with internet trends - you can find her reciting trending TikTok sounds out loud at any given time.
After winning multiple student journalism awards for her investigative work, she graduated from Hofstra University in 2021 with a B.A. in Journalism. After graduating, she worked at today.com, the digital site for the Today Show, where she wrote pop culture news and interviewed big-name personalities like Emily Ratajkowski, Haley Lu Richardson, Emma Corrin, and more.
Her personal interests, in no particular order, are: cheese, Joni Mitchell, reading, hot yoga, traveling, having multiple chapsticks in every handbag at all times, and dancing to ABBA songs as if she were in the Mamma Mia movies.