The chic yet affordable jewellery brands that need to on your radar and the hero pieces you need to snap up now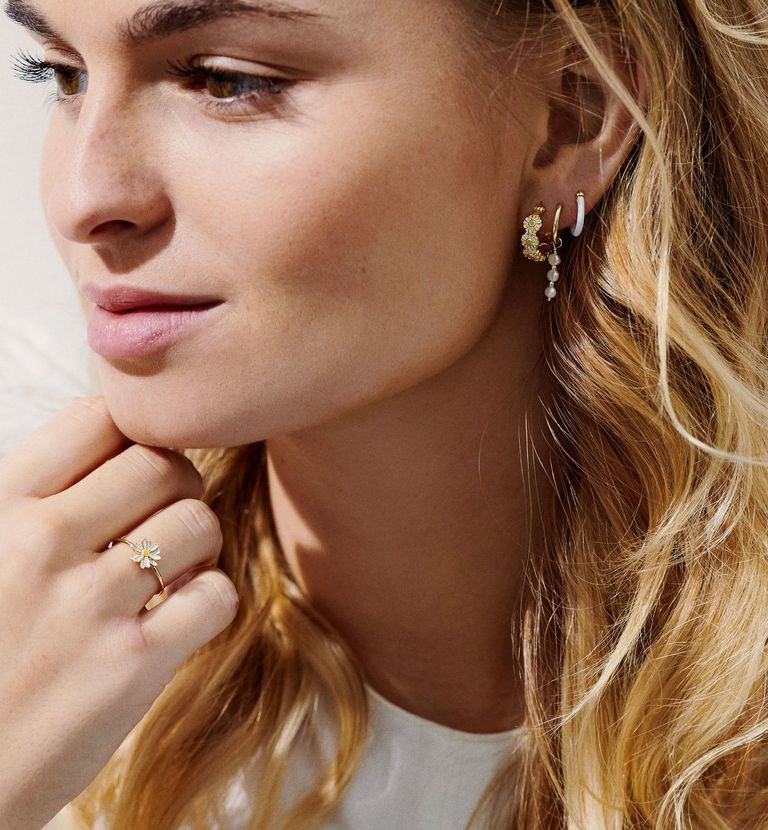 (Image credit: Anna + Nina)
Finding gorgeous jewellery that won't break the bank is not always easy, but we have the lowdown on where to shop chic yet affordable pieces.
Accessories are the best way to update and complement any look, regardless of your style, and it gets even better when you can find great designs at affordable prices.
It can be quite hard to find exactly what you're looking for when you have so many options and more importantly, accessories that are within your budget at the same time. With that in mind, we've searched high and low to round up of some of the best jewellery brands that have amazing pieces at great price points - and they start at £6...
The chic yet affordable jewellery brands you need to know about
Weathered Penny
This UK-based brand creates modern handmade accessories, besides bags and nail polish – quite an unusual combination but it does work. From statement drop earrings to minimalist rings, they have a range of cool designs starting at £15.
What to buy: One of our favourites is the Nora Earring. Its gold and bronze tones and organic shapes will uplift your outfit, and you can even get a matching necklace!
SHOP NOW: Earrings, £17, Weathered Penny
Matthew Calvin
Matthew Calvin started his brand in 2015 but long before that he was already creating jewellery for his loved ones. His bestsellers include small studs in silver, gold and rose gold, as well as delicate and feminine necklaces. With prices starting at £24, it's a good gift idea, for friends or yourself!
What to buy: If you're looking for an everyday style, the Triple Dot Studs are a great option. Simple but far from boring, they also come in gold and rose gold finishes.
SHOP NOW: Earrings, £34, Matthew Calvin
Scream Pretty
Scream Pretty is a regular at woman&home fashion photo-shoots. Their affordable prices (starting at £15) and on-trend pieces might be the reason why… from minimalist hoops and bracelets to stackable rings, they have plenty of options for every style.
What to buy: A great option to add to your bracelet collection. Layer it over and add some sparkle with this opal design.
SHOP NOW: Bracelet, £40, Scream Pretty
Sif Jakobs
The Danish jewellery brand based in Copenhagen is specialised in luxury accessories at a good price point (starting at £25). Zirconia stones, in black and white but also in rainbow colours, are one of the brand's key features. Rings, bracelets, necklaces and earrings… if sparkle is your thing, this is definitely your go-to jewellery shop.
What to buy: Add some colour with this gorgeous gold and multi-coloured zirconia necklace. What's even better, it's half-price now!
SHOP NOW: Necklace, was £129 and is now £64.50, Sif Jakobs
Ottoman Hands
British-based but Turkish-inspired, Ottoman Hands' gold and gemstone handmade accessories are quite unique and different from the regular high street pieces. Its designs are super detailed and carefully thought and also inspired by ancient Ottoman jewellery making traditions. Prices start at £21.
What to buy: Make a statement with this elegant Labradorite and Pearl cocktail ring, loved by celebs like Emma Willis and Alesha Dixon.
SHOP NOW: Ring, £63, Ottoman Hands
Anna + Nina
Super on trend and full of details and colours, Amsterdam based brand Anna + Nina is worth having a look at. From precious gemstones jewellery to simple and minimalist designs, founders Anna and Nina get their inspiration from their travels around the world. Prices start at around £6.
What to buy: Invest in this minimalist silver cuff with a coral gemstone that will soon become your everyday essential.
SHOP NOW: Cuff, £52 (€59.95), Anna + Nina
Seol + Gold
Another regular brand at Woman & Home fashion shoots is Seol + Gold. Its delicate and minimalist earrings and bracelets are some of our favourite items, definitely a good choice if you're looking for accessories to wear on a day-to-day basis that will be an easy match to the ones you already own. Prices start at £6.45.
What to buy: Available in both silver and gold vermeil plate, these detailed hoops are different from any other ones you already have. Mix and match them with simple ones for a modern and cool look.
SHOP NOW: Hoops, £24.95, Seol + Gold
With so many options will be hard to choose just one favourite brand... but who said you can only have one? Treat yourself!
Manuela has worked for Woman & Home since June 2019, when she joined as a Freelance Fashion Assistant to help compile the magazine's shopping pages and to write on-trend, fashion-focussed features for the web.
She describes herself as "a dedicated and self-motivated fashion and lifestyle writer and copywriter with years of experience working in media" and has worked in the high street and luxury markets for brands including Woman, Woman's Own, Woman's Weekly, Chat and MailOnline as well as Woman & Home.
Manuela is fluent in two languages and describes herself as a 'Brazilian in London'. She currently writes celebrity-driven fashion content for the Fashion Finder section at MailOnline.