Helen Mirren rocks Missoma pearl earrings and they're giving Kate Middleton vibes
We're obsessed with Helen's chic pearl earrings - here's where you can buy them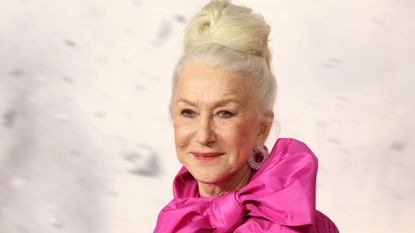 (Image credit: Lia Toby/Getty Images)
We're obsessed with Helen Mirren's newest accessory debut, her Missoma pearl earrings and they're giving off major Kate Middleton vibes.
OK, we're calling it - Helen Mirren has had so many great fashion moments. For years, the 77-year-old has been sporting unforgettable looks on and off screen, from her neon pink cape to her stunning houndstooth coat and grey pleated skirt look, we're always looking to the Dame for fashion inspiration - and she certainly delivered with her newest look.
Helen always looks stunning, but she was the epitome of class in her most recent look for the premiere of her newest film, Fast X, which took place at the Colosseum in Rome.
The sparkling, floor-length gown she wore was from one of her favorite brands, Needle & Thread, and boasted a baby pink color that was emblazoned with accents of sequin embellishment and a flattering high neckline.
She wore her hair in a chic topknot bun with a headband (an accessory that Helen can't get enough of) and finished off the look with a pair of fabulous pearl earrings from Missoma - a brand that Princess Catherine is also quite fond of.
The earrings feature a modern style and are mismatched in length, with gold hardware and pearls. And luckily, although the brand is sported by A-listers like Kate and Helen, these earrings won't break the bank.
---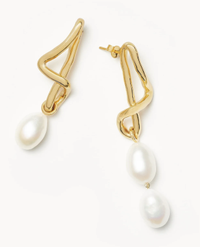 MOLTEN BAROQUE PEARL MISMATCH DROP EARRINGS, $188 (£150) | Missoma
These asymmetric mismatched earrings feature an organic twist on a classic hoop, with a single pearl on one side.
These gorgeous pearl earrings will look great with pretty much any outfit. They can be dressed up or down, thanks to their classic yet unique design, featuring one pearl dangling from a twisted hoop, and two pearls dangling from the other side.
---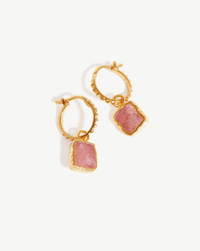 Rhodochrosite Gold Mini Pyramid Charm Hoop Earrings, $115 (£92) | Missoma
These are Kate Middleton's royal-approved earrings also by Missoma and are perfect for any occasion. The pink hue of rhodochrosite stones work perfectly with the 18-carat gold plating - plus they won't break the bank!
Kate Middleton has also worn earrings from Missoma on multiple occasions, including in May 2021, when she paid a visit to five-year-old Mila Sneddon, a little girl undergoing leukemia treatment who was featured in a photo taken for Kate's "Hold Still" lockdown photography project.
Madeline Merinuk is woman&home's US lifestyle news writer. She covers celebrity, entertainment, fashion, and beauty news but is also obsessed with internet trends - you can find her reciting trending TikTok sounds out loud at any given time.
After winning multiple student journalism awards for her investigative work, she graduated from Hofstra University in 2021 with a B.A. in Journalism. After graduating, she worked at today.com, the digital site for the Today Show, where she wrote pop culture news and interviewed big-name personalities like Emily Ratajkowski, Haley Lu Richardson, Emma Corrin, and more.
Her personal interests, in no particular order, are: cheese, Joni Mitchell, reading, hot yoga, traveling, having multiple chapsticks in every handbag at all times, and dancing to ABBA songs as if she were in the Mamma Mia movies.