Helen Mirren channels inner spring goddess with floral rabbit dress and candy pink headband
While doing press for Shazam! Fury Of The Gods, Helen Mirren sported the most amazing spring-appropriate outfit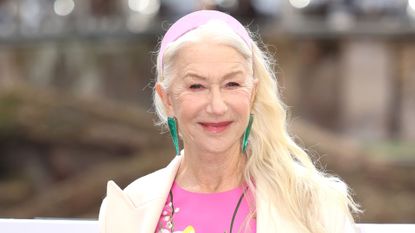 (Image credit: Getty Images)
Helen Mirren stepped out in the most darling spring dress while promoting Shazam! Fury Of The Gods - and we're totally stealing the look for any spring holidays.
Helen Mirren, 77, is a widely beloved actress, not just for her undeniable talent on screen, but for her sweet demeanor off screen, too. She recently joined that cast of the Yellowstone prequel, 1932, joining Harrison Ford in the show's franchise.
Recently, while doing press with her fellow co-stars in Shazam! Fury Of The Gods in Italy, Helen debuted the most amazing spring dress we've ever seen - and we needed the rest of the world to acknowledge it too.
The photo call event was held at the Palazzo Manfredi hotel in Rome, where Helen posed with her fellow castmates Rachel Zegler (West Side Story), Zachary Levi (Tangled), and Lucy Liu (Charlie's Angels). Although all of her co-stars were undoubtedly wearing noteworthy outfits, Helen's pink dress immediately caught our attention.
In a look that's giving Easter-chic, or what we're now dubbing as Eastercore, Helen wore a mid-length bright pink dress, that had joyful spring floral patterns throughout. Within the springy motif displayed on her dress, you can also see that there is a seriously adorable bunny printed on the left side, which really tickled our spring fancy.
The dress, which was designed by Dolce & Gabbana, although not the first eye-catching pink dress she's donned, certainly made a statement - and was paired perfectly with a similarly pink headband that Helen sported, along with bright teal dangling earrings that add a nice pop of color to the spring outfit. For shoes, Helen kept things pretty practical and opted for a pair of simple black pumps.
Over the dress, she paired her look with a simple, cream-colored duster coat, perfect for the temperate spring weather. She also chose to keep her hair long and down for this look, proving that long hairstyles for women over 50 can be kept simple
In Shazam!, Helen plays Hespera, the film's villain. In a recent interview with Graham Norton, she revealed that she thought the plot of the film was "too complicated."
"Don't ask me about the plot, it's too complicated," she said on Graham's show, laughing. "[Lucy Liu and I] are angry goddesses wearing unbelievably heavy costumes. It was very hot and uncomfortable and in fact, Lucy said at the end of the first day's shooting, 'They are trying to kill us,' in all seriousness."
Madeline Merinuk is woman&home's US lifestyle news writer. She covers celebrity, entertainment, fashion, and beauty news but is also obsessed with internet trends - you can find her reciting trending TikTok sounds out loud at any given time.
After winning multiple student journalism awards for her investigative work, she graduated from Hofstra University in 2021 with a B.A. in Journalism. After graduating, she worked at today.com, the digital site for the Today Show, where she wrote pop culture news and interviewed big-name personalities like Emily Ratajkowski, Haley Lu Richardson, Emma Corrin, and more.
Her personal interests, in no particular order, are: cheese, Joni Mitchell, reading, hot yoga, traveling, having multiple chapsticks in every handbag at all times, and dancing to ABBA songs as if she were in the Mamma Mia movies.