New jewellery advent calendar launch by the Duchess of Sussex's favourite high street jeweller brand
Take a look inside the jewellery advent calendar set to fly off shelves this Christmas.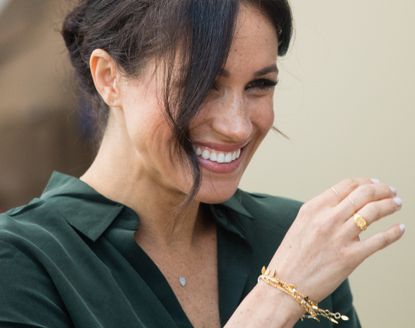 It's no secret that while Duchess of Sussex, Meghan, wears priceless diamond tiaras and couture dresses, she's also a fan of the good old British high street for her wardrobe and accessories. And one UK brand Meghan wears frequently is British jeweller Missoma, a brand known for their refined and timeless gold pieces.
And this year Missoma will launch a jewellery advent calendar.
The Duchess has been snapped many times wearing their jewellery, including their Interstellar Ring, £45, which she wore during a trip to Scotland last year.
MORE: The affordable jewellery brand Meghan Markle and Holly Willoughby love (opens in new tab)
The Duchess isn't the only celebrity fan of Missoma. The brand has amassed an army of A-list followers including Heidi Klum, Julia Roberts, Cindy Crawford and Kylie Minogue. But although the brand has a strong celebrity following, their prices aren't sky high, with pieces starting from around £25, which is good news for jewellery lovers!
Here's even better news for royal fans - Missoma have unveiled what's going to be in in their jewellery advent calender, which features 12 of the retailer's best-selling items.
So instead of tucking into chocolate in the days leading up to Christmas, you can jazz up your yuletide outfits with a new Missoma piece every day. The only difficulty will be choosing which piece to wear during and beyond the festive season.
Available from October 22, the jewellery advent calendar comes in a luxurious box with ribbon tie and is reported to contain Missoma's Gold Star Moon Stud Earrings (worth £50), Gold Mini Claw Charm Hoops (worth £65), and a Gold Star Bracelet (worth £59), among other goodies.
MORE: Meghan Markle fuels spike in searches for this accessory (opens in new tab)
It will also feature a brand new constellation-themed hair slide (very fashionable!), which will be exclusive to the calendar, and non-jewellery items including notebooks and coin purses.
With all those goodies inside, the Missoma jewellery advent calendar will retail for £395, which may be a little on the high side of your Christmas budget. But considering what it contains, we think it's a luxury purchase worth every penny!
And if it's good enough for the Duchess of Sussex…
Isa Jaward is a journalist from London who has written for the likes of Time Out, The Guardian and Music Week.