These are the flattering underwear brands loved by our favourite celebrities
Pick up some similar items online today!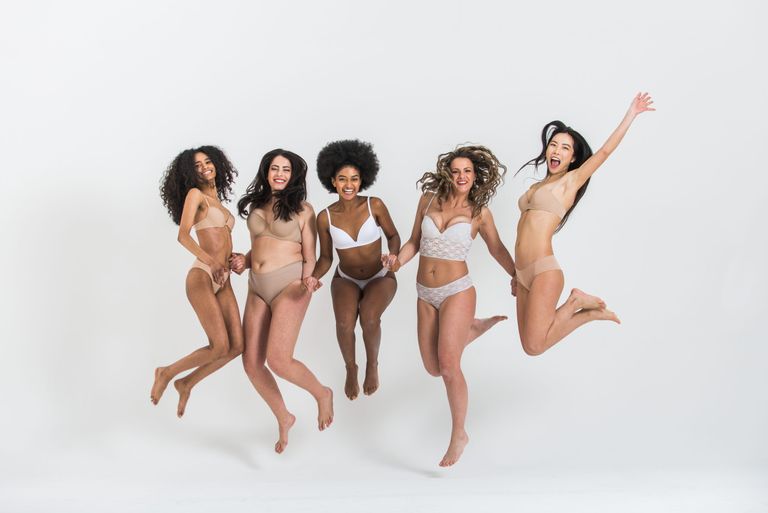 (Image credit: Getty Images/EyeEm)
As some of the most photographed people in the world, celebrities always need to be dressed to impress - right down to their underwear. From red carpets to casual days out, a celebrity is always ready.
But underneath those outfits, each one of those celebrities is sporting their favourite underwear brands for comfort and support. Because in the words of Holly Willoughby, "'Good underwear is really important because you need to build the foundation for an outfit".
We already know that the Duchess of Cambridge sports John Lewis underwear to make sure she's always dressed appropriately for any royal event – even in lockdown. So what about our other favourite celebrities? What are the favourite underwear brands of television celebrities like Saira Khan? And what's so good about them?
We find out and let you know exactly where you can pick up similar pieces online today.
These are the underwear brands loved by some of our favourite celebrities…
Saira Khan
In a post on Instagram this week, television presenter Saira Khan sung the praises of underwear brand Figleaves. Famous for their comfortable and flattering fits, Saira said that she had "at last found a place where women of all ages, shapes and sizes can find underwear that suits them."
"To buy stylish, sexy looking underwear I've bought expensive, and high street - and whilst they've done the job- rarely will I have had a comfortable experience- I've always had that feeling of "digging, rubbing, tightening, cutting, pinching, falling out etc". To buy comfortable, meant I had to forget sexy, and look for plain and boring. So I opted for big pants and plain bras - I got the comfort, but felt frumpy."
READ MORE:Figleaves sees surge in 'sexy underwear' searches as couples cosy up in lockdown – and this lingerie set is a best seller
Below the picture of her dressed in the underwear, Saira added, "At 50, I'm just looking for comfort, style, sexiness and femininity when I put on my underwear. Is that too much of an ask in this day and age?
"I don't want my pants to ride up, I want them to give me support, stay in place and not think about them. I want my bra to give me shape without leaving strap marks on my skin. In essence I want my underwear to make me feel confident, that no matter what I am wearing or doing, it will allow me to do so in comfort and style."
And of course, she added, underwear has to match.
Holly Willoughby
Holly Willoughby is known for her stand-out looks on This Morning, where she wears headline-grabbing outfits that always sell out. But she says it's good underwear that's the most important thing.
In a 2018 interview with Mail Online, she said, "I have lovely underwear, but I seem to never use it because I always go back to the big hold-in knickers or nude underwear, which is definitely more practical than beautiful!"
That might be the case, but surely it doesn't mean it can't be both? We love sets from the likes of John Lewis and … that combine practicality with style. Check out our favourites below…
Gwyneth Paltrow
Speaking of Hollywood icons, Gwyneth Paltrow was another celebrity unafraid to tell us exactly how she gets through those long nights on the red carpet.
In 2006, long before we all cottoned on to their brilliance, Gwyneth was singing the praises of Spanx. "There are these great things called Spanx," she said in an interview at the time, "And they just squeeze you in. It's terrific! That's how all the Hollywood girls do it!"
Well, at least we know now! Other A-listers like Sienna Miller, Cate Blanchett and Emily Blunt are reportedly also life-long fans of the brand.
Davina McCall
Davina McCall is famous for being the presenter of iconic shows like Big Brother and The Million Pound Drop, but nowadays she's better known as a fitness enthusiast with an enviable number of stylist sports bras in her wardrobe.
Like the red sports bra and legging combo she wore on QVC recently. We've rounded up similar ones from the likes of other celebrity endorsed, luxury sports brands Under Armour UK and Nike.
Davina told BBC Wales when asked about what she wears for a workout, "I think that tight lycra leggings to the knee look good on me, and I have to wear a really good sports bra, and a T-shirt."
Emma Watson
Emma Watson has always been a strong advocate for women and that even extends to her underwear recommendations. Speaking to Coveteur in March 2017 about sustainable American brand, Naja, she said, "It's amazing. They do a nude [shade], which is really good for all different skin tones and colour shades. That's what I always have on underneath my premiere outfits or whatever else, because it's completely invisible."
Sounds like a winner to us! Unfortunately though, Naja – which was co-founded by fellow actor Gina Rodriguez – has closed their factories for the time being in light of the coronavirus pandemic.
So in the meantime, we've found some brilliant alternatives.
Helen Mirren
Helen Mirren is not an actor that's afraid to come out for what she believes in. Whether it's supporting the life of theatre in lockdown or donating her underwear in a celebrity auction for charity.
In 2009, the actor donated (and decorated) a pair of her best underwear to an eBay auction to raise money for asylum seekers.
And where were they from? Nothing but the finest for Hollywood royalty – M&S, of course.
At least it's good to know that as far as underwear is concerned, many of these celebrities are just like us.
Figleaves Fleur Eyelash Lace and Mesh Non Pad Plunge Bra B-G
£28.00, Figleaves As worn by Saira Khan, this set on Figleaves is a sexy but comfortable go-to in your underwear drawer. And luckily, there are still plenty of sizes in both the bra and knickers available to buy online.
VIEW NOW: Figleaves Fleur Eyelash Lace and Mesh Non Pad Plunge Bra B-G
John Lewis Chantelle Pyramide High Waisted Briefs, Black
£33.00, John Lewis While these might be "big hold-in knickers" as Holly loves, they're also stylish and are sure to make you feel great. Available in small, medium and large from John Lewis.
VIEW NOW: John Lewis Chantelle Pyramide High Waisted Briefs, Black
Women's Light-Support, Non-Padded Sports Bra
£22.95, Nike For those who like a more toned-down look, try this new release sports bra from Nike UK. High quality for decent prices.
VIEW NOW: Women's Light-Support, Non-Padded Sports Bra
5 Pack Cotton Rich Mini Knickers
£7, Marks & Spencer If it's good for Helen Mirren, then it's good for the rest of us. These cotton M&S knickers are fit for Hollywood royalty.
VIEW NOW: 5 Pack Cotton Rich Mini Knickers
Figleaves Juliette Lace Underwired Non-Pad Bra B-GG
£26.00, Figleaves If you love lighter coloured underwear to go under white tops and the like, then there is plenty to choose from on Figleaves. We love this latte coloured lace bra, currently on offer in a whole host of sizes with matching knickers available too.
VIEW NOW: Figleaves Juliette Lace Underwired Non-Pad Bra B-GG
Spanx Undie-Tectable Brief - Black
£20, Very With many items on sale now, Spanx on very.co.uk have a great range of Gwyneth-approved underwear choices to choose from.
VIEW NOW: Spanx Undie-Tectable Brief - Black
Fantasie Fusion Full Cup Bra, Black
£32, John Lewis Or if you're looking for a bra, then try this one - also from John Lewis. It comes in three colours and has been given a host of five stars reviews for its fit and comfort.
VIEW NOW: Fantasie Fusion Full Cup Bra, Black
Spanx Power Series Power Panties - Very Black
£32, Very Follow Gwyneth Paltrow down the red carpet in these Spanx. High waisted and light-weight, these are designed to be an everyday essential in your wardrobe.
VIEW NOW: Spanx Power Series Power Panties - Very Black
Women's Armour Mid Sports Bra
£23, Under Armour Mirror Davina's workout wardrobe with this sports bra from Under Armour. On sale at the moment, this one comes in three different colours for three distinct workout looks.
VIEW NOW: Women's Armour Mid Sports Bra
Panache Envy High Waist Shaping Briefs, Nude
£21, Very From very.co.uk, these high-waisted nude knickers are sure to "hold-in" anything you want. But with their detailing up the side and modern cut, they're also stylish.
VIEW NOW: Panache Envy High Waist Shaping Briefs, Nude
Calvin Klein Underwear Seductive Comfort Hipster Briefs, Nude
£25, John Lewis While it might not be Naja, John Lewis does a great range of nude coloured underwear - fit for a night out on the red carpet. These Calvin Klein ones are really comfortable too!
VIEW NOW: Calvin Klein Underwear Seductive Comfort Hipster Briefs, Nude