The best leggings with pockets that'll hold everything you need—from brands like Sweaty Betty and Lululemon
Go hands-free thanks to our round-up of the best leggings with pockets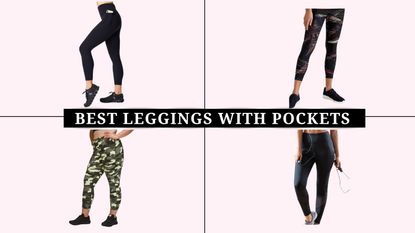 (Image credit: Future and Respective brands)
We've scoured far and wide to hand-select the best leggings with pockets—so you can go hands-free with comfort and style. Best of all, our curation avoids anything with tight waistbands or restrictive fabric.
Comfy and practical, some of the best leggings are the ones that come complete with pockets. An upgrade on your average pair, the best leggings with pockets really earn their keep in your wardrobe when out and about. Whether you're running errands or heading out for a jog, they'll keep your phone and keys close to hand with no need for a bag—or to stuff your essentials in your best sports bra.
How to choose the best leggings with pockets
Why you can trust Woman & Home Our expert reviewers spend hours testing and comparing products and services so you can choose the best for you. Find out more about how we test.
Finding the best leggings with pockets is tricky business—with plenty types of leggings (even workout leggings) lining the shelves across retailers, all of which offer different features, tailoring, and perks. Regardless, there are two key considerations to always keep in mind.
Fabric: Look out for lightweight, sweat-wicking, and opaque material that'll keep you cool and dry—whether you're lounging or testing out the best at-home workouts. We recommend mesh panels and perforated holes (that won't become see-through through continued wash and wear). We also suggest opting for leggings with soft cotton blends and elastane, a great material that moves with you. Gently ribbed waistbands and cuffs will prevent your leggings from inching down.
Price: While it's easy to err on the side of affordability, this approach may work against you when it comes to finding the best leggings with pockets. Cheap leggings often feature flimsy material that quickly diminishes in quality; and you'll find yourself buying yet another pair sooner than anticipated. Brands, like Lululemon and Sweaty Betty, may seem expensive; however, their creations are crafted to last through every activity, machine wash, and more.
The best leggings with pockets according to our experts
(opens in new tab)
1. Sweaty Betty Power Leggings
The best leggings with pockets for most people
Specifications
Sizes: XXS-XXL
Composition: 62% polyamide, 38% elastane
Machine washable: Yes
RRP: $100/£75
Reasons to buy
+
Sculpting
+
Secure
+
Side and waistband pockets
Sweaty Betty has achieved almost cult-like status in the activewear world, thanks to its failsafe designs, and the hero piece is the Power Leggings. An iconic member of the SB activewear family. These are a real crowd pleaser, with tons of glowing reviews online.
When put to the test, I had to admit the Sweaty Betty following are on to something—these were the most comfortable of the bunch, with a light and incredibly soft material that promised to stay cool and comfortable throughout any workout. The fabric is super soft and stretchy, yet sculpting, with a high waist and stomach-control paneling that provides a flattering silhouette. I felt confident and secure during workouts, with little need to do any adjusting.
Some of the best workout leggings we've trialed, The Power Gym Leggings mean business. Two types of pockets to ensure there are no loose-change mishaps or the threat of an iPhone jumping ship mid-sprint.
See full our Sweaty Betty Power Leggings review (opens in new tab)
(opens in new tab)
2. M&S Go Move Printed Gym Leggings
The best budget leggings with pockets
Specifications
Sizes: 6-24
Composition: 66% polyester, 34% elastane
Machine washable: Yes
RRP: From $32.50/£25
Reasons to buy
+
Affordable
+
Striking design
+
Side pockets and waistband pockets
My fashion philosophy is, if you find something you feel great in, buy it in every colour. And, luckily for me, these trusty M&S leggings come in a wide variety of patterns, colours and materials. I tried the Go Move Printed 7/8 Gym Leggings with a striking print and, despite these being the most affordable, they were the leggings I received compliments on, with fellow gym goers enquiring about the bold pattern.
It's become a recurring theme that the leggings with pockets I tested came up a little on the small side, so again I'd go up a size if you're between sizes. The waistband is high, but not as high as other brands, so I did have to do some adjusting to stay comfortable during my workout.
(opens in new tab)
3. Lululemon Fast And Free High-Rise Tight
The best premium leggings with pockets
Specifications
Sizes: 6-16
Composition: 84% Nylon, 16% Lycra® elastane
Machine washable: Yes
RRP: From $128/£108
Reasons to buy
+
Breathable and light
+
Comfortable and cooling
+
Side and waistband pockets
Reasons to avoid
-
Limited sizing
-
Limited colors
Whether you're looking for some comfortable leggings to lounge in, or want to up your workout game with a performance-enhancing activewear choice, these leggings are a safe bet.
While they are more on the expensive side, the higher price point is reflected in the comfort level—think barely there, as soft as a kitten. These are a joy to wear and may even convince you to squeeze in that extra weekly workout.
The leggings are made using Nulux™ fabric, which is quick-drying and sweat-wicking, offering lightweight coverage. These leggings also have added Lycra for shape retention, so while they are soft and stretchy, they're also durable, ensuring you get that cost-per-wear value, which is essential for these more expensive investment pieces.
(opens in new tab)
4. Pour Moi Energy Mesh Panel Sports Leggings
The best leggings with pockets and mesh
Specifications
Sizes: 8-22
Composition: 85% polyester, 15% elastane
Machine washable: Yes
RRP: $42/£32
Reasons to buy
+
Comfortable
+
Affordable
+
Breathable fabric
Reasons to avoid
-
Snug fit
-
Mesh pocket is less secure
Pour Moi are steadily building a reputation as one of the best shapewear brands. But they also create activewear too. These stylish mesh leggings offer something a little different to the plainer workout options. Celebrities such as Coronation Street's Helen Flanagan and I'm A Celebrity favorite Emily Atack have shared their love of Pour Moi's striking designs, calling them their lockdown activewear brand of choice. The Energy range from Pour Moi comes in an array of colors and patterns, all with the same mesh paneling.
I prefer a higher waistband in a snug fit when wearing workout leggings, as there's nothing worse than having to constantly pull up your leggings or readjust during a workout. Pour Moi's sturdy workout leggings are on the snug side, but they also feel very secure, with a double-lined high waistband. I'd just recommend going for a bigger size if you're between sizes.
(opens in new tab)
5. Nike One Women's Mid-Rise Leggings
The best leggings with back pockets
Specifications
Sizes: 4-22
Composition: 83% recycled polyester, 17% elastane
Machine washable: Yes
RRP: $55/£34.95
Reasons to buy
+
Soft, stretchy fabric with Dri-FIT Technology
+
Moulds to body shape
+
Hidden waistband pockets
One of the worries for me when it comes to jogging is that after a few spins in the washing machine, my workout leggings will go see-through. But you needn't worry when wearing Nike's classic running leggings—they're very opaque even after a wash, and after a nosy around the comments section on the Nike website, they seem to stay that way.
I tried the black leggings, but judging from the positive reviews, this isn't an issue with the other colorways, either. With two waistband pockets, which are both big enough to store a phone, there's plenty of space to keep valuables safe while out running.
Like the other leggings with pockets we've recommended in this guide, the Nike One Women's Mid-Rise Leggings are breathable, with sweat-wicking fabric that will keep you dry, even during an intense workout. For good measure, pair these leggings with the best Nike running shoes.
6. ODODOS Women's High Waisted Leggings
The best high-waisted leggings with pockets
Specifications
Sizes: XS-XXXL
Composition: 87% polyester, 13% spandex
Machine washable: Yes
RRP: $22.98 - $47.98
Reasons to buy
+
Elastic closure
+
Obscure fabric
+
High coverage and comfort
Reasons to avoid
-
Waist has gaps; baggy around the ankles
By design, these top-rated leggings are like a second-skin and buttery soft, granting freedom of movement, stretch, and comfort for users of all sizes. Thanks to an adjustable band, they won't ride up mid-workout or stroll.
Compared to low-rise alternatives, the ODODOS High Waisted Leggings naturally slim the stomach area, and accentuate the body's natural curves and contours for a flattering fit. What's more, the full-length inseam helps to reduce chafing and irritation: an especially useful perk in warm-weather climates.
Sounds too good to be true? Well lo and behold: over 27,000 Amazon reviewers agree that the cult-status pair has rightfully earned its fanfare.
7. TOREEL Yoga Pants
The best bundle leggings with pockets
Specifications
Sizes: XS-XXL
Composition: 77% polyester, 23% spandex
Machine washable: Yes
RRP: $27.99
Reasons to buy
+
Bundle deal
+
Soft fabric blend
+
Sweat-wicking and breathable material
Reasons to avoid
-
Could be better at staying up
If you want to kill two birds with one stone, then you came to the right place. The TOREEL 2-pack bundle includes your choice of two high-performance leggings in black, gray, purple, burgundy, green, and navy.
Whether you're a yoga junkie, runner, or somewhere in between, this pair is designed to help you power through workouts with ease, without chafing or riding up the crotch area. These best leggings with pockets leverage velvety-soft fabric for a compressive, yet stretchy fit; and they won't become sheer with continued wash and wear. More evidently, they incorporate a contoured, high-waisted design that's not only flattering but impressively cozy. Comfort aside, when you're drenched in sweat, this pair stays bone-dry. Now that's top-tier quality.
8. Foucome Maternity Leggings
The best maternity leggings with pockets
Specifications
Sizes: S-XL
Composition: 90% polyester, 10% spandex
Machine washable: Yes
RRP: $17.39 - $19.99
Reasons to buy
+
Available in multiple colors
+
Great support
+
Unique mesh design
+
Adjustable
Reasons to avoid
-
Ride up around the knees and ankles
When the common throes of pregnancy run amuck, you can rely on the Foucome Maternity Leggings for around-the-clock comfort and support. They're the perfect marriage of trend-appeal and function, featuring soft and durable fabric in various styles—plus a belly panel with an elastic band that grows with your bump. Moreover, the pair's mesh paneling smooths out legs and helps keep you cool amid hot flashes.
Upon closer examination, you'll find two large pockets along each side—both of which can hold mobile devices, keys, credit cards, hand sanitizer or anything you feel inclined to carry around.