The best menstrual cups for every flow and body shape
Make the switch from tampons with the best menstrual cups, from Saalt and Cora, to DivaCup and Lena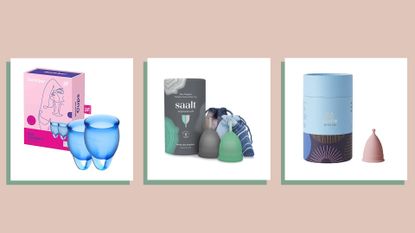 (Image credit: Future)
When it comes to period care, it's not one size fits all—our flow, body size, and shape make us all unique. We've ranked the best menstrual cups with this in mind, so you'll find the right fit for you.
As an eco-friendly and affordable alternative to sanitary pads and tampons, a menstrual cup is inserted into the vagina and it collects menstrual fluid by creating a suction seal that blocks the flow of blood into the vaginal canal and catches it in the cup. Since the first one was invented by American actor Leona Chalmers in the 1930s, menstrual cups haven't changed much. Most you'll see today are similar in design—a soft silicone cup with a simple stem. However, plenty of variations are developed for use during sex, for those with IUDs and some with more ergonomic outers that curve to your body shape to allow greater flexibility and volume.
If you master how to use a menstrual cup and care for it correctly, it's an investment that will last you for many years to come. Plus, the silicone cups won't upset the vagina's natural PH and the risk of conditions like thrush and bacterial vaginosis are much lower. Our selection has something for every flow if a menstrual cup intrigues you—from menstrual cups for a high cervix to the best menstrual cup for sports. And if you're interested in finding out more about sustainable underwear, our guide to the best period underwear might come in useful, too.
How to choose the best menstrual cup for you
Why you can trust Woman & Home Our expert reviewers spend hours testing and comparing products and services so you can choose the best for you. Find out more about how we test.
Anyone who menstruates can use a menstrual cup, however there are a number of factors you should consider when looking for the best cup for you. These include:
Cervix position—if you have a low cervix you'll need a shorter cup. For a high cervix. opt for a longer cup to ensure you can reach the stem and remove it without any issues. If you're not sure where your cervix is, wash your hands and insert your index finger into the vagina, the cervix is a donut-like shape with a very small opening in the middle and will feel like the spongy end of your vagina. The vagina is usually between 4cm and 10cm.
Pregnancy history—most brands suggest sizing based on your age and/or pregnancy history, Kim Rosas, Founder of Period Nirvana (opens in new tab) told us. "Our muscles relax as we age and also through carrying a full-term pregnancy, so if you're over 30 or have had a baby you're likely going to need a larger size."
IUD—stories of menstrual cups pulling out IUDs can put people off switching their period care. However, if you're using the cup correctly this should not be an issue. If you have concerns, speak to your doctor before trying a menstrual cup. You may also find a menstrual disk more comfortable. Similar to cups, they collect menstrual blood but don't have the same suction properties and are more similar to the birth control diaphragm.
How we tested and selected the best menstrual cups
Design—we considered if the cups had a curved ergonomic shape that followed the body's natural shape, which might be more comfortable than a bullet-shaped cup. We also tried lots of different stem options, from short and long stems to pebble-shaped stems and stem-less options.
Sizing—we looked at the sizes on offer for each cup, whether they would suit all body shapes, cervix positions, and ages.
Volume—for those with a heavier flow, a cup that holds a greater volume of menstrual fluid is a must.
Material—firmness is an important feature in a menstrual cup as it allows it to open easier inside the body. However, softer silicone cups may be more suitable for sensitive users.
Packaging—many companies feature artwork and branding by female designers, putting proceeds from sales back into the hands of women—we love!
Sustainability—this is a major draw of switching to cups.
The best menstrual cups as chosen by our experts
1. Saalt Duo Pack
Best menstrual cup overall
Specifications
Diameter: Soft 41mm—Regular 46mm
Capacity: Soft 47ml—Regular 52ml
Rim firmness: Soft and firm
Stem: Long stem
RRP: $49/£39.99
Reasons to buy
+
Two levels of firmness
+
Vegan and sustainable
+
Good for mid to high cervix
+
2% of proceeds to charity
The best menstrual cup for you will be down to your personal preference, but we found the Saalt Duo to be the best menstrual cup overall in our tests. A great starting point for those new to menstrual cups, the Saalt Dup comes with the original Saalt Cup and a Saalt Soft Cup—ideal for experimenting with different levels of firmness to find out what works best for you on different days of your period. If you find you can feel the firmer cup or are having difficulty peeing or pooping with it in, try the softer cup.
Made in the USA from 100% medical-grade silicone with a velvety soft finish, this cup is great for those with a mid-to-high cervix. One cup holds 47ml of menstrual fluid, while the other holds 52ml. Each cup can be worn for up to 12 hours and worn both day and night. Chemical and toxin-free, it's great for both your body and the environment. And, the brand says if you care for it correctly, this cup will last you for 10 years!
The only downside to the Saalt Duo Pack is there is only one size available in both cups— 41mm in the soft cup or the 46mm in the regular cup.
2. Satisfyer Feel Confident Menstrual Cups
The best budget menstrual cup
Specifications
Diameter: Small 38mm—Large 40.5mm
Capacity: Small 15ml—Large 20ml
Rim firmness: Soft
Stem: Long stem loop
RRP: $9.95/£8.95
Reasons to buy
+
Five colorways
+
Affordable
+
Loop stem
+
Size options available
Reasons to avoid
-
Holds less menstrual fluid than other options
Switching to menstrual cups can save you hundreds of dollars each year on disposable products like pads and tampons. However, the upfront cost of some cups and discs can be expensive, especially if like many women, you're putting the needs of your family or domestic priorities before your own self-care and wellbeing.
Satisfyer's Feel Confident Menstrual Cups are affordable and of great quality, with two different sizes in one convenient set. Made from medical-grade silicone with a soft rim, the small cup can hold 15ml of menstrual fluid while the large cup holds 20ml. It makes testing out both sizes (small 28mm cup and large 40.5mm cup) a much more affordable experience should one not work for your body.
The cups come in a variety of fun colorways and can be removed easily with the practical loop grip, making them a great all-rounder for the majority of body types, both high cervixes and low. If you're new to the world of menstrual cups and want to try an affordable option first to see how it goes, you can't go wrong with the Feel Confident Menstrual cups. However, they might not be suitable for those with a heavy flow as they can hold less menstrual fluid than other options on the market.
3. Cora Disc
The best menstrual disc
Specifications
Diameter: 65mm
Capacity: 47.5ml
Rim firmness: Firm
Stem: None
RRP: $30/£21.65
Reasons to buy
+
Stain-resistant color
+
Compatible with most bodies
+
Finger grip for removal
+
Good for low cervix
+
More comfortable for those with an IUD
Reasons to avoid
-
Hard to reach if cervix is high
-
Messy removal and emptying
The Cora Disc comes highly recommended by menstrual experts and is considered one of the best all-rounders for a disc-style cup. It can be used by people of all ages and is popular with those who have an IUD fitted as it doesn't use suction in the same way that most cups do.
It's great for those with a heavy flow, as it holds more menstrual fluid than most cups. Another huge pro of the menstrual disc is it can be worn during penetrative sex. While Cups block the vaginal canal, a disc-shaped device sits below the cervix, much like a diaphragm.
Unlike cups, discs are self-emptying. Some people like this as it means any worries about the disc overflowing on heavy days are allayed, however, some find it messy. "Self-emptying occurs when you relax your pelvic floor muscles, similar to a bowel movement, so it is completely normal to see blood in the toilet. To ensure your disc is properly back in place, use a clean finger to tuck back into place. You can also do a few kegel exercises to ensure it is back in place," says Kim. The Cora Disc has a thick and firm rim, which keeps it securely in place. It can take some time to get used to removing a disc compared to a cup with a stem. However, the Cora Disc has an ergonomic finger dip that makes it easier to remove.
The downside to discs is they aren't suitable for those with a high cervix as they can sometimes be trickier to remove. If you're uncomfortable washing your hands and the disc in a public bathroom, consider bringing vagina-safe wipes with you when you go out so you can clean up easily.
4. Me Luna Sport
The best menstrual cup for sports
Specifications
Diameter: Small 38mm—Extra Large 47mm
Capacity: Small 23ml—Extra 40ml
Rim firmness: Firm
Stem: Short stem, long stem, ring
RRP: From $15.95/£15.45
Reasons to buy
+
Strong suction seal
+
Ideal for strong pelvic muscles
+
Choice of removal stem
+
Range of sizes available
Reasons to avoid
-
Rim is too firm for some
Sports and periods might sometimes feel incompatible, but for many women, menstruation can't stand in the way of chasing those endorphins. Many athletes favor a menstrual cup due to the long wear time and the reduced risk of bacterial infections that often come with tampons and pad use.
The Me Luna Sport is the best menstrual cup to wear while working out and playing sports. It comes in a classic cup shape with a variety of options for the removal stem shape, including a short stem, long stem, and ring.
Made of super-firm and hypoallergenic TPE, it offers great suction as long as you're wearing the right size for you—which shouldn't be difficult as this menstrual cup comes in a range of sizes from Small to Extra Large. The brand also offers Standard and Shorty versions, with the latter being a shorter cup most suitable for those with a low cervix.
We felt confident when working out while using this cup and stayed leak-free throughout. While we loved the firmness of this cup, it might not be suitable for everyone, especially those new to menstrual cups. Before opting for the Me Luna sport cup, we recommend trying a softer option first.
5. Lena Sensitive Cup
Best menstrual cup for sensitivity
Specifications
Diameter: Small 41mm—Large 45mm
Capacity: Small 25ml—Large 30ml
Rim firmness: Soft
Stem: Long stem
RRP: $27/£21.90
Reasons to buy
+
Very soft silicone
+
Good for painful cramps
+
Great for POP sufferers
+
Suitable for high cervix
Reasons to avoid
-
Not ideal for strong pelvic muscles
One of the smallest menstrual cups on the market, Lena Small Sensitive is a must-try for anyone who suffers from pelvic pain, cramping, bladder issues, or the effects of pelvic organ prolapse. Conditions like PID or pelvic inflammatory disease, endometriosis, or fibroids can cause painful periods, scarring, and chronic pain. So, for some wearing a firm cup is simply not an option. Lena Cup is made of softer silicone with a soft rim. The small size is suited to a lighter flow whereas a large size is better suited to those heavier days. The Lena sizing guide isn't based on age or vaginal births, but solely on flow.
"At Lena, we do not believe that age and birthing history play a significant role in choosing a menstrual cup. Mothers with multiple births are happily using LENA Small, while teenagers, with a heavy flow, choose LENA Large," say the brand's representatives.
It offers 12 hours of protection just like the original Lena cup, however, it's only available in Small and Large sizes. The softer rim is noticeably more comfortable to insert and wear. However, for some, this means the suction isn't as effective and the cup can be dislodged more easily. If you're unsure about whether a softer cup is better for you or you've had any issues with pelvic pain or prolapse, it's best to consult with your doctor or OB/GYN before using a cup.
6. Diva Cup Model 2
Best menstrual cup for a high cervix
Specifications
Diameter: 45mm
Capacity: 30ml
Rim firmness: Medium
Stem: Long stem
RRP: $39.99/£24.99
Reasons to buy
+
Long with a long stem
+
Medium to heavy flow
+
Class 2 medical device
Invented by a mother and daughter duo challenging the world to think differently about menstrual care, DivaCup was one of the first cup brands on the scene. It's the only menstrual cup that's government-approved in seven countries as a Class 2 Medical Device. Made from body-safe silicone with a long cup and stem, the Model 2 is ideal for anyone with a high cervix and a heavy flow.
All Diva Cups have two rims. The secondary rim adds firmness to the mouth of the cup so it will open with ease as well as softening the transition from the body to the upper rim. Four small air holes under the trim create a strong suction so you needn't be worried about leaks and can wear this cup comfortably for up to 12 hours.
A long hollow stem with grip rings allows for easy removal and should the stem be too long, you can trim it. It shouldn't be able to make contact with your underwear and the brand recommend the stem is at least one-quarter of an inch long for easy removal. Be sure to clean any cups with a hollow stem very thoroughly in boiling water after use to ensure no menstrual fluid is left in the stem.
7. &SISTERS nüdie Period Cup
Best menstrual cup for teens
Specifications
Diameter: 38mm
Capacity: 18ml
Rim firmness: Medium
Stem: Short pebble shape
RRP: $28.50/£23.75
Reasons to buy
+
Ideal first cup
+
Three sizes available
+
90 days to try smaller sizes or switch free of charge
+
10% of proceeds to charity
Reasons to avoid
-
Too suitable for those with a heavy flow
-
Short pebble-shaped stem not suitable for some
The nüdie Period Cup by &SISTERS comes in three sizes including Small (recommended for teens) Medium (recommended for those aged 18—29), and Large (recommended for those 30+ or post-pregnancy).
This is a great menstrual cup for teens because of the soft silicone material and medium-to-firm rim that offers a super-comfortable fit. The cup has three small air release holes that offer secure suction and keeps the cup in place, plus a pebble-shaped pull for easy removal. We love this removal method, however, it might not be suited to those with a high cervix or those who prefer long stems for removal.
While the Small size is generally considered the best for teens or those new to menstrual cups, the brand does offer a 90-day trial period. If you purchase the Small or Medium cups and find they are too small, you can return them in exchange for a Large cup free of charge. The brand also donates 10% of its profits to initiatives to end period poverty and empower those who bleed across the globe. It's worth noting the nüdie Period Cup only holds 18ml of menstrual blood, so is best suited to those with a light flow.
8. NIXIT Suction Free Menstrual Cup
Best menstrual cup for IUD users
Specifications
Diameter: 70mm
Capacity: 70ml
Rim firmness: Medium
Stem: No stem
RRP: $42/£31
Reasons to buy
+
No suction
+
Ideal for low cervix
+
Good for heavy flow
Reasons to avoid
-
One size
-
Messy to remove
As a suction-free disc-shaped option, The Nixit Menstrual Cup naturally stays in place and cradles the space below your cervix to collect menstrual fluid. Like other discs, it doesn't have to be folded for insertion and comes in just one size.
Made in Canada from 100% BPA-free medical-grade silicone, those who've encountered issues with menstrual cups of various other shapes and sizes, or who have an IUD fitted could find the NIXIT cup suits them best. It's a great all-rounder for heavy and light flow days and is suitable for people of all ages.
Unlike the Cora disc, this product doesn't have a finger dip to help with removal so you'll need to use your finger to find the rim, hook it and pull it down to remove it. Engaging your pelvic floor muscles can also help to dislodge the disc (see our guide to kegel balls and how they can help keep your pelvic floor muscles strong).

Like other disc products, if the Nixit Menstrual Cup becomes full it could spill over and lead to a messy removal and clean-up. Removing the disc every four hours can help to avoid spillages, but you can wear this device safely for up to 12 hours on days you're confident your flow is lighter. If you're looking for a suction-free cup, this is a great option. However, the one size offering is limited and won't be suitable for everyone.
9. Fun Factory Fun Cup Explore Kit
Best menstrual cup for day and night
Specifications
Diameter: Size A 53mm—Size B 58mm
Capacity: Size A 20ml—Size B 30ml
Rim firmness: Soft
Stem: Tapered
RRP: $39.99 / £29.59
Reasons to buy
+
Ergonomic design
+
Two size options to try
+
Tapered stem
Reasons to avoid
-
Soft and can dislodge
-
Only holds 20ml or 30ml of menstrual fluid
For those who want a menstrual cup duo to wear day and night, The Fun Cup Explore Kit could be the one for you. Wearing a tampon at night increases the risk of Toxic shock syndrome (TSS), but a menstrual cup is safe to sleep in.
The soft silicone means the suction on these products isn't as strong as with some others, but generally, this kit is a great starting point for testing your flow. Size A is better for light days and nights and size B is better for a heavier flow. Try both at different times of day and night at different points of your cycle to discover which one is most effective and comfortable for you.
We've found Size A is great for nights, whereas size B was better for low-intensity days. For sport or busier days that involve lots of activity, a cup with greater suction or a secure disk is better.
Some people prefer the Fun Cup set for use strictly at night, especially if sharing a bed with a partner. There's no risk of leaking and you won't feel weighed down or uncomfortable in non-breathable pads or conspicuous period pants.
10. Intimina Ziggy Cup
The best menstrual cup for penetrative sex
Specifications
Diameter: 65mm
Capacity: 76ml
Rim firmness: Medium
Stem: No stem
RRP: $39.95/£34.99
Reasons to buy
+
Safe for penetrative sex
+
Good for low cervix
+
Holds 76ml of menstrual fluid
Speaking of sharing a bed with a partner, the Ziggy Cup makes sex on your period a whole lot easier. Made of super-thin silicone, this cup is closer to a disc shape, with a flat design that sits below your cervix.
As it doesn't obstruct the vaginal canal and catches menstrual fluid before it can reach this part of the vagina, mess-free penetrative sex is another advantage (you might want to try less vigorous sex positions though). Be sure to remove and wash it thoroughly after sex and, if possible, sterilize it with boiling water.
Easy to reach if you have a low cervix and with a rim of medium firmness, Intimina's Ziggy Cup is also a good first-time period product and can be worn for up to eight hours. However, as with other disc-shaped options, getting the hang of emptying it without mess might take some time.
While it collects an impressive 76ml of menstrual fluid, this cup is only available in one size so won't suit everyone. And, as it doesn't have a stem, it might be a little trickier to remove the first few times.
11. The Better Company Bettercup
Most sustainable menstrual cup
Specifications
Diameter: Size A 43mm – Size B 46mm
Capacity: 30ml
Rim firmness: Medium
Stem: Long stem
RRP: $27.70/£20
Reasons to buy
+
Buy one donate one
+
Sustainable bag
+
Good for high cervix
Bettercup's founder, Ruth Marsden, was struck by how much pollution menstrual products caused and wanted to address this issue while still supporting people who have periods. The brand now makes 100% medical-grade silicone menstrual cups available in two sizes, Size A (for those under 25 years old) and Size B (for those over 25 years old or post-pregnancy).
"One of the catalysts to launching bettercup was discovering there's also a lot of hidden plastic in tampon products," says Ruth. "The wrapping is often plastic, applicator sticks aren't recyclable (for sanitary reasons), the string of a tampon is usually glued rather than threaded and, in most regular brands, there is even plastic in the tampon itself. Plastic doesn't biodegrade, it just breaks down into smaller parts and ends up in landfills via the bin, or our oceans via your toilet. In landfill it sits and releases harmful gases and chemicals, polluting the surrounding air and water."
The bettercup is a great option for anyone looking to switch to a more sustainable period product. It offers medium firmness with a long stem that can be trimmed. You can leave the cup in for eight to 12 hours. The product comes with a GOTS certified organic cotton storage bag and manual. Plus, every purchase includes a donated bettercup, which will go to a girl attending Hamara Hope School, a rural farm school in Zimbabwe. The only downside to the buttercup product is the sizing is limited.
Are menstrual cups safe to use?
If used correctly, menstrual cups are a safe form of period care. They are built to hold up to 12 hours' worth of menstrual fluid. In comparison, leaving a tampon in for this long is unsafe and can lead to complications, the most significant being toxic shock syndrome, which is caused by a build-up of bacteria inside the vagina. Because a menstrual cup collects blood rather than absorbs it, there's a much lower risk of TSS or of disrupting your vaginal microbiome.
Anyone who menstruates can use a menstrual cup or disc. However, it's important to consider your pelvic health, and your relationship with how you menstruate before trying one for the first time. Some people dislike menstrual cups because they are worn inside the vagina. For some, this isn't culturally viable, and for some, it can be a cause of gender dysphoria. However, there are benefits to using a cup that we don't always talk about, argues Kim Rosas.
"Becoming more comfortable with your own body is one of them. For people who are used to pads or applicator tampons, using menstrual cups forces you to touch your body in a more intimate way that can have long-lasting benefits. You'll also be visually confronted with your period for the very first time. Dumping your first full cup has been described by many as a beautiful experience. We've been taught that periods are dirty or gross so taking ownership of a natural cycle can be a powerful thing," Kim says.
A menstrual cup should be easy to insert and then unfold fully inside the vagina. Pressure from the surrounding muscles must not prevent the menstrual cup from unfolding. The cup should not feel uncomfortably hard and there should be no sensation of pressure. If it's fitted properly, you shouldn't be able to feel it at all so if you can, it will likely be too big for you.
If you have an IUD, are concerned about your cervix or pelvic floor health, speak with your doctor before using a menstrual cup.
Emilie Lavinia is a writer, entrepreneur and women's wellbeing advocate. She is passionate about femtech, closing the gender health gap and campaigning for education and transparency across mental, physical and sexual health. Emilie presents All Being Well – a series that investigates the concept of wellness, good health according to experts and what it means to 'be well'. She has a decade of experience as a journalist, editor and brand strategist and is the founder of four separate organisations that champion women's health, marginalised communities and LGBTQ+ people.