The Facialists' Secret To Younger Looking Skin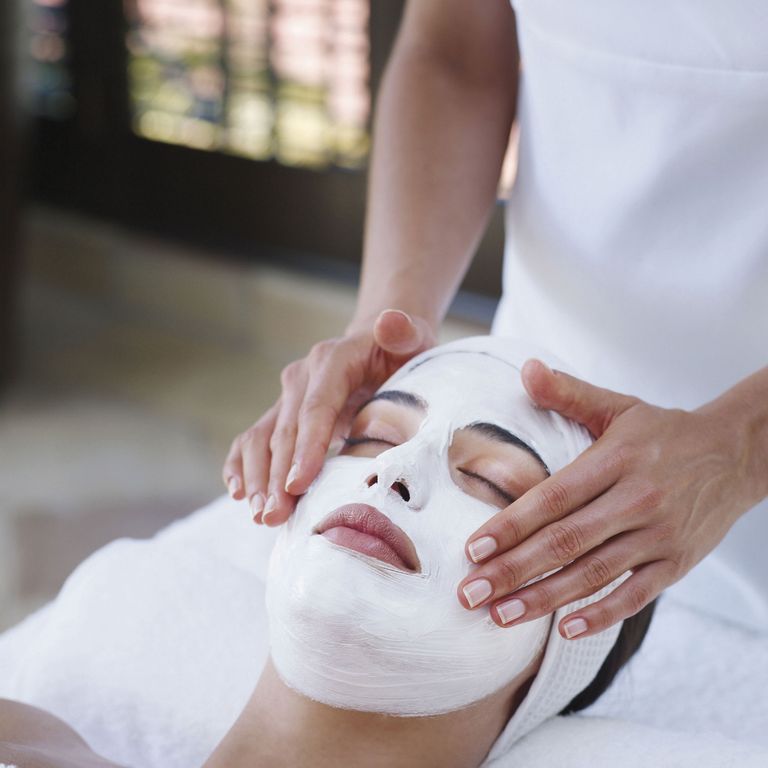 Try multi-masking to give your skin everything it needs, all in one go...
There's a whole world of face masks out there to fall in love with - from those that scrub, peel and firm to those that hydrate, comfort and nourish. You may have already found 'the one' that makes your skin look and feel amazing, but have you ever thought about taking on a bit on the side?
Meet 'multimasking' - that's using several different face masks at once to create a totally bespoke skincare experience. Facialists have been doing this for years as it's the easiest way to bring out the very best in your skin. Our faces naturally have different needs in different areas - most women describe their skin as being combination, with oilier zones around the forehead and chin, breakouts and congestion on the nose and dryness around eyes and cheeks.
So how does it work? Simply divide your face into four zones then mix and match the perfect products for each area's needs. Yes, it's slightly more complicated than just slapping one product on all over, but not by much, and the benefits will far outweigh the effort required. Here's our expert guide to multi-masking your facial zones:
Eyes
The skin around your eyes is thinner than the rest of your face, that's why it's one of the first areas most of us notice lines. You might also find your eye area is prone to sensitivity and fluid retention. Seek out cooling, firming targeted mini gel masks.
Nose
Your nose is a pretty hardy soul and doesn't often suffer from dryness, but most of us notice a bit of oil here as well as larger pores, blackheads and breakouts - all that lovely stuff. Luckily clay and mud masks are more than adept at sucking out impurities so put one to work here.
Cheeks
Whether you suffer from dryness elsewhere, most of us have a bit of dehydration in our cheeks, and they love being smothered in super-nourishing, plumping, creamy formulas.
Forehead and chin
These areas can vary depending on your skin type, although for the most part they tend to be oilier rather than dry. A good all-rounder of a deep-cleansing and hydrating mask will fit the bill, and your chin especially can benefit from a bit of exfoliaton.
Flick through for our favourite face masks, followed by the products you should be using on your eyes, nose, cheeks, forehead and chin.
L'Oreal Pure Clay Purity Mask, £5
Clay's a huge trend in skincare right now and this L'Oreal Pure Clay Purity Mask is an accessible way in. It works best on oily chins or blackhead-prone noses, but can be used all over if you have oily skin. Smooth it on, leave for 15 and watch as all that gunk is drawn out of your pores, ready to be banished for good with warm water and a washcloth.
Fresh Vitamin Nectar Vibrancy Boosting Face Mask, £52
Fresh Vitamin Nectar Vibrancy Boosting Face Mask looks and smells absolutely mouthwatering. That'll be the citrus fruit blend that gives this jammy mask an unusually high level of skin-brightening vitamin C plus exfoliating natural fruit acids. If you can resist the urge to lick it off your face (a costly mistake) this noticeably brightens skin in 10 minutes while nibbling away flaky bits, so is an ideal glow-getter on the day of a big occasion.
Nugg Hydrating Face Mask, £16.50 for five
Firstly, we need to talk about the packaging. Nugg Hydrating Face Mask comes in the cutest tiny little yoghurt pot pack we've ever seen, just the thing for gifting friends or travelling. Now that's out the way, what's inside is pretty lovely too; a soft, creamy moisture-filled face mask that would suit dry or sensitive skin. It's got camellia seed oil plus aloe so is super soothing, and you only need to leave it on for five minutes to enjoy plumped up, juicier skin all day long.
Estee Lauder Foil Face Mask, £16
Busy schedule getting the better of your beauty regime? Don't worry, these super-fast face masks were designed with you in mind. Done and dusted in as little as five minutes, Korean-inspired sheet masks are the fastest route to pampered refreshed skin, and are perfect for travel as they take up next to nothing of your precious luggage allowance. Estee Lauder Advanced Night Repair Powerfoil Mask contains a double dose of hydrating Hyaluronic Acid that seeps deep within skin's surface. Theinnovative foil mask locks in every drop of the anti-ageing formula. Yes, they might look a little bit Hannibal Lector-like while they're on (although that's really part of the fun) super-hydrating and nourishing sheet masks are Infused with the latest skincare technology and soaked in fasting acting ingredients, to firm, hydrate, brighten and even improve the appearance of pigmentation with a single application. So there really is no excuse not to treat your skin to five minutes with a mask, even on a weekday evening - why not stick one on while you watch Bake Off? There's a fast-acting sheet mask to suit every skin type and concern - even if you've only got 60 seconds to spend on an extra step in your beauty routine, there is a face mask out there that's perfect for you. So treat your skin to a speedy treatment tonight and wake up to better skin tomorrow...
Shiseido Pure Retinol Revitalizing Face Mask, £59.50 for 4
A classic and luxurious example is Shiseido Pure Retinol Revitalizing Face Mask. It's soaked in retinol - a highly concentrated form of Vitamin A and one of the only ingredients we know really can improve sun damaged skin - plus aquatic plant extract Chlorella, known to brighten and firm, Shiseido's clever revitalising face sheets deeply penetrate dry and dull complexions to restore healthy, youthful looking skin. At nearly £60 for four it's not cheap, but add in a little exfoliation beforehand and you've got yourself an at-home facial for a little less than £15 a pop.
Indeed Labs Hydraluron Sheet Mask, £19.99
The cold weather can cause deeply dehydrated skin which reveals itself as dry, overly sensitive patches which are prone to flaking - a nightmare when trying to apply make-up. Smooth, plump and revive your skin with Indeed Laboratories fuss-free face masks. Delivering 24 hours of optimum hydration, this timesaving sheet it's a quick fix you can't afford to miss. Pop it on once or twice a week and remember to massage in any left over residue!
Masque Bar Green Tea Sheet Mask, £9.99 for 3
Suffering from impromptu redness or emerging dark spots? Pigmentation is a problem which can effect our skin all year round. Drenched in brightening orange extract, liquorice root and vitamin C, with a generous dose of hydrating hyaluronic acid, these cotton sheets correct, even and illuminate problem complexions. A best seller in the US and Masque Bar Brightening Sheets are now available on British shores in Boots.
Rodial Dragon's Blood Eye Masks, £39 for 8
For eyes
They sound a bit scary, but no dragons were harmed in the making of these patches. Instead
Rodial Dragon's Blood Eye Masks
contain the red sap of the Croton Lechleri tree, known for it's skin soothing powers, as well as hyaluronic acid and arnica to brighten shadows. They feel lovely and cooling on, perfect to pep up tired peepers.
Sanctuary Spa 5-Minute Radiance Peel Off Mask, £10
We love Sanctuary Spa products, and the new Radiance peel off mask does not dissapoint! In just five short minutes this mask results in smoother, fresher and younger looking skin. Formulated from a blend of glycolic acid and botanical extracts such as sugar cane, sugar maple, orange and lemon this mask will wash away dead skin cells, unblock pores and encourage cell renewal. The result? Youthful and radiant looking skin - all for under £10! We're sold.
Nuxe Splendieuse Anti-Dark Spot Perfecting Mask, £
Increasingly, good-old Vitamin C is being recognised for it's amazing pigmentation-fading powers - and this mask has that in spades. It's also got white crocus, known to brighten and porcelain rose oil, bringing the total volume up to 21ml per Nuxe Splendieuse Anti-Dark Spot Perfecting Mask, nearly as much as a whole bottle of serum! The instructions say 10 minutes, which still has a lovely effect, but if you've got time leave it on for 30, massaging every 5. It'll make all the difference.
Masker-Aide I Don't Wanna Grow Up Hydrating Sheet Mask, £5
Don't be put off by the girlish packaging (or name, for that matter) Behind that kitschy exterior lies some serious Korean skincare ingredients like hydrolized collagen, Vitamin E and natural Ylang Ylang oil. 10 minutes with Masker-Aide and skin feels soft and bouncy, but not greasy, plus it's free from parabens, mineral oil, fragrances and any other nasties you can think of.
Elemis Pro-Collagen Hydra-Gel Eye Masks, £46 for six
For eyes
Puffy under eyes can drag your mood down with them, but 20 minutes with
Elemis Pro Collagen Hydra-Gel Eye Masks
will lift both skin and spirits. These slippery little crescent moons, doused in firming plankton extract and hyaluronic acid, feel instantly refreshing and help plump weary contours.
Kiko Energy Mask, £5.90
For forehead and chin
Kiko's bargain
Energy Mask
is perfect for this mixed bag of a zone as it contains clay, great for clearing up oiliness and breakouts, but the texture feels more like a gel on skin. This means you don't get any of that super-tight feeling that can be an issue with purifying products. It only takes about 15 minutes to do it's job, leaving skin feeling fresh, a little tingly and looking bright.
L'Occitane Aromachologie Rebalancing Face Mask, £20
For forehead and chin
L'Occitane's newest
Rebalancing Face Mask
is a perfect blend of cleansing and pore-tightening mineral powders with super softening and calming essential oils, it smells like a dream too. If you're more dry than oily in the chin and forehead this may not be for you as skin does feel a little tight afterwards, but if you want something that sucks out oil, tightens, firms and brightens, this does the job very well indeed.
Eve Lom Rescue Mask, £35
For cheeks
Another classic product, that's been re-jigged for 2015,
Eve Lom Rescue Mask
now comes in a handy tube - perfect when you only need a smidgen for multi-masking purposes. If you suffer from redness, sensitivity or blotchy cheeks, this will clear, calm and soothe them. It's got a bit of clay in but also nourishing almond and honey extracts, which feel and smell just delicious.
Bliss Multi-face-eted All-In-One Anti Ageing Clay Mask, £35
For the nose
Another brilliant example of the mud mask genre,
Bliss Multi-face-eted
is just that, a multitasking marvel! As well as drawing out all the gunky bits you hate, this contains glycolic acid to lightly exfoliate and jojoba oil to nourish skin. You can see it in action, which if you're anything like us you'll love, then remove with hot water and a flannel to leave oil-free, smooth and bright skin behind.