These bestselling fragrances are in the sale - and perfect for Valentine's Day
Valentine's Day is a great day to celebrate all kinds of love – from friendship to a romantic relationship. Whether you're buying for a friend, lover, or treating yourself, these stunning perfumes will be a gift that keeps on giving...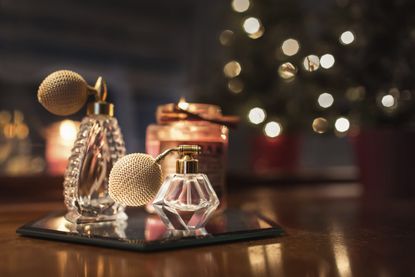 Love might be in the air but before you dash off to buy chocolate and roses, check out these unique Valentine's Day fragrances from your favourite brands, with some at heavily discounted prices.
Someone's chosen fragrance not only reveals a lot about their personality (are they more dark wood, or floral?) but it can also influence the way we feel about them in the long-term too.
MORE: How to get four different Chanel fragrances for just £65!
Everyone knows that you're more likely to find someone attractive if they smell great, but now there's now a proven link between how someone smells and how we remember them. Scientists from the University of Toronto have used this new discovery to explain how certain smells will recall particular memories of places and people. So if you want to be in a loved one's thoughts for a while, why not find the perfect perfume for them?
These are the best fragrances for your loved one this Valentine's Day…
Gucci Guilty Love Edition Eau de Parfum For Her (50ml)
Brand new for 2020, Gucci Guilty is musky perfume with notes of patchouli accord and narcissus flower. The collection also has a matching Eau de Toilette for Him.
Marc Jacobs Daisy Daze Eau de Toilette (50ml)
This limited edition eau de toilette is a twist on the Daisy classic with hints of mandarin, Mirabelle and creamy musks at the base.
Jo Malone London Vetiver & Golden Vanilla Cologne Intense (50ml)
Sensuous with notes of cardamom, grapefruit, vetiver and vanilla bourbon – this Jo Malone cologne is a perfect new addition for any fragrance collection this Valentines Day.
Gucci Rush Eau de Toilette for Her (50ml)
(RRP: £60) It's quickly become a staple in any perfume collection; the Gucci Rush eau de toilette is a must-have for those who love a combination of florals and spice. Save £20 on this iconic fragrance at Boots.com.
Calvin Klein Eternity Now Eau de Parfum (50ml)
(RRP: £50) Be quick with this one! In the Boots January sale, this Calvin Klein perfume is almost half price.
Vera Wang Princess Eau de Toilette (50ml)
(RRP: £50) Take 50ML of Vera Wang's iconic fruity fragrance Princess for just £30 on this deal. The scent sparkles with the scents of pink guava, wild tuberose and dark chocolate layered over amber and vanilla chiffon.
Dolce & Gabbana The One Eau de Parfum (50ml)
(RRP: £74) This vibrant, citrus fragrance from Dolce& Gabbana makes a unique present for a loved one. And at almost half the original price – what's not to love?
Viktor& Rolf Flowerbomb Dew Eau de Parfum (50ml)
(RRP: £78) A delightful fragrance from Viktor& Rolf - one that brings together notes of bergamot, pear accord and ambrette with essential rose and heliotrope accord to create a delicious floral scent. Not only is this a new addition to the collection for 2020, but it's 15% off at Debenham's.
Jimmy Choo Eau de Parfum (100ml)
(RRP: £79) The signature women's perfume from Jimmy Choo, this eau de parfum is elegant and sweet. The scent lasts for hours even when faded and with great savings on 100ml, it's a real steal.
Giorgio Armani Sì Passione Red Maestro Eau de Parfum (100ml)
Sì Passione Red Maestro is an inspired twist on the iconic Giorgio Armani Sì Woman fragrance. Fulfilling notes of blackcurrant, rose and vanilla and a bright red bottle. It's slightly pricier but definitely worth it.
A digital health journalist with over five years experience writing and editing for UK publications, Grace has covered the world of health and wellbeing extensively for Cosmopolitan, The i Paper and more.
She started her career writing about the complexities of sex and relationships, before combining personal hobbies with professional and writing about fitness. Everything from the best protein powder to sleep technology, the latest health trend to nutrition essentials, Grace has a huge spectrum of interests in the wellness sphere. Having reported on the coronavirus pandemic since the very first swab, she now also counts public health among them.