Maybelline Superstay Ink review: is this the most budge-proof lipstick on the market?
Our beauty editor's Maybelline Superstay Ink review – how does the long-wearing lip color really fare?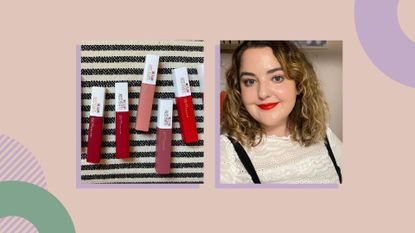 (Image credit: Rhiannon Derbyshire)
As someone who wears a bright lip every day, I need the color to last. So many products promise all day wear while still managing to vanish after an hour or two - this isn't one of them. It's affordable, gives gorgeous color payoff and – truly – lasts all day (as long as you apply it properly.)
Reasons to buy
+

Incredible staying power

+

Bright, wearable colors

+

Brilliant price

+

Precise application
Reasons to avoid
-

Can be a little drying

-

Some may find the liquid formula fiddly
Why you can trust Woman & Home Our expert reviewers spend hours testing and comparing products and services so you can choose the best for you. Find out more about how we test.
When I was tasked with this Maybelline Superstay Ink Review, I instantly started typing. This is easily one of my most recommended products, and when I do, it's often followed up by a gushing text from the recommendee, enthusiastically listing the hours' and meals the lipstick lasted through.
And why shouldn't one swish of product last the whole day – who wants to spend the entire day topping up? When it comes to long lasting lipsticks, this is the product I think of first. Since its launch in 2017, it's been my go-to for easy makeup looks and I can rely on it to last all day without really thinking about it. Over the years I've gone through countless tubes, and there's usually one or two in my handbag on any given day.
However - it's easy to take your favorites for granted, so I tasked myself with conducting this Maybelline Superstay Ink review with fresh eyes. I wanted to really investigate the staying power, check if it comes at the cost of dryness, and whether I'm covertly relying on my best lip balm to balance things out. Am I remembering the product through rose-tinted glasses, blinded by years of loyal use? Let's investigate.
SPECIFICATIONS
RRP: $10.99/£9.99
Available Shades: 35
Formulation: Liquid
Finish: Matte
Extra features: Transfer-proof, promising 16 hours' wear
w&h beauty editor's Maybelline Superstay Ink review
Packaging & color range
I'm not particularly fussy when it comes to packaging. Sure, if a product looks pleasing on my bathroom shelf, or it's from an Instagram-friendly brand, I have a small tendency to want to like it more. But if a product is brilliant, the way the packaging looks doesn't really matter, as long as it's easy to apply, and keeps the formula airtight.
The packaging for the Maybelline Superstay Matte Ink Lipstick is fuss-free and effective. The liquid lipstick formula is housed in a plastic tube (which isn't fully recyclable but can be recycled in Maybelline's in-store Recycling program) with a different color panel for each shade in the range. This is handy - it's annoying having to dig through an overstuffed makeup bag of all-black tubes trying to find one elusive shade of red. Speaking of shades, the range is vast – 35, in a mix of bold bright reds, nude lipsticks, all the way through to deep berry and some of the best pink lipstick options that'll last the day. Trends may come and go, but I'm a makeup with red lipstick girl through and through, so Innovator, Pioneer, and Individualist are where my eye is instantly drawn.
How do you use Maybelline SuperStay Matte ink?
Application is especially important with such a long-wearing formula - you don't want to make a mistake and cause a smudge or a stain. If you're not used to liquid formulations, you may be wondering how to apply lipstick in this texture. The key is utilizing the wand for a really accurate application. In this case, the doe-foot applicator has a clever pointed tip, to help you give a really precise, clean coat of color. This will also help you nail how to stop lipstick bleeding and feathering – you won't need to use your best lip liner (although of course, you can, if you prefer) Use the tip of the lipstick to line your lips, then coat the rest of your lips in color. It's a smart design, that really works.
As for the formula itself, it's highly pigmented. If I'm being fussy, it's a tiny bit sticky, but that's the case with most long-lasting lipsticks. It dries matte quickly, so you have to be quick to get the color down to prevent staining. Once it's fully dried, any stickiness subsides. It's also worth noting that Maybelline has launched a vinyl version of this product if you prefer a glossier finish.
How does it look and feel?
I tested two shades for the purpose of this Maybelline Superstay Ink review – Individualist, an orange-toned red, and Shot Caller, a deeper cool-toned berry. One swipe of the formula gives an impressive payoff – it's an instantly bright, vibrant color in seconds. It's a little bit tacky in texture, to begin with, but once it dries down it's absolutely fine and feels comfy on the lips. So far, so good.
If you prefer a more sheer look, you can dab the shade on with your fingers, as I have countless times – blending with a lip balm to cheat a lip tint. It's the perfect way of wearing the bold color on more low-key days, paired with your best tinted moisturizer and an oversized knit.
How long does SuperStay last? Testing day one
I tested the durability of this color for this Maybelline Superstay Ink review on two separate, very different days. In the interest of full disclosure, the first day, on a busy photoshoot did not fare as well as I'd hoped.
It started off brilliantly – I had countless compliments on the color, and by 1pm, it was still looking fresh. The color hadn't smudged at all and my teammates were impressed. After lunch, things went downhill - I blame the ramen I ordered. That, combined with the endless snacking in the afternoon meant that the color had pretty much vanished by the time we wrapped at 6pm. I was confused – this really hadn't happened before. Then I remembered that I hadn't applied it all that carefully in the morning – maybe some residual moisturizer or lip balm had compromised the ability for it to stay in place? Concern started creeping in.
Testing day two
The second day I made sure my application technique was as careful as possible to give SuperStay the best conditions to prove itself. I applied lip balm the night before (not the morning of) then I blotted my lips meticulously to ensure they were totally dry and clear of product before applying the color. This was at 7am and the product promises 16 hours of wear – would this really take me to 11pm?
By mid-afternoon, post lunch and after drinking four cups of tea, I cautiously checked the mirror and saw that the color looked pretty pristine. A huge relief – so I got braver. I picked up some snacks, made dinner plans, and upped the ante on my Maybelline Superstay Ink review.
At 7pm I noticed my red lipstick was still firmly in place then continued with my evening, meeting friends for dinner plans, followed by drinks. Checking in the dark bathroom mirror at 10, the lipstick was very much still there. Sure, maybe it wasn't as pristine as before, but you would still describe me as 'having lipstick on'. It was slightly smudged around the inner corners (blame the wine), but I was pleased – and relieved that my most-recommended lipstick works as well as I thought it did. My professional reputation is, thankfully, still intact.
Maybelline Superstay Ink review; The final verdict
What an emotional rollercoaster. I started this Maybelline Superstay Ink review pretty sure I knew what the result would be, and my confidence really wavered after the first day when the color seemed to vanish after a few hours. The second test, applied with more care, really reminded me how brilliant this lip color is – it truly didn't start to budge until the 15th hour of wear, after three meals and a handful of drinks.
The key with this lip color is all in the application. For it to really go the distance the formula needs to be applied to a clean canvas of totally dry lips, which had been moisturized hours before. This transformed the staying power to one that more than meets the product's claims. So if you're struggling with longevity with Maybelline Superstay Ink, or any long-lasting lipsticks, make sure you're applying them correctly.
Maybe avoid ramen too.
Rhiannon Derbyshire is the Senior Beauty Editor for Woman & Home and other publications.
She started interning for glossy magazines while working alongside her Fashion Journalism degree. There, she was lured to the beauty desk, seduced by matte lipsticks, posh shampoos, and every skincare product imaginable. 10+ years into her career, she can confidently tell you why the best mascaras are always high street, and why SPF is a non-negotiable all year round. Ask her about her curly hair routine, skincare minimalism, and how to find the exact right red lipstick