A beauty editor's Gucci Mascara L'Obscur review: "this is all about drama and being noticed"
Read our honest Gucci Mascara L'Obscur review to see if this premium mascara is truly worth the splurge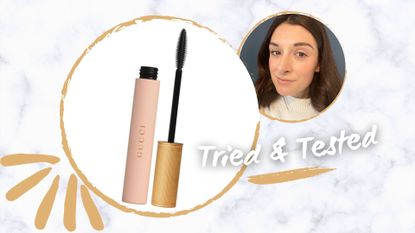 (Image credit: Future/Jess Beech)
A fancy mascara that instantly boosts the volume of sparse, fine, barely-visible lashes in just one coat. It won't suit everyone's budget and isn't for shy-and-retiring types, but if you love luxury and dramatic lashes this is worth the higher price for high-impact results
Reasons to buy
+

Two ways to use the wand

+

Gorgeous packaging

+

Dramatic results
Reasons to avoid
-

Dries quite quickly

-

Can clump
Why you can trust Woman & Home Our expert reviewers spend hours testing and comparing products and services so you can choose the best for you. Find out more about how we test.
If you're planning to splash out, you'll want to read this Gucci Mascara L'Obscur review first.
When you think about Gucci, it's more likely to be their iconic logo belts, much-coveted Soho Disco bag, or Lady Gaga's star turn in House of Gucci that spring to mind before their best mascara or general makeup offering. But you're missing a trick by dismissing this brand as a fashion house only. Gucci relaunched its makeup collection in 2019 with a line-up of lipsticks and has since expanded across complexion, nails, and of course – eyes.
SPECIFICATIONS
RRP: $36 / £30
Shades: Black
Key features: 12-hour wear, intense black shade
I hadn't tried many products from Gucci's makeup line (bar a gorgeous red lipstick) so didn't really have much in the way of preconceptions when I tested the Mascara L'Obscur. The brand describes it as "buildable and versatile" with the ability to add volume, curl, and lift lashes as well as "adding length and definition". On paper, I couldn't ask for more, so let's see how it stacked up on my lashes.
Our Beauty Editor's Gucci Mascara L'Obscur review
The packaging
First impressions count for a lot and Gucci Mascara L'Obscur is an absolute beauty. It has all the hallmarks you'd expect a designer mascara to boast over even the best drugstore mascaras, with a glossy pale pink tube and grooved gold lid. I always think the weight of a product is a signifier of quality (no one wants to spend upwards of $30/£30 on something that feels flimsy) and the tube is satisfyingly heavy.
Of course, you could argue that this is a case of inflated prices due to packaging costs as opposed to an amazing, innovative formula. But when I'd normally categorize mascara with daily mundanities like brushing my teeth and putting on socks, it's nice to use a product that makes it feel fancy. The tube itself isn't recyclable, but the black and pink paper carton (where the ingredients are printed) is.
The formula and ingredients
I do feel that some brands create makeup products full of 'marketing levels' of ingredients (enough to make big claims on the pack, but not to really be effective) So it's quite refreshing to see that Gucci doesn't claim that this is anything other than mascara. The ingredients are all there to grip and coat the lashes in order to build volume, as opposed to aiming to condition lashes or act as one of the best eyelash growth serums.
According to the brand, the formulation is both smudge and flake-proof, which will be music to the ears of anyone who counts either as a bugbear. I'd agree that it is certainly flake-proof, but I did experience a smidge of smudging on my lower lashes after half a day's wear. If this is a common mascara gripe for you, sometimes dusting a little of your best setting powder around the eye area can help.
Application and first impressions
I think because the packaging is so sleek, and the wand relatively dainty, I didn't expect Gucci Mascara L'Obscur to have the finish it did. The formula felt thicker and waxier than I thought would when I brushed it through my lashes, which, combined with the intense black color, made for a high-impact look in just one coat.
I'm always keen to save time in the mornings (or any time of day really), so I really liked that this didn't require a huge amount of effort to make my lashes look considerably thicker than just a few seconds before. The convex-shaped brush is made from bendy plastic which makes it easy to use, and it's narrow enough at the tapered end to get right into the inner eyelashes.
It does dry fast, so adding a second coat is only really doable if you finish one eye before moving on to the other. I wouldn't say this mascara added much in the way of length or fanned my lashes out, so wouldn't necessarily be one of the best mascaras for short lashes if that's what you want. The densely packed bristles meant my lashes all moved as a pack and grouped together in little clusters, which did make them look thicker.
How does it wear?
Gucci Mascara L'Obscur is one of the best volumizing mascaras I've tried lately and wore really nicely on my lashes during a full day's wear. The color and volume were just as intense by the end of the day as when I first applied, but the lift had drooped a little. The formula's Achilles heel would be the fact that it did smudge a little, and when I popped to the bathroom halfway through the afternoon I was presented with faint black rings beneath my lower lashes. For this reason, unless I was going out, I would only use it on my top lashes going forward.
Performance is the most important thing about any mascara, but I also judge on the basis of how easily I can master how to remove mascara with any given formula too. This was an absolute doddle to swipe away at the end of the day with micellar water or my best makeup remover with a water base, so I didn't need to bring out the big guns with my oil-based cleanser.
Gucci Mascara L'Obscur review: W&H verdict
If you want a mascara that's going to deliver intense volume to your lashes in just a swipe or two, then Gucci Mascara L'Obscur is it. If you want a mascara that will do this in a very natural way without the risk of any clumps or clustering the lashes together, Gucci Mascara L'Obscur is not it.
This is a mascara that's all about drama and being noticed, which is ultimately in line with what a major fashion house aims to do. Really, you wouldn't expect a mascara that was very natural and demure to come out of Gucci. I'm not a big believer in keeping things for best, but I'd say make this your going-out mascara, or weekend mascara, and enjoy how it volumizes your lashes at the same time as looking gorgeous on your dressing table.
Jess Beech is an experienced fashion and beauty editor, with more than eight years experience in the publishing industry. She has written for woman&home, GoodtoKnow, Now, Woman, Woman's Weekly, Woman's Own and Chat, and is a former Deputy Fashion & Beauty Editor at Future PLC. A beauty obsessive, Jess has tried everything from cryotherapy to chemical peels (minus the Samantha in Sex and The City-worthy redness) and interviewed experts including Jo Malone and Trinny Woodall.