How to use sea salt spray for the ultimate beachy waves - without the beach
Learning how to use sea salt spray is as easy as spending the day on the beach. Just follow our expert-approved guide.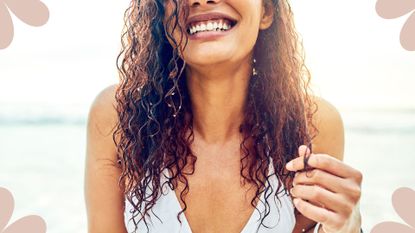 (Image credit: Getty)
woman&home newsletter
Sign up to our free daily email for the latest royal and entertainment news, interesting opinion, expert advice on styling and beauty trends, and no-nonsense guides to the health and wellness questions you want answered.
Thank you for signing up to Woman & Home. You will receive a verification email shortly.
There was a problem. Please refresh the page and try again.
No vacation? No problem. Learning how to use sea salt spray will give you that day-spent-swimming-and-eating-chips-on-a-sun-lounger look without booking a flight.
Hair is a frustrating thing. You can splash out on fancy tools like your best hairdryer or best curling tongs, treat it like a queen with the best hair masks and the best at-home keratin treatments, and it looks its best when you pay it absolutely no attention whatsoever. Just like, for example, when you've been enjoying the beach, swimming in the sea, and not even looking directly at a hairbrush. Beach hair has a lazy, laid-back wave, plenty of volume, and buckets of texture.
Want to replicate that easy-breezy style at home? The simplest way is by learning how to use a sea salt spray. "Sea salt spray replicates the effects of swimming in salty water," explains Michele Antiga, signature colorist and stylist at Gielly Green. "It adds texture and volume to the hair and brings out natural movement, giving you that undone beach wave hair effect. If your hair is super straight it adds a messy texture, and on hair that has natural curls it will make the curls stronger and more curly."
How to use sea salt spray
1. Mist onto wet hair
If you're going to be a sea salt spray purist when we'd say it's best to know how to use sea salt spray on wet hair. Your hair gets wet when you're in the sea whether you're a head-under swimmer or wave-jumping paddler, so it makes sense that this will give you the closest effect to the real deal.
"On wet hair, apply generously, scrunch your hair, and let it air dry to replicate that just-off-the-beach holiday hair," says Antiga. The scrunching part is key here, especially if your hair takes a bit of persuasion to wave or curl. This helps to encourage twists and bends in the hair, so you get that coveted volume and movement.
2. …or spray onto dry hair
Alternatively, you can learn how to use sea salt spray on dry hair. "Add more on dry hair to give a more structured texture, or use the following day to refresh the look," advises Antiga. This is a nice option if you want to un-do the silky softness of your hair after washing and give it a slightly edgier, more lived-in feel. Or, if you don't feel you achieved your desired look just by applying your sea salt spray to wet hair.
Equally, if your hair isn't playing ball on day three and you haven't got time for a shampoo, a quick ruffle with a sea-salt spray will help to refresh and revive lost oomph. By adding more texture, you'll help to disguise greasy roots too.
3. Allow hair to dry naturally
Again, allowing your hair to dry naturally after using a sea salt spray will give you the most natural finish as you're replicating the lazy look you get when you've stayed on the beach long enough to see the sunset. "I love to mist it into damp hair, leave it to dry naturally, and then with my hands give it a little play," says pro hair stylist Sam McKnight MBE. "A squeeze here and there while drying enhances and defines texture. It also helps to break up any stiffness."
The only caveat to how to use sea salt spray in this way is if your hair is naturally frizz-prone, as playing with it too much can rough up the hair cuticle and lead to a fluffy finish. If you haven't quite nailed your air drying routine yet, it's worth reading our guide on how to air dry hair.
4. …or diffuse it
Short on time? Don't stress. We might be aiming for the look of a beach day, but we haven't got the same laissez-faire approach to timekeeping when we need to get to the office. In this instance, the diffuser attachment on your hair is your best friend. "To pump up the volume and really enhance the texture, mist sea salt spray through your hair, tip your hair upside down, and diffuse gently," advises McKnight.
A top tip when using your best diffuser with your best hair dryer for curly hair is to use a low-speed setting with a high or medium heat setting. The logic about slow speed is that if the airflow is too intense then it will blow your curls around and knock out some of their shape in the process. Remember also that the higher the heat setting, the higher the risk of damage to your hair, so make sure you're shielding it with one of the best heat protection sprays.
5. Only use on certain sections
If you prefer your hair to look mostly shiny, or you want to create a beach-worthy look in a hurry, you might want to only apply your sea salt spray to certain sections of your hair. "For those quick, tousled, sexy updos a little mist of sea salt spray, especially through the ends of your hair, or the sections of hair framing the face, is perfect to add definition and take you from beach to bar," says McKnight.
"Remember that sea salt spray has a matte finish so is not suitable if you like glossy hair," adds Antiga. "It can also be used for braiding hair to better hold the look, and for some more wet-feel updos." If you want to wear your hair down the next day, you can easily counteract the unbalanced application with a few spritzes through your lengths.
6. Spritz over your finished style
Instead of relying on your sea salt spray to bring the waves to fine or straight hair, create them yourself with one of the best curling irons for fine hair and use the spray as a finishing texture touch.
"To create that cool girl in Ibiza look, create tousled waves on straight hair by waving with a medium or large curling tong," suggests McKnight. "Take a section, mist with hair spray, and wrap around and down the barrel of the curling tong. Alternate the direction for each section, so for the first section wrap towards the back of the head, and the next forwards towards the face. Repeat throughout the whole head, leave to cool completely, and then mist sea salt spray lightly through the hair evenly. The best way is to separate the hair in sections and mist from roots to ends – don't saturate it though, the hair should still feel dry."
7. Don't apply too much
The aim of the game with salt spray is to give the hair more texture and enough hold that the style stays in place. It is possible to overdo it though, so go slow with your spritzes. "A sea salt spray is one of those styling products that emphasizes texture, so if you overload it can leave hair feeling dry and stiff," says McKnight.
Start with a few sprays and you can always add more as the product settles into the hair. It should ideally shampoo out with relative ease, but if you're finding that there is any build-up in the hair then the best shampoo to use is a clarifying one for a really thorough cleanse.
8. Consider your hair type
You'll get a different result from learning how to use sea salt spray depending on your natural hair type. "It works on all hair types giving more or less movement depending on how much natural movement you had to start with," says Antiga. "Very straight hair won't get overly wavy, however, most sea salt sprays are buildable and you can apply more product, scrunch it and dry it with a diffuser for a more wavy look."
If your hair is naturally wavy or curly, your hair will be most suited to a sea salt spray and you'll get the best results with the least amount of effort. The only exception to this is some types of coils. "There is a level of coily and kinky hair like 4C curls that has a zig-zag pattern rather than a curl that I wouldn't use it on," says McKnight. "But it is good on afro and texture-rich hair."
The condition of your hair matters too. "Sea salt sprays take the moisture out of your hair, so if you have very dry hair it's not ideal," explains Antiga. "You can still use them, I'd just recommend applying a hair primer first and applying a nourishing treatment after. In this case, you may get a less structured look as the effect of sea salt will be softer but you will prevent drying your hair out."
Do you use sea salt spray on wet or dry hair?
Sea salt spray is pretty versatile and can be used on wet, damp, and dry hair. This means it can be applied just after you've stepped out of the shower, after a period of air-drying, or between washes to refresh and redefine your style. "If hair has natural waves or curls go straight in and mist onto wet hair and let it dry naturally," says McKnight. "You can also mist it onto dry hair in even sections." If your hair is naturally straight, it's best to style in a way that encourages waves and curls to begin with, either with heatless curl methods or a tool, and use the sea salt spray as a texturizing topper.
How often should you use sea salt spray?
Ok, now we know how to use a sea salt spray, but how often can we apply it to the hair? It's not going to damage your hair like heat styling or make it greasy like a silicone-laden serum or conditioner, so there's not really a limit to how often you can use it. The only problem is that it may cause your hair to feel drier, and in this case, you can either pare back your applications or temper any potential dryness with moisturizing products.
"As long as your hair feels good you can keep using it," says McKnight. "But a thorough cleanse between uses is ideal. Ensure you are using a sea salt spray with nourishing ingredients to counterbalance the drying effect of sea salt. When cleansing and conditioning your hair up the moisture levels and use a treatment more regularly."
Sign up to our free daily email for the latest royal and entertainment news, interesting opinion, expert advice on styling and beauty trends, and no-nonsense guides to the health and wellness questions you want answered.
Jess Beech is an experienced fashion and beauty editor, with more than eight years experience in the publishing industry. She has written for woman&home, GoodtoKnow, Now, Woman, Woman's Weekly, Woman's Own and Chat, and is a former Deputy Fashion & Beauty Editor at Future PLC. A beauty obsessive, Jess has tried everything from cryotherapy to chemical peels (minus the Samantha in Sex and The City-worthy redness) and interviewed experts including Jo Malone and Trinny Woodall.