How to make curls last longer, according to the experts
Pro stylists reveal how to make curls last longer with foolproof tips and curl-enhancing styling products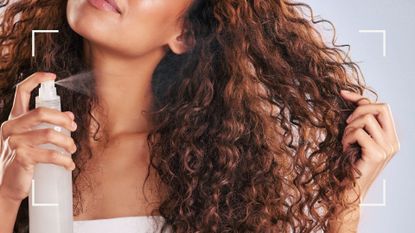 (Image credit: Future/Getty)
How to make curls last longer is something many of us would like to know. Although there are tools available to create a full head of gorgeous curls at home, none seem to rival those created by our beloved stylists in the salon, which can hold for hours (and even days) on end. But how do they do it?
Even the best curling iron takes a little time and practice to master. So to ensure your efforts aren't wasted, it's important to use the right products and techniques to maximize your curls' hold. Whether your hair is naturally curly or not, it's infuriating to spend an entire morning bending and styling your hair to find that it drops an hour later. Thankfully, there are myriad ways to boost the longevity of curly hairstyles.
Here, pro stylists share their foolproof tips on how to make curls last longer whatever your hair type, with top product recommendations.
How to make curls last longer, an expert guide
Start with second day hair
It's no secret that curls tend to hold better on second (or third) day hair – so if you can, wait a day or two after washing before you style. This goes for natural texture too. "Enhancing natural curls with a curling tong or wand on second-day hair is perfect," says Syd Hayes (opens in new tab), BaByliss ambassador, and international session stylist. "It re-enhances the curl and smooths out each one." If there are any fluffs on day two, Reed recommends wetting hair and twisting it around a finger to put it back into curl form before letting it dry.
Use prep products
As with any heat styling, learning how to curl your hair with a curling iron starts way before you pick up the tool. "Preparation is absolutely key when it comes to styling curls," says Adam Reed (opens in new tab), legendary hairstylist and founder of ARKIVE. "Good prep will prevent the curls from coming out quickly." His top tip for heat styling? "Try a blow-dry spray or lightweight mousse."
"For naturally curly hair, the best thing you can use is a curl cream with a tiny bit of gel in it," adds Conor McLaughlin (opens in new tab), pro stylist at Hershesons. "When this dries it will create a cast on the hair – almost a stiffness – that will give the hair more hold and reduce chances of frizz." We also recommend applying one of the best heat protection sprays.
Our beauty editor recommends...
Invest in the right tool
Not all hot tools are created equal – spend some time researching the right one for your desired look. If you have naturally curly hair that you want to define, The size of the curl will determine the size of the curling tong you want to use – "try to match the tong to your natural curl size for best results."
For straight hair, note that the smaller the barrel, the tighter the curl and the longer it will hold – but if you're after a loose, bouncy look, opt for a larger barrel or the best hot rollers. "Heated rollers are the quickest and best way to create volume, bounce, and a large curl to the hair," says Hayes, who adds that "the longer you leave the roller in, the longer the shape will last."
Diffuse natural curls
To enhance natural curls from wet, the experts agree that nothing compares to the best diffusers for curly hair. "Use a diffuser on medium heat and low speed," says Hayes, "take your time and try not to shake the hair or touch it too much." Touching the hair during the drying process will disrupt the shape of the curls. "The best curly hair dries slowly without being disturbed," continues Hayes. To use a diffuser, Reed recommends you "gently cuff the diffuser into the curl so the curls dry and naturally form themselves."
Don't brush hair
As tempting as it may be, do not brush out your curls as soon as you've finished styling. "Touching your hair too much or brushing it after styling are often the reasons why the curls drop quickly," says McLaughlin. Instead, leave the hair alone or pin it up using clips to hold the shape for longer.
Use the cool shot setting
"To change the shape of hair, we need to heat it," explains Hayes, "but to lock that change in place, hair needs to be set with cool or cold air." Many of the best hairdryers and some hair styling tools feature a cool shot setting that will blast cold air throughout hair to help set the style (if that's of interest, read our Dyson Airwrap review) "I would recommend going from warm to cold with the diffuser to set the curl," adds Reed.
Apply finishing products
For hair that's naturally straight and doesn't hold a curl well, McLaughlin suggests spritzing hair with a strong hold spray before and after tonging. "Look out for a formula that's not too sticky or crunchy," adds Hayes. For natural hairstyles, curling creams are great for adding hold and definition. "I will always finish styling using a crème on the ends and a favorite of mine would have to be Sam McKnight's Happy Ending crème," says Hayes.
Our beauty editor recommends...
Emma Stoddart is a freelance beauty journalist and self-confessed skincare aficionado with over five years' industry experience. Emma has worked for some of the UK's top women's titles including Net-A-Porter, Stylist and Grazia. Her experience spans online and print as well as producing editorial shoots with some of the industry's biggest artists, including Val Garland. Asides from working with them behind the scenes, she's also had the chance to interview the likes of Patrick Ta, Pat McGrath, and Sam McKnight for all their insider tips and tricks.