Are hair extensions the secret to youthful locks?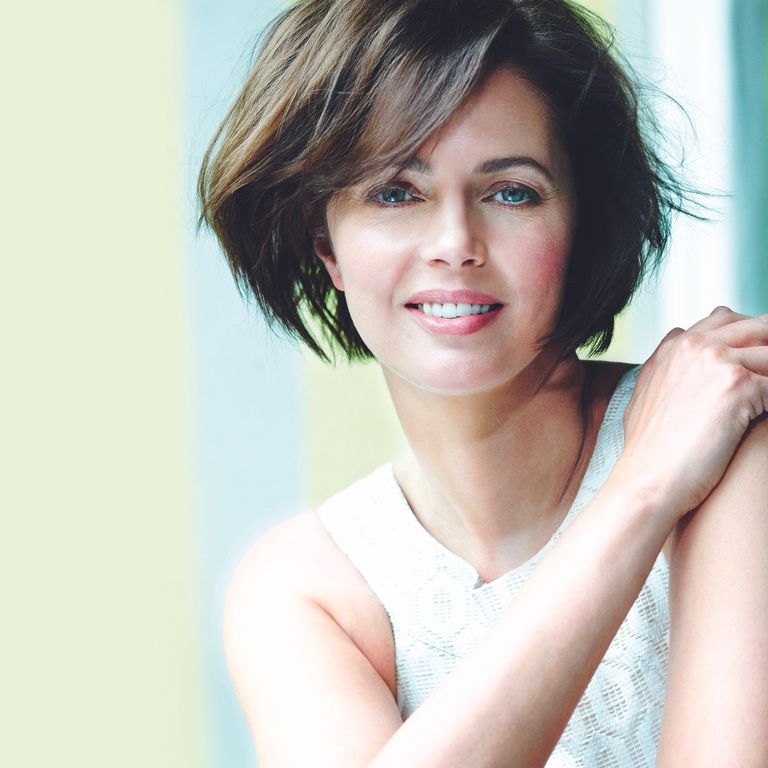 Find out how to maintain ageless hair with extensions...
Hair extensions have a bit of a questionable rep, but like any good 'work' on your appearance, the best ones are undetectable.
More and more women in their forties and fifties are trying the technique. Thinning hair can be an issue as we get older, and good quality hair extensions could be the answer you've been looking for.
"They're such an easy way to mix up your look," Mel at leading extensions salonBeauty & Melody told us. "You can add different colours, tone, thickness and volume - it's not all about length."
Hair extensions can be a permanent way to thicken and lengthen your hair, or used merely as way to boost your locks for a special occasion.
The method
Tape extensions
Tape extensions are arguably the easiest extensions to try. Tape extensions last up to eight weeks and produce the same effect as permanent ones. Due to the easy application method, you're in the salon for less time and are usually less expensive than other methods.Tape in extensions are also thought to be the least damaging on the market. Due to them being so lightweight, they don't pull on your own hair.
Clip-in extensions may be easy to use, but they're very heavy and could even lead to bald spots if worn every day. These types of extensions are best saved for a special occasion.
So what are the tricks to maintaining your tape hair extensions effectively? It's all about using the right products, according to Mel at Beauty & Melody. "Make sure that you use a shampoo that's low in sulphates," explained Mel.
Sulphates are the foaming agents that turn shampoos into a thick lather in the shower, but they've come under fire from haircare professionals for drying locks out, promoting frizziness and damaging coloured hair.Sulphate is a detergent that's found in toothpaste, washing powder and shampoo, but it's cleaning abilities are so thorough that along with grease, grime and dirt, it can temporally swipe all the healthy oils straight out of your hair too. Unfortunately hair extensions can't produce and replace the hair's natural oils once they've been stripped, which results in your expensive extensions becoming dry and brittle.
"Just search online for a sulphate-free shampoo and conditioner - they're no more expensive and your hair will thank you for it."
These are some sulfate-free shampoos you could try...
Aveeno Pure Renewal Shampoo
VOLU shampoo and conditioner
Bee Mine Moisturizing Shampoo
Curls Curlicious Cleansing Cream
Eden BodyWorks JojOba Monoi Moisturizing Shampoo
L'Oreal EverStrong Sulfate-Free Fortify System
Tape extensions are so gentle, that they're removed with oil. So that weekly oil treatment is a no go when you've got them fitted in your hair. "Normal hair masks are fine, and encouraged," Mel explained. "If you're going to use a serum, just run it through the ends before styling to ensure the extensions stay in good condition.
"And make sure you brush your extensions morning and night to keep them tangle free. A tangle teaser is a good investment!"
Keratin bond extensions
Another way to add in hair extensions is called 'cold fusion'. Keratin bonds are wrapped around small sections of your hair then sealed on using ultrasound vibrations. There's no heat or mixing of keratin glue with your natural hair, and it takes 90 minutes for a whole head.
"Cold fusion is kinder and, when used by a skilled technician, won't damage the natural hair," says Extension Professional founder Louise Bailey, who has worked her cold fusion magic on Yasmin Le Bon.
"Our hair is ethically sourced 100% human. A technician will cut them into your hair to blend." You can expect up to 12 weeks of wear from these bonds, after which your technician uses a spray to break down the keratin and the slide off easily, with no damage.
Clip-in extensions
Clip-in extensions are great if you want a bit of extra length or thickness for a special occasion. The benefit of clip in extensions is that you can wash and brush your extensions regularly, keeping them in great condition.
Tips for maintaining your hair extensions
Now that you have new lengths to play with you might want to experiment with different styles. Perfect this seasons ponytail, opt for Invisibobble, £3.75 for 3. These clever coils stop kinks and secure hair without tugging so your bonds stay discreet.
It's tempting to blow dry your tresses everyday in an effort to keep all this new hair in order but believe us when we tell you this is the quickest route to frizzy, malting extensions. To extend time between salon trips keep heat to a minimum and always douse your lengths with a generous spritz of L'Oreal Professionnel Color 10 in 1.
Remember, gently does it when you're brushing, and try to invest in a tangle teezer that will be kind to your new lengths.