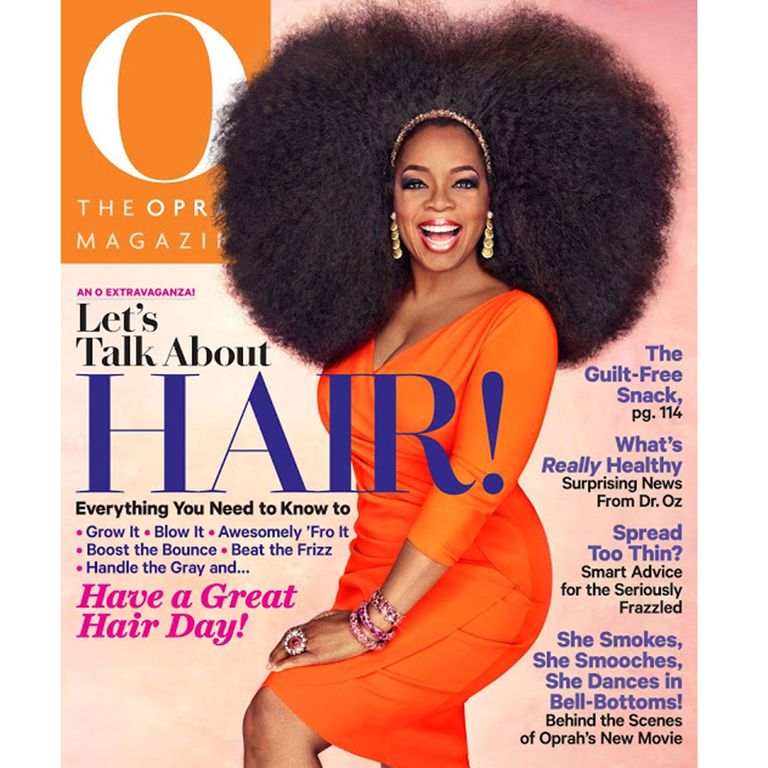 Pump up the volume with our tricks, tips and product picks
The September edition of Oprah's 'O' magazine has caused quite a buzz. Featuring the lady herself on the cover, this new issue is all about hair - and Oprah's huge, sexy afro has got us all talking.
Weighing in at 4 pounds, the wild wig is bringing volume back in a big way - and it's caused quite a storm on social media. Oprah revealed the shot on her official Instagram page, resulting in over 80,000 likes. When the cover became her avatar on Twitter, it garnered over 1,000 retweets, sealing Oprah's place in social media history.
Oprah's look was achieved with an incredible 7 bags of hair, which is slightly unrealistic for every day wear! Click through to discover 10 easy ways to add volume, body and bounce to your hair at home...
Check out some behind the scenes pictures for Oprah's cover shoot at oprah.com
Kérastase Volumising Duo, £27.84
Start creating your big hair look as soon as you hop in the shower with the Kérastase Volumising Duo. Promising to improve strength, shine and body, this best-selling pair really delivers. Great for fine or limp tresses that struggles to hold any style.
Kérastase Styling Lift Vertige, £19.50
Unique for it's gel formula, the Kérastase Styling Lift Vertige gives long-lasting lift and hold without leaving sticky residue. This multitasking product also protects against heat styling, meaning you can achieve your perfect blow dry without worrying about damaging your locks.
Aveda Pure Abundance Style Prep, £19.50
Achieve weightless volume the natural way with Aveda's Pure Abundance Style Prep. Boasting a powerful blend of plant extracts that give new life to fine hair, this little spray also protects against split ends and breakage. Apply to damp hair before blow drying, or in between washes for an extra boost of volume.
Umberto Giannini Glam Hair Backcomb In A Bottle, £5.61
Backcombing is a tried and tested styling trick for adding volume to your locks - but it wreaks havoc to your hair shaft. Get the look without any of the damage thanks to Umberto Giannini's Glam Hair Backcomb In A Bottle: A light spray that adds shape to your hair when used close to the root area. Use your fingers to create the texture and definition of your choice.
Sleep-In Rollers Mega Bounce Rollers, £19.96
Boost volume while you sleep with the Sleep-In Rollers Mega Bounce Rollers. Super-soft and easy to use, you no longer need to fear a bad night's sleep if you want to use rollers in your hair. Use on the crown and front sections of your locks to wake up with beautifully bouncy tresses.
Aussie Dual Personality Styling Volume & Conditioning Mousse, £4.89
The best product to use to pay homage to 70s big hair? A good quality mousse. Make sure you concentrate close to the roots and crown area, then diffuse or let hair dry naturally. On dry hair, try twisting your hair into three buns and lightly spray Aussie Dual Personality Styling Volume & Conditioning Mousse and heat gently with a drier, allow buns to cool and unravel. For added oomph, gently tease a section under the crown.
Schwarzkopf Professional OSiS+ Dust It Mattifying Powder, £9.84
Sometimes you need a little helping hand and this little miracle pot from Schwarzkopf gives incredible volume, a soft matt effect and a pretty texture to the hair. Rub Schwarzkopf Professional Osis+ Dust It Mattifying Powder, in your hands to turn it into a cream, apply to dry hair and style. For extra volume, turn your head upside down, apply like salt and pepper and distribute into the roots for a stronger, wilder finish.
BaByliss Big Hair Styler, £44.95
Whatever your hair type, this BaByliss Big Hair Styler creates a sleek and glossy finish - plus it's so easy to use. When hair is up to 80% dry, section off and pull the brush through from root to tip, pushing the rotate button away from the head. Even frizzy and unmanageable hair is transformed into naturally gorgeous tresses - there's no parched, over styled straightening going on here. Just healthy bounce and shine, every single day.
Redken Body Full Light Conditioner, £10.31
The key to great height starts with the products you choose and use. The amount is key, you dont want to overload your hair. Make sure you opt for products that are a little bit lighter in texture. Look for products for fine hair or lighter versions of the original like Redken Body Full Light Conditioner to give hair nourishment, without weighing the roots down.
Pureology Pure Volume Shampoo, £11
A must for fine or thin hair, Pureology Pure Volume Shampoo, is your go-to product to give hair some real guts. Sulphate-free, it leaves hair feeling firm with high volume, without stripping out colour.