Dermatica review: Is the online skincare subscription service worth the hype?
Could the online dermatology service be the ultimate answer for all your skincare woes? Find out, with our in-depth review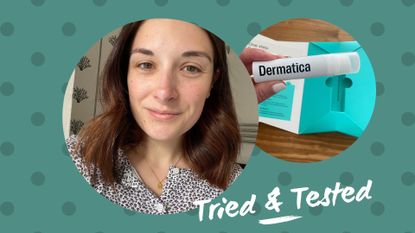 (Image credit: Jess Beech)
If you've got a skin concern like acne, rosacea, or hyperpigmentation that's really bothering you and cosmetic products aren't touching it, then this is the upgrade your routine needs. It's hassle-free, easy to use and relatively inexpensive too. I was so impressed with my treatment.
Reasons to buy
+

Easy-to-use service

+

Worked brilliantly to tackle hormonal spots

+

Lots of different treatment options available
Reasons to avoid
-

The serum isn't incredibly exciting to use

-

You may experience some side effects
Why you can trust Woman & Home Our expert reviewers spend hours testing and comparing products and services so you can choose the best for you. Find out more about how we test.
woman&home newsletter
Sign up to our free daily email for the latest royal and entertainment news, interesting opinion, expert advice on styling and beauty trends, and no-nonsense guides to the health and wellness questions you want answered.
Thank you for signing up to Woman & Home. You will receive a verification email shortly.
There was a problem. Please refresh the page and try again.
Interested in reading an honest Dermatica review before committing to a monthly subscription? We don't blame you. With the likes of Netflix, Spotify, and Disney+ whittling away our salaries before the month has even started, you probably want to think twice before adding another one to your bank statement.
First things first, what is Dermatica? It's a personalized skincare subscription service that gives you access to prescription-strength products without the hassle of visiting a dermatologist. All you need to do is fill in a short questionnaire and submit clear photos of your skin without makeup and Dermatica's team of experts (including dermatologists, GPs, and pharmacists) will access your skin to recommend the best formula from their treatment options. They will ask you for feedback and monthly photos each month, and the treatment can be adjusted based on how your skin is responding.
The biggest benefits of Dermatica are that if you're in the US, you don't need to worry about whether your insurance covers dermatology, and if you're in the UK, you don't need to wait for a GP referral. Whichever side of the pond you're on, this has the potential to save you time and money on your skincare routine, especially when you consider that Dermatica costs just $24.99/£19.99 per month and the initial sign-up takes no more than 20 minutes. It'll arrive straight at your door too, so you don't even need to leave the house. What's not to love?
So who is this suited to, and why might you want prescription-strength products? Unlike ingredients you typically find in cosmetic products (things like hyaluronic acid and vitamin C), prescription-strength ingredients like tretinoin and hydroquinone have been scientifically proven to treat concerns like acne, rosacea, and hyperpigmentation. They are therefore classified as drugs, and you'll need a prescription to get your hands on these ingredients. It's like retinol vs tretinoin: retinol is cosmetic, and tretinoin is a drug. As prescription ingredients are so much more potent than cosmetic ones, these ingredients need to be used with caution. It's always best to use under the care of an expert (like the ones at Dermatica) to avoid damaging your skin.
Our Beauty Editor's Dermatica review
The consultation
Dermatica's consultation process is nice and easy. You pick your skin goal, choosing from acne, aging skin, skin glow, melasma, pigmentation, or rosacea. Once this is done, and you've used your email address to make an account, you'll be asked to upload three photos: one from the front, one on the left side of your face, and one on the right.
I breezed through the first bit, and as I signed up for Dermatica the week before my birthday (and was feeling vulnerable about the idea of clocking up another year) I selected aging as my biggest concern. But after looking at my photos, Dermatica's experts got in touch to say I had "active acne" which would need to be treated first before tackling fine lines. This took me back a bit (the word acne always feels quite strong) but I couldn't deny that I did have a cluster of spots on each side of my nose.
My skin can definitely be temperamental, and breakouts do tend to come part and parcel with my period. Although my ego was dented, this did make me trust the brand more, as part of the service is having an expert look objectively at your skin and give you honest feedback – instead of just agreeing with you. It's also worth noting that the treatments to get rid of acne are normally high doses of retinoids, which are also one of the main treatments for wrinkles, so you can tackle both needs at once.
The postage and packaging
Your Dermatica subscription will arrive through the post in a compact parcel that's slim enough to slot through your letterbox without the need to ring the bell, which is handy if you're not often at home. It stands out from your normal letters too, with recently re-vamped aqua packaging and a bigger and bolder logo.
When you open the package, you'll find your prescription details printed on a sticker on the left-hand side and your formula on the left. The bottle itself is non-descript and has no frills – just a simple small white tube with the brand name on the side. I like that the inner and outer packaging is minimal, so there's minimal guilt around waste too. Postage costs are in addition to your monthly subscription, and that's $4.99 in the US and £2.90 for the UK.
The Dermatica formula
At the time of writing my Dermatica review, the brand has 40 formulas. Some are different combinations of ingredients, and others are varying concentrations. So for example you might start off with a low percentage, and graduate to a higher one once your skin has adapted. Dermatica's most popular formula is a blend of tretinoin, azelaic, and niacinamide. To treat my spots, I was prescribed a blend of 0.1% adapalene and 4% niacinamide.
The adapalene in the formula is there with the aim of speeding up the rate at which my cells turn over. It's part of a family of ingredients called retinoids and is a high-strength version of retinol. Breakouts form when oil and dead skin cells combine to block a pore, and by moving old skin cells out of the way, adapalene can prevent breakouts. Niacinamide is a brilliant ingredient for balancing the flow of oil, and the less oil there is, the less likely skin is to become congested. Niacinamide is also a great skin soother, so perfect for calming angry spots like mine.
Unlike some of the best night serums that have been formulated with exciting textures and scents, this serum is uncolored, unscented, and lightweight, which means it isn't the most exciting to apply. It almost feels quite clinical, which is kind of what I expected from this kind of treatment. If you were hoping for something that felt luxurious, you might be disappointed.
How long does it take to see results from Dermatica?
I'd say it took just over two months to see the results from my Dermatica prescription. I mainly get breakouts before and during my period, so it's a cycle of two good skin weeks, followed by two where my t-zone is dotted with spots. Some of the spots come to the surface in the form of little whiteheads, while others lurk beneath the surface as red, angry bumps.
The first time my period rolled around after starting to use Dermatica I'd say it took the edge off ever so slightly, but my blemishes were definitely still noticeable. By my second period, my blemishes were significantly reduced, and by the third one, I didn't get a single spot. This is especially impressive given I was on vacation at the time and not only slathering on my best facial sunscreen but hoovering up an impressive amount of ice cream too.
Initially, I was using my Dermatica review prescription every day, but I took my foot off the gas once I started to see really good results and reduced my usage to once or twice a week. As Adapalene counts as a drug, and given my spots are not cripplingly bad, I didn't want to be leaning on it long-term. I also didn't want my skin to get used to it, as I'd like to have the option to step my routine up a gear again if my breakouts get worse.
As my prescription advised me to use my Dermatica lotion daily, reducing my dosage meant I had more left over at the end of the month. While most cosmetics will last for around 12 months once opened (look out for the symbol of a jar on the back of your products with a number in the middle – the number indicates the number of months it will last after opening), Dermatica advises that they can only confirm that their formulas will be stable for four months. Keep in mind that different formulations need different conditions. For example, if your Dermatica prescription is a hyperpigmentation treatment and contains hydroquinone, it will need to be kept away from light and air to stop it from oxidizing, and retinoid-based prescriptions need to be treated in the same way and kept away from high heat. So, storing it in a steamy bathroom isn't ideal. I have taken to keeping mine in my dressing table drawer instead.
The downsides
Dermatica did so an amazing job of clearing up my breakouts and was a big part of my skincare routine for acne, but it did come at the price of dryness and sensitivity. My skin is normally a combination, with excess oil across my forehead, nose, and chin (which is part of the reason I was getting spots), so how to fix dry skin wasn't something I'd had to consider before. I knew that retinoids can cause dryness, redness, and flaking when used for the first time as they speed up the rate at which cells turn over, but given I have tried a lot of the best retinol creams before, I naively assumed that I wouldn't have any problems. I was wrong.
The first and second applications were fine and I just noticed a very slight tingle. In anticipation of a little extra dehydration and dryness, I upped my moisturizer from a lightweight one to something more nourishing. But by day four, my skin was in a bad way. It was very dry, very tight, and quite sore, to the point where using my normal skincare stung, and my makeup was cracking and flaking off.
On the advice of a beauty editor Rhiannon, who was working on a Skin + Me review and experiencing a similar level of dryness, I took five days off of my Dermatica review prescription and stripped my routine back to basics. After persuading the moisture back into my skin with a simple cream cleanser and intense moisturizer, I slowly re-introduced Dermatica every other day, and after a week or so my skin was back to normal.
Another thing to consider with a prescription like this is that as retinoids remove old skin cells, they bring the fresh cells beneath up to the surface. As this skin is newer, it's more prone to damage, and therefore you need to be even more vigilant than usual with sun protection. Make sure you're wearing and re-applying a broad spectrum with SPF50 every day to shield your skin from damage if you're using a prescription like this. If you know you're bad at re-applying sunscreen it might be worth waiting until the summer months are over. And if you are using it over the warmer months, don't forget to stock up on the best sunscreens for sensitive skin to remedy any potential damage.
Dermatica review: Our verdict
All in all, I was really thrilled with my Dermatica review results. It took less than three months to banish the hormonal breakouts that cosmetic treatments hadn't managed to touch. Side effects of dryness and sensitivity did make the first couple of weeks less comfortable than I would have liked, but whether or not you're willing to tolerate that really depends on how much you want to make a difference to your skin. If it's only a mild gripe you're trying to treat, you're probably not going to have the motivation to pass through this slightly flakey period. But if your skin is really bothering you, and you feel you've exhausted your drugstore options, then it's definitely worth it.
There's no denying that spending less than the price of 5 takeaway coffees for access to skin experts and your own personalized prescription landing in your letterbox each month is incredibly good value too. This is complicated, hardworking skincare made refreshingly simple.
Sign up to our free daily email for the latest royal and entertainment news, interesting opinion, expert advice on styling and beauty trends, and no-nonsense guides to the health and wellness questions you want answered.
Jess Beech is an experienced fashion and beauty editor, with more than eight years experience in the publishing industry. She has written for woman&home, GoodtoKnow, Now, Woman, Woman's Weekly, Woman's Own and Chat, and is a former Deputy Fashion & Beauty Editor at Future PLC. A beauty obsessive, Jess has tried everything from cryotherapy to chemical peels (minus the Samantha in Sex and The City-worthy redness) and interviewed experts including Jo Malone and Trinny Woodall.