Cameron Diaz beauty secrets—actor on aging and her secret to self love
On a new podcast, Cameron Diaz reveals that her beauty secrets involve staying makeup free and not washing her face often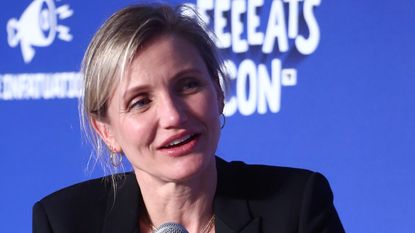 (Image credit: Tommaso Boddi / Stringer Getty)
Cameron Diaz always looks amazing and it turns out that she doesn't do much to keep her enviable complexion intact. In an interview with Michelle Visage on the BBC podcast Rule Breakers, the 49-year-old actor actually confessed that she seldom washes her face.
During the podcast, Cameron, who also recently revealed that she feels "whole" after retiring from acting, admitted to once feeling trapped by the sorts of Hollywood standards that champion beauty above other aspects of a person's character.
"I am absolutely a victim to all of the societal objectification and exploitations that women are subjected to," Cameron said on Rule Breakers. "I have bought into all of them myself at certain times."
Cameron also admitted that she used to spend a lot of time in front of the mirror, an act that she now defines as "toxic" and one that forced her to pick herself apart. "And [then] you're like, 'Why am I sitting here being so mean to myself?' My body's strong, my body's capable," she said to Michelle.
Cameron went on to explain that, after she quit acting for good following her 2014 role as Miss Hannigan on Annie, she started feeling liberated. "It's hard not to look at yourself and judge yourself against other markers of beauty," she said. "The last eight years, girl—I'm like wild. I'm like a wild animal, like a beast!"
As for her current beauty routine, the actor revealed that, although she has "a billion products" at home, she always opts for a more natural look. In fact, Cameron actually told Michelle that she sometimes goes days without even washing her face.
"I literally do nothing. I like never wash my face," she said on the show. "Twice a month, if I'm lucky, I'll be like, 'Oh, I better put this on. [Doing it] one time works, right?' Is that all I have to do? I'm just not in that place right now, where I put any energy [into it]."
The in-depth conversation with the podcast host also landed on the theme of misogyny, with Cameron specifically revealing that she sometimes took roles in films like Charlie's Angels and Shrek that "subverted typical narratives for women in film" as a way to prove a point.
"I certainly didn't do as much as could be done now because of the awareness of everybody—sort of like #MeToo," Cameron said. "The 1990s, the early aughts, there was still heavy, heavy misogyny [then]. Just the level of exploitation of powers [that] laid on the entire industry."
Anna Rahmanan is a New York-based writer and editor who covers culture, entertainment, food, fashion and travel news. Anna's words have appeared on Time Out New York, the Huffington Post, Fortune, Forbes, Us Weekly, Bon Appetit and Brooklyn Magazine, among other outlets.