Why Cameron Diaz has quit acting for good
The Hollywood actress admits she's retired from the big screen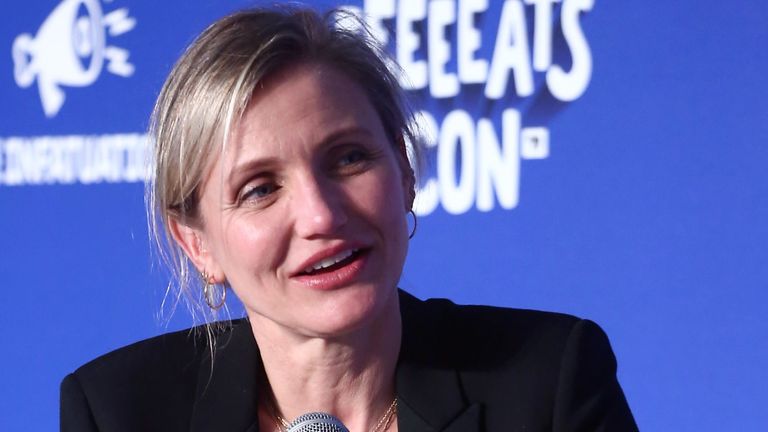 (Image credit: Tommaso Boddi / Stringer Getty)
Cameron Diaz has quit acting for good as she admits she's "blessed" to be a mother.
The Other Woman actress has been busy promoting Avaline, her 'clean' wine brand, and speaking on SiriusXM show Quarantined with Bruce, Cameron lifted the lid on whether she plans to return to the screen anytime soon.
When asked if she will ever make a movie again, she replied, "I'm not looking to, but will I? I don't know. I have no idea." Before going on to explain how becoming a mother has made her want to spend every precious moment with her child."
She continued, "Maybe, never say never, but I couldn't imagine being a mom now, where I'm at as a mother with my child at her first year, to have to be on a movie set that takes 14 hours, 16 hours of my day away from my child."
More from woman&home:
best mascara - lengthen, define and volumize your lashes with our favorite formulas
best eye cream - Hydrate, brighten and depuff with the best eye cream, from bargain buys to blow-the-budget treats
best foundation - Hydrate, cover, and glow with the best foundation for you – from sheer to full coverage, and everything in between
Cameron, 48, started acting at the age of 21 when she auditioned for The Mask in which she played jazz singer Tina Carlyle. Having no previous acting experience, she started acting lessons after being cast and the movie went on to become one of the top ten highest-grossing films of 1994.
She has opened up on the positives of choosing to start a family later on in life, after falling pregnant in her mid-late 40s. "I wouldn't have been the mom that I am now had I chosen to do that at any other time in my life,' she confessed. "I feel for so many mothers who can't, that have to go to work, you know, whatever they're doing. I feel so much for them and for their children and for all of that, but it does really take a village."
Cameron, who has starred in the likes of Charlie's Angels and 90's chick flick There's Something About Mary, gave birth to daughter Raddix Madden, back in December 2019, with husband Benji Madden.
And it looks like Cameron is loving motherhood and doesn't look like she's aged a bit and her secret could be in her skin as her make-up artist reveals whether you should apply foundation or highlighter first.
The former actress revealed, "I just feel so blessed that I get to be here now with my child and, you know, get to be the mother that I get to be ... It's such a blessing, it's completely privileged, and I'm just really, really grateful."
Cameron was pictured attending fellow Charlie's Angel actress Lucy Liu's Hollywood Walk of Fame star ceremony back in May 2019 alongside former co-star Drew Barrymore.
Speaking about that day Cameron showed her support on Instagram and wrote, 'CONGRATS LUCY!! YOU TRULY ARE A ⭐️... LOVED HONORING YOU TODAY.... ❤️ANGELS FOREVER'
These days now she's not acting, Cameron is spending time in the kitchen recording video brunches with her showbiz friends. She uploaded a video and captioned it, 'It's a transatlantic brunch time on Mary McCartney Serves It Up!'
She went on to explain the dishes, 'On the menu: Homemade Granola, zesty Lime Coconut Yogurt, Simple Chia Seed Pudding and Minted Berries that all come together in a delicious brunch bowl. Then there's a stunning Deluxe Hash Brown Skillet piled high with spicy beans and delicious fixings. Finished and paired perfectly with my @avaline rosé spritzer.'

The full episode with @marymccartney & @nicolerichie is streaming now on @discoveryplus