11 facial tweakments for amazing results without cosmetic surgery
From injectibles to laser, these tweakments prove there's no need to go under the knife to get incredible results...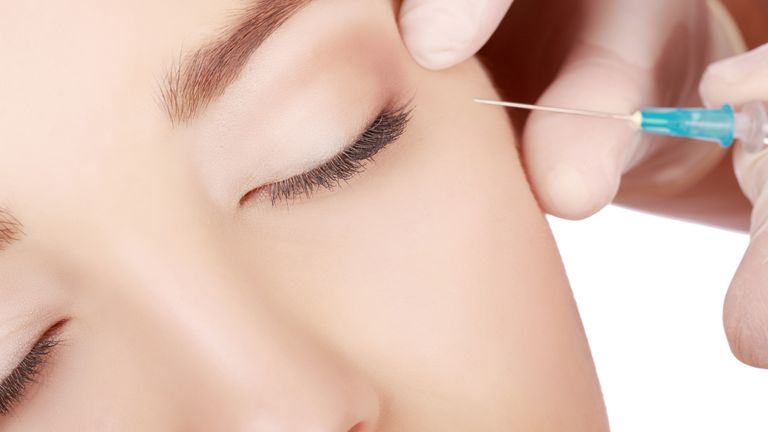 (Image credit: Getty images)
Have you ever considered having a bit of 'work' done? We're not talking surgical intervention, but nifty little tweakments that fit into your lunch hour and can seriously roll the years back with nothing more invasive than a needle.
Small facial tweakments are the next step on for skincare, according to the experts.  "A new term that's been coined pre-juvenation" says Dr Nick Lowe, Consultant Dermatologist at the Cranley Clinic. "You start relatively mild, so sun protection, retinoid creams, fillers, botulins and gentle lasers. You want to stimulate the skin with small amounts of treatment and maintain it over time."
More affordable, with no anesthetic, scars or downtime, these new skin 'tweaks' could mark the end of the facelift. Data released by the British Association of Aesthetic Plastic Surgeons (BAPPS) shows that cosmetic operations dropped 40 per cent last year. And, Neck and facelifts were top of the list with a whopping 53 per cent fall, followed by eyelid surgery which was down 38 per cent compared to 2015.
Raffi Eghiayan, Founder of the Facial Aesthetic Conference and Exhibition, predicts 'tweakments' are the future."We've seen a distinct growth in the demand for treatments with little or no downtime, like gentle peels. Treatments that can be speedily performed post-work without sacrificing on results are key."
Fast, discreet, fit-around-your-needs tweaks? It's a tempting proposition. We've dug a little deeper to find out more...
For tighter skin and better muscle tone: TryrejuvaLIFT facial
So much more than a traditional facial, the rejuvaLIFT facial is an intense medical grade treatment that really gets under the skin. After cleansing and an enzymatic exfoliation, micro and nanocurrent technology is stroked over the muscle tissues to improve the skin tone and lift the eyes, jawline and neck. It might sound scary, but it's totally painless. This gentle pressure applied to the face also works to release the toxins in your face – a process known as lymphatic drainage - which reduces puffiness. This non-invasive requires no recovery time and the results last between one and three months.
The verdict? Tester Anna Bailey told Woman and Home, "This has an immediate effect, and instantly lifted the skin - especially around the eyelids, and jowls. My skin also felt smoother and brighter - it's the perfect treatment ahead of a big event or party".
The Cost: This treatment is price £250 for 60 minutes, and includes a skin consultation. www.neginaesthetics.com
https://www.instagram.com/p/B3H2T1Tglw1
For a facelift, without surgery: Try Morpheus8
The Morpheous8 non-surgical facelift and skin rejuvenation is perfect for those who want a facelift, without having a facelift! Available at Dr Tatiana Aesthetic Clinic, thisinnovative new treatment targets deep layers of a patient's skin to remodel collagen.
After the treatment, the effects won't be seen for 4-6 weeks, as that's how long it takes for the skin to rebuild and tighten. Expect to see significantly lifted skin, especially around the jaw and eye area. Morpheus8 is a favourite with the Hollywood set thanks to its impressive results and zero downtime (the most you can expect to experience is a little redness). Treatments generally take 15- 20 minutes after numbing, which takes about 20- 25 minutes.
Dr Tatiana says, "The Morpheus 8 is a highly effective, evidence-based and minimally invasive way to treat fine-lines, skin laxity, wrinkles and acne scarring. We particularly love using it for excess skin that builds up under the eyes during the ageing process."
The cost: From £800
For 'mummy tummy': Try Coolsculpting
An extra layer fat around the middle after having children can be difficult to shift, but this non-invasive reduction promises 'miracle' results with no needles. Two Harvard doctors discovered when fat cells are subjected to precisely controlled cooling for a sustained period of time they can undergo cell death. The body then excretes the fat cells naturally through our waste system, leading to a gradual reduction in the fat layer. Following their three hour-long suction cup treatment, Coolsculpting claim a patient can expect to see a 20-24% reduction in fat. Though some discomfort may be felt and skin may redden, this calms down after a while.
"After a few weeks I notice my tummy is tighter and firmer," tester Rosie Green told Woman & Home. "And over time it only gets more so. The little pouch disappears and it (almost) regains its pre-kids flatness. I am delighted/astounded in equal measure."
The Cost: From £800 for a single area
For brow boosting: Try Microblading
Once-defined eyebrows can disappear with age, and it can become increasingly difficult to pencil them in. Celebrities such as Helen Mirren have enthused about microblading, which is essentially getting a tattoo on your face. It sounds terrifying, but the procedure only takes around 20 minutes (yes, there is a small blade involved) and numbing cream is applied beforehand so you'll hardly feel a thing.
Tester Kath Brown said, "When I sit up and look in the mirror I basically have my old eyebrows back. I am totally delighted. Over the next few weeks you have to look after your brows how you would any tattoo. I now wake up in the morning with the brows I had at 21."
The Cost: From £495 www.karenbetts.com
For hair thickening; Try extensions
Roughly 30% of women suffer from some form of hair loss – broadly the same as men. While there isn't a cure for female hair loss, there are hair replacement systems to give your hair natural-looking volume while letting your scalp breathe. The Intralace System consists of a fine, airy mesh that sits over your natural hair (no matter how thin). It's help in place by "connections." The mesh then supports panels of real hair, which provide volume and length.
"It has genuinely changed my life," said tester Sarah Vine. "I can walk down the street with my head help up high. I can swim, go to the gym, ski, dance – and my hair never lets me down."
The Cost: From £745
For summer body confidence: Try Soprano Ice Laser
Laser hair removal is nothing new, but it's impossible to overstate the confidence-boost of ridding your legs, bikini line, face, arms or wherever else you fancy of unwanted body hair, forever. Smooth, soft skin that's ready for any outfit can be yours in six or so sessions. Just think, no more panicked burn-inducing shaves on unexpectedly sunny days. Heaven. I tested Soprano Ice, and can honestly say I've never experienced such a comfortable laser treatment. My therapist at Courthouse Clinicswept the hand-held device slowly over my legs for about 30 minutes, during which time the strongest sensation I experienced was a pleasant warmth - no 'zapping' stinging or pain. You can shave as usual in between sessions, and after two visits regrowth on my legs is noticeably slower plus the skin looks smooth and even with no ingrown hairs. It's worth pointing out you need to wait six weeks between sessions, and can't have a session within six weeks of UV exposure, so if you have a summer holiday booked this could slow it down. But these are minor inconveniences for what is truly an amazing 'tweakment' - all gain, no pain.
The Cost: From £125 (bikini line) www.courthouseclinics.com
For smoothing lines: Try New-gen Botox
We've all seen dodgy Botox, but the good stuff is undetectable, temporarily relaxing line-forming muscles for up to six months. The treatment is quick, about ten minutes, you'll feel a little nip from the needle then carry on as normal as wrinkles eerily vanish over the next three days. So where to find this "good" Botox? A great doctor. Personal recommendations are crucial. If a friend's tried and loved it, ask for a name and an in-depth consultation. We rate Dr Jules Nabet, the Beauty Editor's go-to doc, who has just launched the Botox Pen, a tiny motorised syringe that promises half the pain and better accuracy.
The Cost:Expect to pay at least £100 per area, Botox Pen from £280
For fresh skin texture: Try fractional lasers
Fractional lasers cause mini "injuries" to skin's upper and lower layers using heat, so it repairs itself by producing new collagen. It's more targeted than traditional laser meaning less downtime, and feels somewhere between nicely warm and "ouch, bit prickly!" Expect a week's worth of minor sunburn-like flakiness in exchange for fresh bouncy texture that keeps improving for up to a year. New and exciting is Lynton Lasers 3Juve, a pick and mix bespoke course of fractional laser, brightening intense pulsed light (IPL) and firming radio frequency. Seek out Dr Askari at ASKINOLOGY for a realistic assessment of what it will - and won't - do for your skin.
The Cost: Around £300 for fractional laser, 3Juve from £1200 for six sessions www.askinology.com
For body shaping: Try Coolsculpting
Blitzes body fat without scary scalpels. Small areas of excess bulge, in our case on the lower back, are pulled into a hoover-like nozzle and held for an hour at -10˚c (cold enough for fat cells to die, but not others). Meanwhile you relax with blankets and a cup of mint tea, feeling nothing but numbness until it's time for a vigorous massage, which does hurt a little. Worth it, though, as up to 40% fat in the area disappears over the next 90 days. The even more exciting, but also slightly more ouchy new Coolmini is perfect for smaller areas like double chins. The Cost: Around £800 per area www.coolsculpting.co.uk
For even skin tone: Try Alexandrite laser
A precise fix for that age spot you always notice in photos (and wish you could airbrush out), Alexandrite lasers work by blasting intense light into skin to break up the pigment, you'll see noticeable fading after one session but might need up to three for complete clarity. Our tester found it fast and comfortable: pop on a pair of goggles, hear a beep, see a blast of light from a little pen-like device then feel a little pinprick as the laser enters your skin. You'll need to avoid the sun afterwards and might feel a little flushed but there's no real downtime. We visited Dr Lowe at The Cranley Clinic. Nationwide seek out ProSkin clinics, which specialise in laser treatments.
The Cost: Around £400 per area www.proskinclinics.com
For youthful volume: Try fillers
Like Botox these have a bit of a rep, but in the right hands will keep everyone guessing - those in the know visit DR Tapan at PHI and Dr Jonquille at Cheshire's Expert Aesthetics for Juvederm. It's made with hyaluronic acid (HA) a skin-plumping sugar that's already in your body, which instantly juices up hollow cheeks and deep nose-to-mouth lines. Most jabs contain an anaesthetic, the whole procedure takes minutes and you'll see an immediate plumping (maybe more than you want but that's only initial swelling). Once the results settle they last up to a year.
The Cost: From around £300 per treatment www.juvederm.co.uk
For bright eyes: Try PRP therapy
Sounds icky, but bear with us. A small amount of your blood is "spun" to separate the platelet-rich plasma (PRP), which is then re-injected so natural growth factors create brighter, smoother new tissue underneath. Our tester visited Eye guru Dr Maryam Zamani at The Cadogan Clinic for Triple Boost HydraBright, a combination of HA fillers, PRP and Mesotherapy vitamin injections. It's a little nippy, as you'd expect in the eye area, and any spare plasma is massaged in after the jab - not one for the squeamish. The results are good though, an instant improvement in dark circles and lines with even better results showing a fortnight later.
The Cost: Starts around £500 per treatment; Triple Boost Hydrabright, £1,700 for three treatments www.cadoganclinic.com
The smart way to tweak
New General Medical Council legislation recently came into force to crack down on dodgy cosmetic procedures. Stay safe:
Only have a tweakment by a medical professional, ideally a physician who specialises in skin and never a beauty therapist or a salon worker.
Do your research. "There is never any emergency cosmetic treatment," says Dr Lowe, "take your time and investigate who you're going to see, go to several people or several clinics,"
Be wary of special offers, chains with two-for-one deals, or persuasive staff. If you feel under any pressure at all, walk away.
For more information, and to find a list of GMC registered doctors and dermatologists, visit gmc-uk.org