What is underpainting? This TikTok makeup hack promises subtle contour that even JLo loves
The makeup side of TikTok saves the day again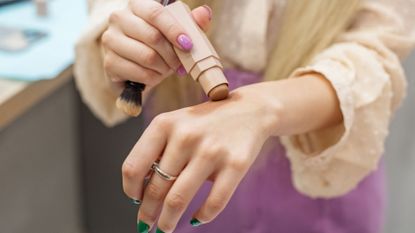 (Image credit: Getty Images)
TikTok's newest viral makeup hack is helping people everywhere get perfectly subtle contouring - and you'll be surprised at how easy it is.
Thanks to TikTok, we're constantly learning new ways to achieve the makeup of our dreams. From the mascara lip gloss hack to the concealer hack that gives an instant facelift, we're practically swimming in beauty tips - and we're certainly not mad about it.
One new makeup hack has come on the scene in the last few weeks that promises a more subtle and longer-lasting contour, according to celebrity makeup artist Mary Phillips. The technique is called 'underpainting' and the big detail of this hack is that you apply your concealer, highlight, and bronzer underneath your foundation.
We know, it might sound a little strange, since this technique pretty much goes against everything we ever learned about applying makeup.
"To me, it makes more sense," Mary says in her TikTok (opens in new tab), where she explains the viral makeup application method. "It's like laying down the bones under the skin, so the contour and the highlight being the bones, and the skin being the foundation."

While she explains the method on her TikTok, she gives a step-by-step video tutorial on how she achieves this natural makeup look. First, she applies bronzer to bare skin in all of the usual places - nose, cheekbones, and forehead. She then blends it out with a brush before going in with concealer in all of the high points of her face to brighten up any dark spots. Then, she goes in with her best foundation, applying a light layer to her skin before finishing off with blusher.
---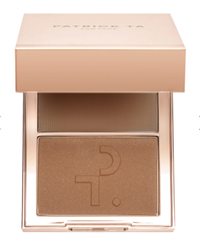 (opens in new tab)
Patrick Ta Major Sculpt Creme Contour & Powder Bronzer Duo, $38 | Sephora (opens in new tab)
A modern way to sculpt the face, this cream-and-powder contouring duo effortlessly shapes and defines for a beautifully dimensional look.
This technique is all about creating a face that looks sculpted, but still angelic, soft, and glowy. In fact, Mary has used this technique on A-listers like JLo, Hailey Bieber, and Maren Morris - and if their skin is anything to go off of, we're going to be trying this hack immediately.
Some have even gone as far as to call this, "the Mary Phillips face," seeing as she has popularized this simple, yet effective technique - but she didn't create the technique. Mary told Vogue (opens in new tab) that she learned about the technique from reading through books by Kevyn Aucoin, another celebrity makeup artist who has his own beauty line.
"Kevyn Aucoin's books were really one of the only things out there where he showed his steps," Mary told Vogue. She also told Vogue that JLo specifically has always been a huge fan of the results of this technique - and judging by her always-perfect skin, we're going to start taking Mary's advice ASAP.
Madeline Merinuk is woman&home's US lifestyle news writer. She covers celebrity, entertainment, fashion, and beauty news but is also obsessed with internet trends - you can find her reciting trending TikTok sounds out loud at any given time.
After winning multiple student journalism awards for her investigative work, she graduated from Hofstra University in 2021 with a B.A. in Journalism. After graduating, she worked at today.com, the digital site for the Today Show, where she wrote pop culture news and interviewed big-name personalities like Emily Ratajkowski, Haley Lu Richardson, Emma Corrin, and more.
Her personal interests, in no particular order, are: cheese, Joni Mitchell, reading, hot yoga, traveling, having multiple chapsticks in every handbag at all times, and dancing to ABBA songs as if she were in the Mamma Mia movies.