This mascara lip gloss hack gives the perfect sultry lip shade
Mascara and lip gloss? Yes, you read that right!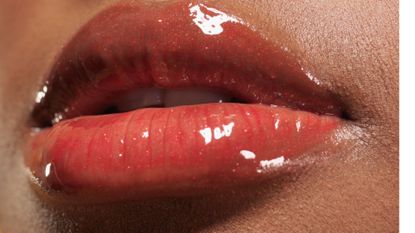 (Image credit: Getty Images)
In another installment of TikTok tricks that are completely surprising and genius, this TikTok mascara and lip gloss hack gives a cool vampy look to your lips.
After the release of Netflix's hit show Wednesday (we know you started doing the Wednesday dance in your head as soon as we mentioned the show), we've been searching for a natural makeup look to help us get sultry, glossy lips and that vampy vibe the series is known for. A berry-tinged lip stain could be semi-difficult to achieve simply with a store-bought gloss, seeing as lip gloss shades don't often venture into purplish territory. But, never fear - TikTok found a solution, as it often does.
For the perfect black cherry lip stain, TikTokers are recommending a makeup hack that requires only two things: your mascara and clear lip gloss of choice. People have discovered that if you take your mascara wand and dip it into a tube of clear lip gloss, the dye from the mascara will create a purple tinge in what used to be the clear lip gloss.
When putting the mascara wand into the clear gloss, people recommend dunking it in enough so that the lip gloss becomes almost a black-ish color. Otherwise, you might not get that sultry shade that is intended to be produced from this hack.
And don't worry - the type of mascara wand you use doesn't make a difference. Just ensure it fits in your lip gloss bottle!
Once you've completed those steps, you're done! Simply put your lip gloss wand back into the now-purplish lip gloss tube, and try out the vampy lip look for yourself.
Some have compared this lip shade when used on bare lips to the Clinique Black Honey lipstick that went viral in the fall of 2021 for its '90s nostalgia look. And, if we've learned anything in the last few years (even from celebs like Anne Hathaway, who recently combined two '90s trends at once, and Katie Holmes), '90s fashion and beauty trends are going to be sticking around.
---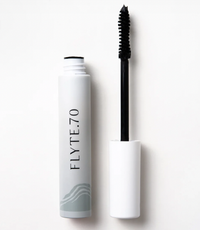 (opens in new tab)
The Fundamental Mascara, $28 | Flyte.70 (opens in new tab)
Glossy, nourishing, and natural-looking, it's formulated in a universally flattering blue-infused black to enhance eyelash volume without clumping. The slender, hourglass-shaped brush adds more definition to parts of the lash line for an eyes-wide-open appearance.
People are also applying this black cherry lip stain over lipstick or lip liner that's already on their lips to help enhance whatever base color they used. That's what is so great about a makeup hack like this - it can be as customizable as you want.
But, like any TikTok trend or viral hack, not all purveyors are sold on the process or the shade. "Ummm nope!" someone commented under a video of Julia Fox trying a similar lip shade.
As a precaution, we recommend testing this hack out with a drugstore lip gloss, like the Wet n' Wild MegaSlicks (it literally costs $2!). If you don't like the shade, you didn't lose much - and, if you love it, you can always go back and buy another tube!
Madeline Merinuk is woman&home's US lifestyle news writer. She covers celebrity, entertainment, fashion, and beauty news but is also obsessed with internet trends - you can find her reciting trending TikTok sounds out loud at any given time.
After winning multiple student journalism awards for her investigative work, she graduated from Hofstra University in 2021 with a B.A. in Journalism. After graduating, she worked at today.com, the digital site for the Today Show, where she wrote pop culture news and interviewed big-name personalities like Emily Ratajkowski, Haley Lu Richardson, Emma Corrin, and more.
Her personal interests, in no particular order, are: cheese, Joni Mitchell, reading, hot yoga, traveling, having multiple chapsticks in every handbag at all times, and dancing to ABBA songs as if she were in the Mamma Mia movies.