This 'holy grail' lash growth serum made my lashes long and fluffy—but buy it now because it's a record-low price this Prime Day!
Award-winning GrandeLash MD is now 30% off for Prime Day!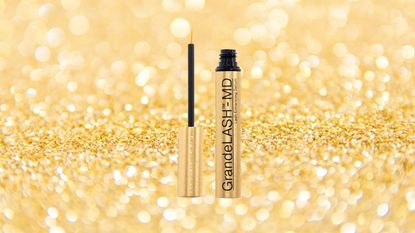 (Image credit: Future / Grane Lash)
woman&home newsletter
Sign up to our free daily email for the latest royal and entertainment news, interesting opinion, expert advice on styling and beauty trends, and no-nonsense guides to the health and wellness questions you want answered.
Thank you for signing up to Woman & Home. You will receive a verification email shortly.
There was a problem. Please refresh the page and try again.
Hark! Amazon has just slashed 30% off their #1 best-selling lash growth serum, GrandeLash, as part of their Prime Day event. And you best believe I was first in line to stock up.
Of all the occupational hazards I've lived through during my 18-odd years as a beauty editor, having dust for lashes was easily the worst. I traumatized my lashes after years of going in hard on extensions, back when they first hit the scene (fyi: I now use magnetic lashes).
I tried them all: cat eye, C-curl, J-curl, "Flirty Sexy," "Pretty Curl," "Glam Natural"—you name it, I flaunted it. Sometimes I'd double up and layer one of my best mascaras on them too. And like every well-meaning extension-wearer, eventually attacked rogue extensions with my tweezers when they inevitably twisted over and spidered out.
When the time came for the obligatory "rest period" in-between lash extension sets, what stared back at me from my bathroom mirror was a set of unrecognizable, nearly bald strips. Even newborn babies had lashes thicker I had!
Enter GrandeLash MD serum. It dropped onto my lap (quite literally) during another occupational hazard: the beauty profile shoot, circa 2009. A well-meaning makeup artist took one look at my eyelashes—or what was left of them—winced, recoiled, and went into her makeup kit. They pulled out a small gold tube. "I use it myself," she said, then closing her eyes to reveal her unbelievably long natural lashes. And when I say unbelievable, I mean it: With her eyes closed, her top lashes reached the middle part of her undereye area, and, even crazier, were long enough to cast a shadow on her cheeks. "I buy them in bulk abroad and sell them to my friends. It's a life-changer." Over the resounding choir of angels singing in the background, I immediately signed myself up for two tubes (her recommended starter pack). Not all heroes wear capes!
---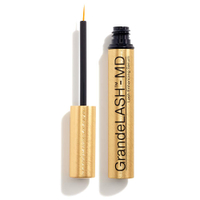 Grande Cosmetics GrandeLASH-MD Lash Enhancing Serum | Was $65, now $45.50 (save 30%)
A water-based, contact lens-safe blend of amino acids, hyaluronic acid, vitamin E, and botanical extracts increase lash fullness, length, and density and is particularly effective on thinning and/or damaged, brittle lashes. Swipe on both upper and lower lashes (where needed), once a day, and see visible results after a full lash cycle or 3 months.
---
Many, many years and several bulk-buys later (Amazon politely informed me today that I have indeed purchased this, oftentimes in bundles, seven times before), and still nothing compares to the effects of GrandeLash. I appreciate I am gushing here, but in my opinion, this is one of the best Prime Day beauty deals and possibly one of the overall best Prime Day deals of 2021.
A tube lasts you around three months, and during the height of my eyelash/self-esteem scarcity, I bought a year's supply, the equivalent of four tubes. It wasn't cheap, but my lashes took to it amazingly and by that first year's end, it had given me an incredible set of long and fluffy eyelashes, even more so than pre-extensions. It's been on rotation in my arsenal ever since, but most especially during those crucial times when I feel my eyelashes need a bit more love. During lean bank-account moments, I've tried cheating with cheaper alternatives, but I come crawling back to GrandeLash every time.
The formula works best when used consistently once a day, and you will see results, but only if you stick to it. Once you achieve your desired length or thickness, you can use the product every other day instead for maintenance. But make sure you read our guide about how to grow eyelashes to ensure you get the best possible results.
The brand has legions of fans (not just me, I promise), and here's what everyone else has to say about this miracle lash growth serum:
"I love love love this stuff! It really works and I highly recommend it. I just ordered another 3 month supply. I noticed a difference after about one month of using. My lashes are longer and fuller. Absolutely love this product," says a satisfied customer.
"My esthetician encouraged me to purchase this product, because she has so many clients that she's actually seen where their lashes have gotten thicker and longer! Mine have always been thick and long, but as I've aged and as I was in my late 40s is when I began noticing a big difference in my lashes. Once I began ordering GrandeLash, my lashes have gotten back to the way they used to be!" says another.
If you're in the market for a lash serum to help plump up thin, sparse lashes or are trying to get back some natural density post-extensions, now's the best time to try out this award-winning lash serum. It's 30% off its original price ($65+), which, for the promise of fuller, longer lashes, is definitely worth the mad Prime Day rush!
Sign up to our free daily email for the latest royal and entertainment news, interesting opinion, expert advice on styling and beauty trends, and no-nonsense guides to the health and wellness questions you want answered.
A lifelong creative writer and beautyphile, Eunice Lucero-Lee graduated from De La Salle University in 2002 and was hired a year later to front all beauty coverage for Pink Magazine. A beauty, astrology, and pop culture obsessive and insider for over 18 years, Eunice is an internationally published editor (and now certified astrologer) whose work has been featured in publications such as Cosmopolitan, Esquire, and The Numinous, among many others.