No7 launches first retinol after waitlist gains 100,000 sign-ups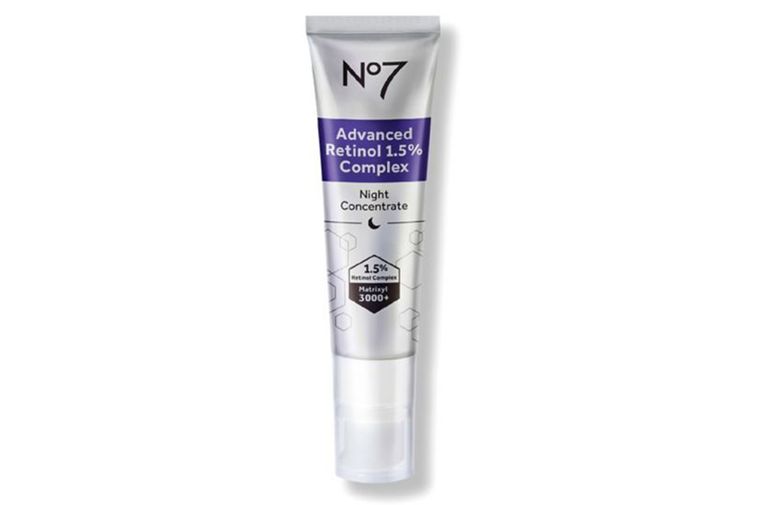 No7 have launched a brand new retinol product, which was met with the most waitlist sign-ups ever.
The Boots brand has become a staple favourite in households across the country for its forward-thinking and highly effective products.
Ever since the brand launched its effective Protect & Perfect range back in 2007, fans have been in love with the line's skincare products.
And this love means that any new release goes straight on our to-buy lists.
MORE: BootsNo7 products that deserve their fantastic reputation – you won't regret investing in these!
So it's no surprise that No7's new release gained a massive waiting list before it even hit shelves.
'No7 Advanced Retinol 1.5% Complex Night Concentrate is our first ever night concentrate created with a combination of two of the most powerful age-defying technologies in skincare in one expert formula,' writes the brand.
'This supercharged concentrate actively targets the visible sign of ageing and dullness to kick start surface skin renewal from the very first application, working night after night to deliver visibly younger looking skin'.
The highly-anticipated launch contains four powerhouse ingredients that fight against wrinkles while helping to calm the skin.
The brand opened up their waiting list for the new product two weeks ago and in just 24 hours it raked up a huge 48,000 sign ups.
And the new drop already has a host of five-star reviews from members of the Boots review panel.
SHOP NOW: No7 Advanced Retinol 1.5% Complex Night Concentrate, £25 (introductory offer), Boots
'This is amazing!' raved one. 'Absorbs easily, a nice aroma and really pleased with the results after three weeks.
'My skin is no longer full, it looks healthier and glowing. Will definitely continue to use this product as part of my beauty routine'.
'I immediately noticed a difference to my skin,' wrote another. 'I used every other night and then built up gradually to every night. My skin the next morning was really smooth and my complexion was much improved. It is such a great price for a retinol product and you will definitely see and feel the benefits on your skin.'
MORE: No7 launches new revolutionary Skin Pastes that promise 'healthier' and 'more balanced-looking' skin
'This is so light and absorbs well,' added another. 'I have been building up use gradually as per the instructions and my skin looks brighter and feels softer. It has a nice scent and leaves my skin feeling fresh'.
Another wrote, 'This has made me look so bright and smooth I can't believe the difference it has made in such a short time'.
The product is even on an introductory offer at the moment so it's the perfect time to try!